The seventh annual Huntington Folk Festival is slated for Sunday, July 22, 2012. The free event will extend from 12 noon into the late evening at Heckscher Park, Main Street (Route 25A) and Prime Avenue, in Huntington, New York.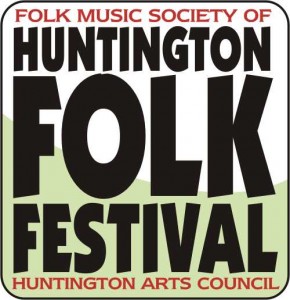 Co-presented by the Folk Music Society of Huntington and the Huntington Arts Council, the Huntington Folk Festival is part of the 47th Annual Huntington Summer Arts Festival presented by the Town of Huntington, produced by the Huntington Arts Council, and sponsored in part by the New York State Council for the Arts and the County of Suffolk.
Headlining this year's festival will be the artists who are part of the Falcon Ridge Most Wanted Tour. Pesky J. Nixon, ilyAIMY, Louise Mosrie and Blair Bodine – who were voted "Most Wanted to Return" by Falcon Ridge Folk Festival attendees last year following its annual emerging artists showcase – will perform on the Chapin Rainbow Stage, beginning at 8:30 p.m.
"We're delighted to join with the Huntington Arts Council in presenting what promises to be a wonderful day of music," said Michael Kornfeld, president of the Folk Music Society of Huntington. "As someone who has been attending the Falcon Ridge Folk Festival almost since its inception, I'm particularly pleased that this year's festival will feature a number of talented artists who also will part of that festival later this month." He noted that in addition to the evening headliners, several artists who were selected to be part of this year's FRFF Emerging Artists Showcase (Honor Finnegan and The YaYas) will perform during an afternoon of unplugged showcases and song swaps that will precede the concert. Hosting them near canopy tents, between noon and 6 p.m., will be Richard Cuccaro's monthly listings guide, Acoustic Live! in New York City and Beyond, and Kornfeld's online publication, AcousticMusicScene.com.
The afternoon schedules appear below.
AcousticMusicScene.com
12:00: Peter Kanelous, Annie Mark
12:30 Josh Joffen, Mara Levine, Stuart Markus
1:00 Robert Bruey, Hank Stone, Scott Urgola
1:30 A Pair of Duos: Lori Diamond & Fred Abatelli, Mark Newman & Naomi Margolin
2:00 All Keyed-Up: Arlan Feiles, Marci Geller, Elaine Romanelli
2:30 Funny Folk: Mark Allen Berube, Drew Jacobs, Lois Morton
3:00 Eleanor Dubinsky, Joe Iadanza, Karyn Oliver
3:30 Loretta Hagen Trio, Susan Kane, Claudia Nygaard
4:00 Katie Pearlman, Kat Quinn
4:30 The Levins and The YaYas
5:00 Songs from & Inspired by Joni Mitchell's Blue Album
(A 40th anniversary celebration featuring Meg Braun, Honor Finnegan, Sharon Goldman, Catherine Miles, Karyn Oliver, Carolann Solebello and Alison Tartalia)
5:45 A Hootenanny -Style Musical Tribute to Woody Guthrie in celebration of his 100th Birthday

Acoustic Live! in NYC and Beyond

1:00 Stuart Markus
1:15 The Levins
1:30 Drew Jacobs
1:45 The YaYas
2:00 Mara Levine
2:15 David Goldman
2:30 Susan Kane
2:45 My Dad's Truck
3:00 Loretta Hagen Trio
3:15 Carolann Solebello
3:30 Mark Berube
3:45 Honor Finnegan
4:00 Lois Morton
4:15 Meg Braun
4:30 Claudia Nygaard
4:45 Sharon Goldman
5:00 Marci Geller
5:15 Elaine Romanelli
5:30 Josh Joffen
Attendees are advised to bring their own lawn chairs or blankets and picnic or venture into nearby Huntington Village and enjoy a meal at one of its many restaurants and eateries. More information on the Huntington Folk Festival may be found at www.fmsh.org.