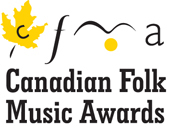 The 2012 Canadian Folk Music Awards were presented in Saint John, New Brunswick on Saturday evening, Nov. 17, and streamed online on Roots Music Canada's website. Winners were named in 17 categories, while recipients also were honored with special Innovator of the Year and Unsung Hero awards during a gala event at the Imperial Theatre that was hosted by the always-entertaining, genial and witty Benoit Bourque of La Bottine Souriante.
With nods in four categories, Sultans of String were this year's top nominees, while Rose Cousins, Dala and The Deep Dark Woods each vied in three categories during the eighth annual awards celebration. Chris McKhool, leader and producer of Sultans of String, accepted the World Group Artist of the Year award for the Toronto-based instrumental ensemble's album,
Move
. Cousins, a singer-songwriter from Halifax, Nova Scotia, whose album
We Have Made a Spark
topped the Roots Music Report folk radio chart earlier this year, was named Contemporary Singer of the Year. "Ron Hynes just gave me this, the greatest Canadian singer," she exclaimed.
The Deep Dark Woods, a folk-rock, roots and alt-country band from Saskatoon, Saskatchewan, who were touring outside the country, received the Contemporary Album of the Year award for The Place I Left Behind. The Fretless, a quartet whose music is a blend of Celtic, folk and chamber music and who were on tour in Germany, were named as both Instrumental Group of the Year and Ensemble of the Year for their album, Waterbound.
A total of 85 volunteer jurors selected the winners, with five separate jurors for each category, according to Grit Laskin, a veteran Canadian artist, guitar-maker and co-founder of Borealis Recording Company, a leading Canadian folk and roots music label, who also played a pivotal role in creating and organizing the Canadian Folk Music Awards.
The awards ceremony was the highlight of "Folk on the Water," an event that also featured artist showcases on Thursday and Friday nights and Saturday afternoon, as well as the screening of folk films. The ceremony was punctuated with performances by singer-songwriter Carla Luft from Winnipeg, Manitoba; The Spinney Brothers, a bluegrass quartet from Nova Scotia; The Atlantic Ballet, and blues-roots guitarist and singer-songwriter Matt Andersen, who hails from Perth-Andover, a blue-collar village in New Brunswick. Harmonic virtuoso Mike Stevens joined both The Atlantic Ballet and Andersen on a song.
In one of the awards show's moving segments, Cindy Church and Susan Crowe performed "All the Diamonds," the title track of their late friend and colleague Raylene Rankin's last solo album. Crowe noted that "She died as she lived – with grace and dignity. " Acknowledging that she and Cindy were not certain about playing the awards show after Rankin's death earlier this fall, Crowe said Rankin told them "Go out there; it's all good; have some fun." Quebecois folk trio Genticorum closed out the event, joined onstage for a lively musical finale by Matt Andersen, Benoit Bourque, Mike Stevens and Nova Scotia's Cassie and Maggie MacDonald.
Bruce Morel, president of Folk Music Canada, presented the inaugural Innovator of the Year award to Ontario-based harmonica virtuoso Mike Stevens for his work as founder of ArtsCan Circle. "I'm so proud to be part of this community," said Stevens, who noted how he had quit a really good paying job to play harmonica for a living and then opted to play half of his gigs for charity. For nearly 15 years, Stevens has been traveling to isolated communities in Northern Ontario and Labrador, sharing his love for music with children and helping them explore their own musical expression through instrument-lending libraries and recording studios he has helped create.
The Unsung Hero Award, recognizing exceptional contribution to the promotion, preservation and presentation of Canadian folk, roots and world music, was presented to Gerry Taylor, a music journalist in New Brunswick for more than 50 years. "I'm still pinching myself; I can't believe it," said Taylor, 79, in accepting the award. He has written about music for The Telegraph Journal in New Brunswick since 1958 and continues to write a half-page weekly column on folk and country music. An archive — sampler — of his written works may be found at www.gerrytaylor.thedrawlyn.com.
A complete list of Canadian Folk Music Award winners follows:
Traditional Album of the Year
Metis Fiddler Quartet – Northwest Voyage Nord Ouest

Contemporary Album of the Year
The Deep Dark Woods – The Place I Left Behind
Children's Album of the Year
Henri Godon – Chansons pour toutes sortes

Traditional Singer of the Year
Lenka Lichtenberg – Songs for the Breathing Walls
Contemporary Singer of the Year
Rose Cousins – We Have Made a Spark
Instrumental Solo Artist of the Year
Trent Freeman – Rock Paper Scissors
Instrumental Group of the Year
The Fretless – Waterbound

Vocal Group of the Year
The Once – Row Upon Row of the People They Know
Ensemble of the Year
The Fretless – Waterbound
Solo Artist of the Year
Michael Jerome Browne – The Road is Dark

English Songwriter of the Year
Catherine MacLellan – Silhouette

French Songwriter of the Year
Mes Aieux – A l'aube du printemps
World Group/Artist of the Year
Sultans of String – MOVE
New/Emerging Artist of the Year
Pharis & Jason Romero – A Passing Glimpse
Producer of the Year
Ron Szabo – A Natural Fact (Steve Strongman)
Pushing the Boundaries
Sagapool – Sagapool
Young Performer of the Year
Lucas Chaisson
Innovator of the Year
Mike Stevens
Unsung Hero
Gerry Taylor
Established in 2005, the Canadian Folk Music Awards celebrates and promotes the breadth and depth of folk music in Canada.