Although New York City's demographics are changing, Irish arts and culture have long been a part of its fabric. This was particularly evident January 11-15. That's when a number of Irish and Irish American folk artists were in the Big Apple to showcase their talents during the 56th annual conference of the Association of Performing Arts Presenters (APAP), a Washington, D.C.-based nonprofit national service and advocacy organization dedicated to developing and supporting a robust performing arts presenters' field and the professionals who work within it.
Maintaining and strengthening the strong connections between Ireland and the U.S. is vital to Culture Ireland, which creates and supports opportunities for Irish artists to present their work at strategic international festivals, venues, showcases and arts markets. During the APAP Conference, Culture Ireland presented its fifth showcase of performing arts in New York – highlighting some of the emerging artists on the Irish music scene who are bringing new life to old traditions and pushing the boundaries of traditional music. Its New Music Showcase at the New York Hilton featured short performances by Realta, The Young Folk, I Draw Slow and The Spook of the Thirteenth Lock, while Culture Ireland also lent support for showcases by noted Irish groups Dervish and the Alan Kelly Gang.
Realta, a young Belfast-based trio featuring dual uillean pipes, whistles, bouzouki, guitar, bodhran and vocals, kicked off the showcase with a set of Irish traditional tunes. A song about a guy who proposes to a girl he doesn't know followed, and the group closed out with another driving set of tunes.
Next up was another young band, appropriately called The Young Folk, who have been playing festivals throughout Ireland and in Scandinavia since forming in 2011. The Young Folk impressed with rousing, upbeat, original Irish folk-rock songs sung in English. The trio's music is very accessible and has a nice beat. Featuring by Anthony Furey (of the Furey family) on guitart and vocals, The Young Folk have released a self-titled EP and are set to release their first full-length CD this year.
Here's a link to an official video of The Young Folk performing "Way Down South."
Highlighting the Culture Ireland New Music Showcase was I Draw Slow, a Dublin-based five-piece string band (with vocals by Louise Holden) whose joyous and rootsy original music fuses Appalachian old-time and Irish traditional styles with a dash of Americana. Signed last year to Pinecastle, the North Carolina-based roots record label, I Draw Slow cracked the Top Ten on the Roots Music Report folk radio chart in December with Redhills, its second album.
Here's a link to a YouTube video of I Draw Slow performing "Goldmine," a song about a bordello girl who falls in love with a fiddler.
Rounding out the Culture Ireland Showcase was The Spook of the Thirteenth Lock. Named after a poem about a haunted canal lock, this five-piece outfit has a sound that mixes Irish folk with experimental/progressive rock, somewhat reminiscent of the Irish band Horslips.
Immediately preceding the Culture Ireland New Music Showcase, Irish folk mainstays Dervish, an innovative internationally touring band launched in Sligo more than two decades ago, performed a solid set of instrumental tunes and songs – including a couple that will be on a new album due this month.
The Alan Kelly Gang, an Irish quartet fronted by a master piano accordionist, delivered a strong set of instrumental tunes and songs that included jigs from the Celtic regions of France and Spain, as well as Ireland.
Solas and Cherish The Ladies Impress with Extended Showcases
Solas, the stellar, internationally-acclaimed Irish-American band co founded and led by multi-instrumentalist Seamus Egan, previewed songs from its forthcoming
Shamrock City
album during a performance at The Highline Ballroom as part of a TG2 Artists closing night showcase. As a montage of still photos and film clips screened behind them, the band launched into songs from the thematic album and multimedia stage show that is a collection of stories inspired by real people from around the world who left their homes and flocked to Butte, Montana, a copper mining town at the turn of the 20th century, and helped build the backbone of industrialized America.
Recalling the "No Irish Need Apply" signs that dotted storefronts and factories in many American locales at the time, Egan noted that those who settled in Butte (Shamrock City), a place once called "the Richest Hill on Earth," included his great, great uncle, Michael Conway, about whom Solas performed a beautiful ballad.
Prior to Solas, McAuley Horan O'Caiomh performed a set of traditional and original reels, waltzes, jigs and airs — mostly from its 2012 release, Sailing Back to You. The trio features Solas members Winifred Horan (fiddle) and Mick McAuley (accordion), along with guitarist Colm O'Caoimh. Also sharing the bill was Maria Doyle-Kennedy, best known to U.S. television audiences for her role as Mrs. Bates on "Downton Abbey." Doyle Kennedy is a soulful, Dublin-based singer who performs a mix of folk, pop and torch songs. She closed out her set with a rendition of the title track of her fifth album, Sing. The Duhks, a Juno award-winning Canadian roots outfit whose original music fuses such musical styles as Irish dance, American folk, Brazilian samba, zydeco, and old-time string band closed out the evening.
Another highlight of the APAP Conference was an hour-long showcase by Cherish the Ladies, the all-female Irish-American instrumental ensemble that was launched in New York City 28 years ago with flutist and tin whistle player Joannie Madden at the helm. Madden and guitarist Mary Coogan remain with the group today. Through the years, Cherish the Ladies also has featured several talented female vocalists who have gone on to pursue solo careers. As a special treat, Cathie Ryan, its original lead singer, who has released five solo albums and been twice-named Irish Female Vocalist of the Decade by Irish American News, reunited with the group for this showcase; she also performed solo during the conference. The ensemble was also joined on several numbers by four talented Irish step dancers — helping to make for a rollicking good time.
Along with Irish singer Maura O'Connell, Cherish the Ladies will be part of An Irish Homecoming, a new PBS television special of a performance filmed live at Bucknell University that begins airing in March.
Aoife Clancy, another former vocalist with Cherish the Ladies, also was at the conference showcasing with her group, The Jammin' Divas, whose music is a blend of traditional and original folk music from several cultures. Also showcasing their talents during the APAP Conference were Irish American jig-rockers The Prodigals, led by accordionist and singer Gregory Grene, who also fronts Acoustic Mix; American roots and Celtic soul duo Switchback; and Colcannon, an ensemble that performs traditional and original Celtic music and has eight albums and an Emmy Award-winning PBS concert video to its credit. In addition, Padraig Allen's McLean Avenue Band was accompanied Joanna Barry Connolly's Irish dance group, Emerald Fire, in an extended showcase at an Irish pub and restaurant on Manhattan's East Side.
Other Showcases, Workshops and Forums Abound
These showcases were just a small part of this year's APAP Conference. The global performing arts marketplace and multidisciplinary arts business event attracted several thousand people who chose from a wide array of showcases, professional development workshops and forums primarily focused on the theme "Imagination," which asked both speakers and attendees to reflect upon the innovation and entrepreneurship that make the performing arts integral to community engagement. As in years past, exhibition halls teemed with booking agents, representatives of regional and national cultural arts organizations, and presenters eager to speak with them. And much networking took place during the conference.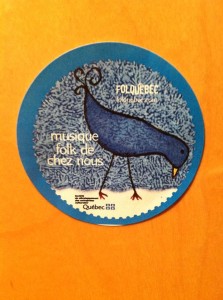 Folquebec presented its annual showcase featuring noted Quebecois folk groups Le Vent du Nord and De Temps Antan, as well as D'Harmo (featuring four of the Canadian province's top harmonica players), klezmer group Kleztory, Trio Yves Lambert, and Maz (a quartet whose sound is a mix of electric jazz and Quebec's traditional music). Folquebec's founder and president, Gilles Garand, also conducted a 90-minute session on "The State of Trad: Traditional Folk and Dance Music," during which he provided an informative history lesson on Quebec's traditional folk and dance music, before inviting attendees to join him in exploring what can be done to preserve and promote traditional folk music of various cultures. He also promoted a Montreal Trad Conference, an international rendez-vous slated for May 9-12.
Rosanne Cash Delivers Closing Keynote
In keeping with the conference's theme of "Imagine," Grammy Award-winning singer-songwriter Rosanne Cash acknowledged in her closing keynote that "Re-imagining myself as a performer has been among the most enriching and transformative experiences of my life."
While writing her memoirs, Composed (2010), Cash spent considerably more time delving into performance than she had initially anticipated. "I came to realize that my life as a performer was so central," she said. Cash acknowledged that her first experiences performing were with her father [the late Johnny Cash] and that she was initially terrified and clueless about her abilities. "I enjoyed these little guest spots on my dad's tour, but I had no illusions of the life," she said, noting that when she later embarked on her own career as a touring artist, "the performing experience was initially torturous. "She had stage fright and preferred being a songwriter. "Now," says Cash, "I approach every show with a deep sense of community.'
"The impulse to people-please is death to an artist," she said. "What you think you're showing the audience is actually just a fraction of what they're really seeing…The emphemeral nature of performing is the part I like most. Sometimes the only thing you have is a powerful instinct; you've refined your skills such that you can trust your instincts." She observed that "Some career risks are like chess, while artistic risks infuse my soul [and] make me what I am."
Maintains Cash, "We need art and music like we need blood and oxygen… Art in the larger sense is the lifeline I cling to in a confusing and sometimes unfair world… There is light in this world and it is always available – much of it through music."