Bluegrass music's annual industry gathering and family reunion is uprooting from its Nashville base and headed for Raleigh, North Carolina, Sept. 24-28. Registration is now open for the International Bluegrass Music Association (IBMA)'s World of Bluegrass 2013 events.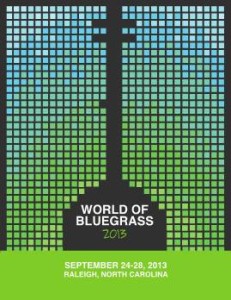 Featuring a wide array of professional development seminars, meetings and forums, a keynote speaker to be announced, artists showcases and late-night hospitality functions, an exhibit hall, and plenty of networking and relationship-building opportunities, the business conference portion of World of Bluegrass 2013 will extend from Tuesday through Thursday, Sept. 24-26. The annual International Bluegrass Music Awards, a centerpiece of the week, are slated to be presented on Thursday evening, Sept. 26, while the festival portion of World of Bluegrass 2013 will take place Friday and Saturday, Sept. 27-28 – affording attendees and the general public opportunities to hear a wide variety of bluegrass music and enjoy a street fair with music stages, vendors of all sorts, youth activities and the North Carolina Whole Hog Barbecue State Championship.
Most World of Bluegrass 2013 events will take place at the Greater Raleigh Convention Center, the Duke Energy Center for the Performing Arts, and the Red Hat Amphitheater – all within easy walking distance of each other. The convention center and various venues around town will play host to the evening showcases.
IBMA is partnering this year with The Greater Raleigh Convention & Visitors Bureau, PineCone – The Piedmont Council of Traditional Music, the City of Raleigh, and a local organizing committee to extend its outreach to the roots music community and local bluegrass fans in the Carolinas. Besides opening ticket sales early, IBMA also has managed to offer lower ticket prices and hotel rates than it has in recent years.
Visit www.worldofbluegrass.org or call 1-888-GET-IBMA for more information and to register and/or purchase tickets for World of Bluegrass 2013 or any of its individual events.