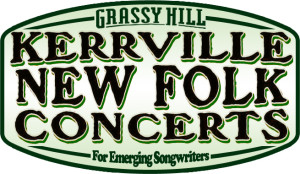 Thirty-two songwriters have been named as finalists in the 2013 Grassy Hill Kerrville New Folk Competition for Emerging Songwriters. Chosen from among more than 700 submissions from throughout the U.S. and Canada, the finalists will perform the two songs they submitted during the New Folk Concerts slated for Saturday and Sunday afternoons, May 25 and 26, as part of the Kerrville Folk Festival.
Scheduled to perform (in order of performance) at the Threadgill Theater on the Quiet Valley Ranch Campgrounds in the Texas Hill Country on May 25. are Ben Bochner (Eugene, OR), Daniel Makins (San Angelo, TX), Adrianne Lenker (Andover, MN), Marina (League City, TX), Mark Philpot (Fort Worth, TX), Allie Farris (Nashville, TN), Andrew Delaney (Dallas, TX), Anna & The Underbelly (Portland, OR), Arlon Bennett (Tappan, NY), B. Sterling (Austin, TX), Bethel Steele (Boston, MA), Tommy Byrd (Austin, TX), Davey O. (Buffalo, NY), Hope Schneir (Camarillo, CA), Doug Kent (Houston, TX) and Ed Romanoff (Brooklyn, NY).
New Folk Finalists slated to perform on May 26 include Ellis (Minneapolis, MN), Honor Finnegan (New York, NY), John Natiw (Canton, MI), Julie Jean White (Dallas, TX), Eric Bettencourt (Portland, ME), Karen Dahlstrom (Brooklyn, NY), Lizzy Ross (Chapel Hill, NC), Mary McAdams (Des Moines, IA), Paul Sachs (New York, NY), Terry Holder (Olympia, WA), Steve Chizmadia (Peekskill, NY), The Sparrowmakers (Austin, TX), Twangtown Paramours ( Nashville, TN), Wes Collins (Chapel Hill, NC), Zach Kibodeaux (Kyle, TX) and Bill Valenti (Bend, OR).
After performing, six songwriters will be selected as 2013 New Folk Winners by judges Nels Andrews, Aengus Finnan and BettySoo. The six will perform in the New Folk Award Winners Concert on Sunday, June 2, and will receive cash honorariums and other prizes, as well as the opportunity to participate in the New Folk Concerts Fall Tour culminating with the opening slot on the 2013 Rice Fest stage. Established in 1972 at the urging of Peter Yarrow, the Kerrville New Folk concerts have become a highlight of the annual festival that is geared towards singer-songwriters of various musical styles and their fans.
Now in its 42nd year, year, the Kerrville Folk Festival is the longest continuously running festival of its kind in North America. In addition to concerts each evening, Kerrville features "Ballad Tree" song-sharing sessions, campfire jam sessions, concerts and activities for children, organized canoe trips on the Guadelupe River and Hill Country bike rides, a professional development program for teachers, as well as a three-day songwriters school and instrumental workshops.
The Kerrville Folk Festival runs for 18 straight days – Thursday, May 23– Sunday, June 9. For a complete festival schedule and additional information, visit www.kerrville-music.com.