By Michael Kornfeld
I wasn't at Max Yasgur's Farm in 1969 when Richie Havens impressed throngs of people at the Woodstock festival. I was just a youngster then. But I did get to hear him up close and personal in the late 1970s at my alma mater, Huntington High School, in Huntington, New York. He was performing in the auditorium, along with Harry Chapin, at one of the late singer-songwriter's many benefit concerts. Richie joined his fellow Brooklyn NY-born folksinger in heaven or wherever kindhearted gentle souls go, on April 22, after suffering a heart attack at home in Jersey City, New Jersey. He was 72.
Although my memories of that concert some 35 or so years ago have faded a bit, Richie Havens became a favorite artist of mine at that time, and he — and Harry — helped to forge my lifelong love of folk music. Through the years, I added most of Richie Havens' albums to my collection, mostly on vinyl. And I had the pleasure of seeing him in concert a number of times and of speaking with him on several occasions. I last saw him a few years ago at an outdoor concert on Governor's Island in New York City. An engaging performer, he really knew how to connect with an audience.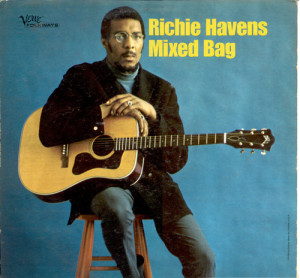 The eldest of nine children, Richard P. Havens began singing doo-wop on Brooklyn street corners at the age of 12, before picking up a guitar in his 20s after discovering and immersing himself in New York's Greenwich Village folk scene. He forged a reputation playing the coffeehouses and nightclubs there and soon attracted the attention of folk impresario Albert Grossman, Bob Dylan's manager, who helped him secure a record deal with Verve Forecast, which released his famed breakout album, Mixed Bag, in 1967. That album, which was preceded by two more obscure, independently released ones, included "Handsome Johnny," an anti-war anthem that he wrote with actor Louis Gossett Jr, and covers of Bob Dylan's "Just Like a Woman" and Gordon Lightfoot's "Follow."
Before the decade was out, he would release five more albums, including 1968's Something Else Again, his first to hit the Billboard chart. However, it was his live performances that helped to cement his reputation and bring him much acclaim – notably his stirring opening set at Woodstock, which featured his encore performance of "Freedom," an improvisational take on the old spiritual "Motherless Child."
Buoyed by the accolades he received at Woodstock, Havens launched his own record label, Stormy Forest, and released two albums in 1970, Stonehenge and Alarm Clock. The latter recording, which featured his version of George Harrison's "Here Comes the Sun" became his first album to make it into Billboard's Top 30. He released several more albums on his own label during the 1970s.
An ardent champion of environmental causes, Richie Havens began to devote time and effort to educating young people about ecology – first through co-founding an oceanographic children's museum on City Island in the Bronx and later through establishing The Natural Guard to help youngsters realize, though hands-on activities, the positive changes they can make for the environment. (It's ironic that he died on Earth Day).
Havens continued actively performing and touring throughout the 1980s and 1990s and also experienced some success as a commercial jingle writer and performer. He performed at the inauguration of President Clinton in 1993 and at a Tibetan Freedom Concert that attracted more than 100,000 people in 1999. The following year, he published an autobiography entitled They Can't Hide Us Anymore (co-written with Steve Davidowitz). In the years that followed, he continued to release albums, perform in concert, and also appeared in a number of films.
The National Music Council awarded Havens the American Eagle Award for being an important part of America's musical heritage in 2003, and he was inducted into the Long Island Music Hall of Fame three years later. In June 2009, it was a delight to see and hear him perform at the Clearwater's Great Hudson River Revival. Less than two months earlier, he had taken part in a fundraising concert in New York City in honor of folk icon and Clearwater founder Pete Seeger's 90th birthday. Havens stopped touring just over a year ago, citing health concerns.
Richie Havens had a distinctive, poignant and powerful voice. At times he used it to exhort us to work for freedom and justice and to protect our environment. His guitar playing also was distinctive. His style was very rhythmic and frequently employed open tunings — whether he was playing his own songs or unique and soulful interpretations of classic numbers by Lennon and McCartney, Dylan, and other pop and folk music luminaries. He was, himself, an iconic figure in the music world. But he never took on the trappings that one might associate with that. Although he played some of the world's major music festivals and concert halls, he also enjoyed playing smaller venues and seemed to relish and truly appreciate the adoration of his fans and felt blessed, as he often said, that people would come out to hear him sing.
Richie, it is us who were blessed by your presence — both as an artist and as a caring person. You were indeed a kindhearted and gentle soul, whose ageless music will live on and be enjoyed by many for generations to come.