Jon Shain has developed and refined his own contemporary version of the Piedmont blues, a bouncy energetic style that developed in and around his adopted hometown of Durham, North Carolina and to which he was introduced while a history major at Duke University. After graduating in 1989, Jon decided to pursue a career in music and has been writing songs and honing his fingerstyle guitar playing skills ever since. A 2009 International Blues Challenge finalist, he tours regularly and will help close out the AcousticMusicScene.com showcase at this month's Southeast Regional Folk Alliance (SERFA) Conference in Montreat, NC. Kathy Sands-Boehmer posed some questions to him about his recently released eighth solo studio album, Ordinary Cats, and his career to date.
In this interview Jon Shain goes into detail about the making of his latest CD,
Ordinary Cats
, geeky music tuning, strings, and musical modes, and, oh yeah, a bit about some of the inspirational people in his life. It's interesting to note Jon's comments about people's conceptions about blues in the folk world and folk in the blues world. It's always fascinating to learn more about this Haverhill, Massachusetts born and raised bluesman.
Your newest recording, Ordinary Cats, features you on electric guitar. When you wrote the songs, did they just scream for a more electric sound?
Originally, when I started the CD, I was thinking of a really stripped down guitar and vocal sound. But these things have a way of developing organically, and one added instrument sound often begets another. When we added the drums to a few of the tunes, it just pushed the music in a direction that I decided to embrace instead of fighting. I've always played the electric guitar on the side — more in the last 15 years or so — on other people's recordings and shows than on my own, so it was pretty easy to add it to this recording. I have a whole set of electric guitar influences that don't really have to do with my acoustic guitar influences, so I think it works fine to have "two" of me on some of the songs.
Was it your intention from the beginning to make this a more rootsier album than your past recording ventures?
Well, we started working on two projects at the same time — the live album with my group — which became The Kress Sessions [released in 2011] and the beginnings of Ordinary Cats [just released]. I decided to put the more ragtime, swing-influenced songs on the live one and make that one sound different from the studio album. Probably, if anything, it is the lyrics that set the songs apart. They both sound pretty rootsy, in my opinion — I just indulged my classic rock background a bit more on Ordinary Cats. It was a conscious decision not to use the exact same instrumentation on it as in the last few albums. So a different backing vocal sound was key to that. And not using as much dobro and harmonica gave us room to experiment with more keyboards and multiple guitars, and with mandolin tracks.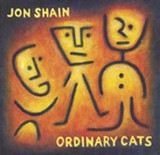 Tell us about the other players on Ordinary Cats.
FJ Ventre played upright bass and electric bass and co-produced the album with me. He engineered the whole project and did a great job. The main male backing vocalist was Greg Humphreys, a buddy of mine and talented singer-songwriter who has a very cool husky but high vocal style. The female backing vocalist was Lizzy Ross, who is a great young talent also from North Carolina. Pete Connolly, from the alt-folk group Birds and Arrows, played the drums on several tracks; his sound helped define our arrangement decisions going forward from there. Danny Gotham played mandolin and mandola, adding nice textures to the guitar parts. The keyboards were added by Wes Lachot and Lindsay Rosebrock, with Jim Kremidas adding pedal steel to one track also. Our mix engineer was the great Chris Stamey — and he always adds a few little musical doo-dads along the way.
You have cited Neil Young and Stephen Stills as inspirations for the sound on this latest record. What is it about their style that makes its way onto your record?
I have been a big fan of Neil Young, Stephen Stills, CSN (& Y), and Buffalo Springfield since I was a kid. I think it was those fringe suede leather jackets that piqued my interest. I used to always ask my parents to stop at Deerskin Trading Post on Rt. 1 in Danvers, when we were on our way to Boston for things, just so I could look at those coats. I finally did get a used one when I was in my 20s in a shop in Asheville, NC. Now I can't wear it because you need a certain amount of hair to pull off that look. I'm hoping my daughter will discover that jacket someday and make it her own . . . but I digress. . . . Anyway, Stills and Young both did a lot with Drop D tuning and drone strings, and with certain musical modes. Not to get too music-geeky, but I use the mixolydian and dorian modes a lot in my playing, and I'm sure that's influenced by those guys. When you cross in the blues- pentatonic style influence, it's like a weird cross between Celtic folk music and American blues. I am interested in exploring that mesh.
One of your career highlights is that you were an International Blues Challenge finalist. Please tell us more about that competition and what you played when you became a finalist.
The International Blues Challenge thing was fun. FJ Ventre and I decided to enter the local competition here in the Triangle. I never entered it before because I'm not crazy about the idea of music as a competition. But we thought it might be fun to try and see if we could get a free trip to Memphis out of it. We won our local contest and then went to Memphis to compete against the winners of all the regions — people who had won their contests in California, Mississippi, countries in Europe, Australia — you name it. There were 60 acts competing in our division (the solo/duo division) and we were divided into 6 venues of 10 acts each, playing two nights in front of two different sets of judges. We won our venue and then went to the finals on the third night in the Orpheum Theater — the last six acts remaining — quite an honor. We played my original songs — "Ten Days," "Full Bloom" (an anti-war song), an Elvis song that FJ sang as our tip of the hat to Memphis, and probably something else that I can't remember right now. We didn't win. The emcee said to us as we left the stage "You were my personal favorite act." But we probably didn't win because we were too "folky." I think I'm considered a folk musician by the Blues crowd and the Folk Alliance people think I'm the blues player in the room.
You're so well known for being such a great fingerstyle guitar player. How does it feel to be up on stage and have so many people staring at your hands?
I always thought they were checking out my legs! It's fun — I like to ask if there are other guitar players in the room — because I use a lot of open tunings and play slide, etc. And being a teacher, I enjoy sharing the information and letting people in on what I'm doing.
I love asking traveling musicians about life on the road. If you had to write one of those Reader's Digest essays about the most memorable person you met while touring, who would it be about?
I think it would end up being a novel instead of a Reader's Digest piece… We have met so many memorable people on the road over the years, both onstage and off — people who I love to see every time I visit a town and people I'm hoping never to run into again. Lots of people have been kind to me and my musical compadres — putting us up in their homes, feeding us, and sustaining us. And there have been real evil shits out there, too, though I don't run into them as much in the folk world as when I was playing rock clubs in my youth. Rather than naming any of the shits, I will tip my hat to some of my favorite people. As far as other musicians I've had the pleasure to meet and play with, some folks who have really been gracious and supportive to me have been Roy Book Binder, John Hammond, Jorma Kaukonen, Amy Ray. . . . The list of generous hosts, venue owners, friends, and family is far too enormous to elaborate on, so at the risk of leaving anyone out in print, I'll suffice it to say that I am in great debt to many!
To learn more about Jon Shain, visit his website.
Like many of us, Kathy Sands-Boehmer wears many hats. An editor by profession, she also operates Harbortown Music, books artists for the Me and Thee Coffeehouse in Marblehead, Massachusetts, serves as vice president of the Boston Area Coffeehouse Association (BACHA) and on the board of directors of the Northeast Regional Folk Alliance (NERFA). In her spare time, Kathy can be found at local music haunts all over New England. This and many previous Q & A interviews are archived at www.meandthee.org/blog and www.everythingsundry.wordpress.com, as well as in the Features section of AcousticMusicScene.com.