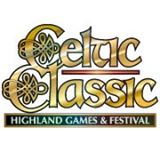 The 2013 Celtic Classic highland games & festival is set for September 27-29 in Bethlehem, Pennsylvania. Presented by the nonprofit Celtic Cultural Alliance and now in its 26th year, the free annual event is a celebration of the Irish, Scottish and Welsh cultures and heritage and will feature several stages of continuous entertainment.
Artists slated to perform include Barleyjuice, Blackwater, Brownpenny, Burning Bridget Cleary, Dublin 5, The Elders, Emish, Four Leaf Clovers, Full Set, Glengarry Bhoys, Jamison, Seamus Kennedy, Kilmaine Saints, Long Time Courting, Makem & Spain Brothers, Carl Peterson, Piper's Request, Poor Angus, RUNA, Slainte, Craig Thatcher & Nyk VanDyk, and Timlin & Kane. Other musical attractions during the weekend include pipe band, fiddle and drum major competitions. Irish dancers from the Irish Stars School of Irish Dance and the O'Grady Quinlan Academy of Irish Dance also will take part in the festivities, as will several Irish and Irish-American comedians.
North America's largest highland games take place during the Celtic Classic. The U.S. National Highland Athletic Championships will include the lifting of heavy stone, throwing 16 and 22-pound hammers, and tossing of the sheaf and caber. Border collie exhibitions, a "Showing of the Tartan" parade, a Guinness "Pour a Perfect Pint" contest, a new children's tent, instructional contra and ceili dancing, clan tents, and a Celtic marketplace featuring crafts, merchandise and collectibles also are on tap.
The festival grounds are located along the banks of Monocracy Creek and adjacent to downtown Bethlehem's Main Street shopping area. More information on one of the most popular events in northeastern Pennsylvania's Lehigh Valley, including daily schedules, may be found at www.celticfest.org.