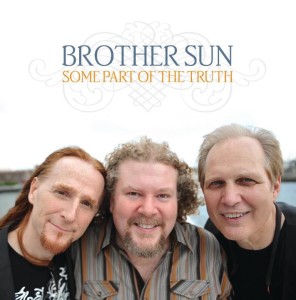 Folk harmony trio Brother Sun's sophomore release, Some Part of the Truth, was the most-played album on folk radio during 2013. The trio — comprised of veteran touring singer-songwriters Joe Jencks, Greg Greenway and Pat Wictor — also had the most-played song, Jencks'"Lady of the Harbor," according to charts compiled by Richard Gillmann from radio playlists submitted to FOLKDJ-L, an electronic discussion group for DJs and others interested in all folk-based music on the radio.
Members of Brother Sun also backed Mara Levine on Jewels and Harmony, 2013's third most-played album. Pharis and Jason Romero's Long Gone Out West Blues was the #2 album, while its title track was the #3 song on folk radio. The Stray Birds' "Dream in Blue" was the #2 song.
The FOLKDJ-L charts are based on 157,864 airplays from 187 different DJs. The number of reported spins (airplays) is shown in parentheses, while label and release dates appear in brackets. They are posted, with permission, on AcousticMusicScene.com.
Top Albums of 2013
1: "Some Part Of The Truth," Brother Sun [brothersunmusic.com, 2/13] (435)
"Lady Of The Harbor"
"In The Name Of Love"
"These Hands"
"Everybody's Cryin' Mercy"
"I Ain't Got No Home"
"Pushing Stones"
"House That Jack Built"
"Jericho Road"
"Willow"
"Sad"
"There's Enough Love"
2: "Long Gone Out West Blues," Pharis And Jason Romero [Lula, 2/13] (320)
"Long Gone Out West Blues"
"Wild Bill Jones"
"Come On Home"
"Waiting For The Evening Mail"
"Truck Driver's Blues"
"Sad Old Song"
"I Want To Be Lucky"
"Lost Lula"
"Sally Goodin"
"Lonely Home Blues"
3: "Jewels And Harmony," Mara Levine [maralevine.com, 1/13] (314)
"The Dutchman"
"River"
"Leaves That Are Green"
"When I Sing With You"
"April Come She Will"
"Immigrant Dream"
"Blackberry Time"
"I Will Walk With You"
4: "So Say We All," David Francey [Red House, 5/13] (305)
"Rain"
"Long Long Road"
"Cheap Motel"
"Pandora's Box"
"Blue Skies"
"Satellite"
"Ordinary Man"
"American Blues"
5: "The Stray Birds," The Stray Birds [thestraybirds.com, 9/12] (269)
"Dream In Blue"
"Railroad Man"
"25 To Life"
"Harlem"
"Just Sayin"
"Heavy Hands"
"My Brother's Hill"
"No Part Of Nothin"
"Wind And Rain"
6: "Bristol Bay," Si Kahn [Strictly Country, 6/13] (266)
"Beauty Of Alaska"
"Dead Man's Sand"
"Bristol Bay"
"Upstream"
"Once I Was Young"
"Pebble Mine"
"Everything Is Bigger In Alaska"
"Sailing To Alaska"
7: "Next Time Around," Darryl Purpose [Blue Rock, 10/12] (250)
"Dreams Of Life"
"Girl From Golden"
"Next Time Around"
"Ghost Of Crazy Horse"
"Race The Wind"
"Stories That We Tell"
"Orange Raincoat"
"Fourth Chair"
7: "No More Rain," The Steel Wheels [thesteelwheels.com, 4/13] (250)
"Go Up To That Mountain"
"Walk Away"
"Whistle Blows"
"Race"
"Waters Edge"
"Corrine"
"I Will Love You"
9: "Love Has Come For You," Steve Martin And Edie Brickell [Rounder,
4/13] (249)
"When You Get To Asheville"
"Sun's Gonna Shine"
"Sarah Jane And The Iron Mountain Baby"
"Get Along Stray Dog"
"Love Has Come For You"
"Friend Of Mine"
"Remember Me This Way"
"Siamese Cat"
10: "Live At Blue Rock," Mary Gauthier [Proper, 10/12] (238)
"I Drink"
"Sugar Cane"
"Our Lady Of The Shooting Stars"
"Your Sister Cried"
"Last Of The Hobo Kings"
"Wheel Inside The Wheel"
"Rocket"
"Drag Queens In Limousines"
11: "Sugar Shack," The Boxcar Lilies [boxcarlillies.com, 5/13] (235)
"If I Needed You"
"Lightnin"
"Sugar Shack"
"6 Ways To Sunday"
"That Lonesome Road"
"Don't Send Me Up To Heaven"
"Good Fortune"
"In This Valley"
12: "These Wilder Things," Ruth Moody [Red House, 5/13] (232)
"Dancing In The Dark"
"Trouble And Woe"
"One Light Shining"
"Trees For Skies"
"These Wilder Things"
"Life Is Long"
"Pockets"
13: "Pressed For Time," Burning Bridget Cleary
[burningbridgetcleary.com, 6/13] (224)
"On A Sea Of Fleur De Lis"
"2 Sisters"
"Oh My Little Darling"
"Pressed For Time"
"Ballad Of Tim Evans"
"Stor Mo Chroi / Eddie Kelly's"
"Ashokan Farewell"
14: "Woody Guthrie At 100! Live At The Kennedy Center," Various
Artists [Legacy, 6/13] (220)
"Deportee," Ani Difranco
"Hard Travelin," Jimmy Lafave
"Pastures Of Plenty," Judy Collins
"Union Maid," Old Crow Medicine Show
"So Long, It's Been Good To Know Yuh," Del McCoury Band With Tim O'Brien
"I Ain't Got No Home," Rosanne Cash
"Pretty Boy Floyd," Rosanne Cash
15: "Banjo Babes," Various Artists [Wepecket Island, 10/12] (213)
"Rappin' Shady Grove," Kaia Kater
"When I Go To West Virginia," Aubrey Atwater
"Precious Days," Evie Ladin
"Boatman," Dale Robin Goodman
"I Love My Honey," Evie Ladin
"See That My Grave Is Kept Clean," Aubrey Atwater
"Little Orchid," Hilary Hawke
"High On A Mountain," Dale Robin Goodman
16: "Still Fighting The War," Slaid Cleaves [Music Road, 6/13] (212)
"Still Fighting The War"
"Rust Belt Fields"
"Texas Love Song"
"In The Rain"
"Welding Burns"
"Hometown Usa"
"God's Own Yodeler"
17: "Child Ballads," Anais Mitchell & Jefferson Hamer [Wilderland, 3/13] (211)
"Geordie"
"Riddles Wisely Expounded"
"Willie Of Winsbury"
"Clyde Waters"
"Willie's Lady"
"Sir Patrick Spens"
"Tam Lin"
18: "22 Days," John McCutcheon [Appalseed, 10/13] (203)
"Heaven's Kitchen"
"Forgotten"
"Orion's Belt"
"Of An Age"
"Dry Land Fish"
"Nothing Like You"
"Adagio In A Minor"
19: "Things Are Coming My Way," Marcy Marxer [Community, 1/13] (200)
"Things Are Coming My Way"
"Angeline The Baker"
"Kissing In The Dark"
"Fool's Gold"
"Girl Django"
"I Wish I Knew How It Would Feel To Be Free"
"It's The Girl"
19: "This World Oft Can Be," Della Mae [Rounder, 5/13] (200)
"Letter From Down The Road"
"Empire"
"This World Oft Can Be"
"Turtle Dove"
"Ain't No Ash Will Burn"
"Hounds"
"Pine Tree"
21: "Memories And Moments," Tim O'Brien And Darrell Scott [Full
Skies, 9/13] (195)
"Keep Your Dirty Lights On"
"Paradise"
"Memories And Moments"
"Time To Talk To Joseph"
"Brother Wind"
"It All Comes Down To Love"
22: "American Kid," Patty Griffin [New West, 5/13] (193)
"Go Wherever You Wanna Go"
"Ohio"
"Don't Let Me Die In Florida"
"Mom And Dad's Waltz"
"Faithful Son"
"Wild Old Dog"
22: "Darlingford," Cara Luft [Blue Case, 6/12] (193)
"Only Love Can Save Me"
"Portland Town"
"Idaho"
"Ploughboy And The Cockney"
"He Moved Through The Fair"
"Bring 'em All In"
"Bye Bye Love"
24: "Into The Dark," Laura Cortese [lauracortese.net, 4/13] (192)
"For Catherine"
"Into The Dark"
"Heel To Toe"
"Life Is Good Blues"
"I Am The House"
"Lay Me Low"
"Village Green"
24: "The Light Still Burns," Lauren Sheehan [Wilson River, 4/13] (192)
"Hard Times"
"I Wish I Could Shimmy Like My Sister Kate"
"Bearcat Blues"
"My Baby's So Sweet"
"C Medley"
"In The Sweet Bye And Bye-Keep On The Sunny Side"
"Old Folks At Home"
26: "Bittersweet," Alice Gerrard [Spruce And Maple, 7/13] (191)
"Sweet South Anna River"
"Bittersweet"
"Payday At The Mill"
"Borderland"
"Lonely Night"
"Play Me A Song I Can Cry To"
"Tell Me Their Story"
26: "Up Like The Clouds," Dubl Handi [dublhandi.bandcamp.com, 1/13] (191)
"Shout Little Lula"
"New River Train"
"Cluck Old Hen"
"Katie Cruel"
"Undone In Sorrow"
"Single Girl"
28: "How To Sleep In A Stormy Boat," Amy Speace [Windbone, 4/13] (189)
"Fortunate Ones"
"Sea And The Shore"
"How To Sleep In A Stormy Boat"
"Left Me Hanging"
"Feathers And Wishbones"
"Hunter Moon"
28: "Walk Along John," John Reischman [Corvus, 4/13] (189)
"Itzbin Reel"
"Walk Along John To Kansas"
"Deadly Fox"
"Joe Ahr's Dream"
"Side By Each"
"Salt River"
30: "Aragon Mill: The Bluegrass Sessions," Si Kahn And The Looping
Brothers [Strictly Country, 8/13] (186)
"Aragon Mill"
"To Hear Doc Watson Play"
"Wild Rose Of The Mountain"
"Gone, Gonna Rise Again"
"5 Days A Week"
"Tarpaper Shacks"
31: "Carnival," Nora Jane Struthers & The Party Line [Blue Pig, 4/13] (185)
"Baker's Boy"
"Jack Of Diamonds"
"Carnival"
"Travelin' On"
"Bike Ride"
"Barn Dance"
"Listen With Your Heart"
"Party Line"
31: "Little Boat," Rita Hosking [ritahosking.com, 2/13] (185)
"Parting Glass"
"5 Star Location"
"Sierra Bound"
"Blow Northwest Wind"
"Where Time Is Reigning"
"Clean"
"Nothing Left Of Me"
33: "The Heart's Swift Foot," Red Tail Ring [Earthwork, 4/13] (184)
"Ohio Turnpike"
"My Heart's Own Love"
"Body Like A Bell"
"Queen Of The West And Other Stories"
"Dirt Triangle"
"Katy Came Breezing"
"The Heart's Swift Foot"
34: "Memory Wall," Buddy Mondlock [Sparking Gap, 5/13] (182)
"Canary's Song"
"What Do I Know"
"Holes You Leave"
"Stone In My Pocket"
"Stay Up All Night"
"Quoddy Point"
"Ugly One"
35: "Hayseed," Susan Werner [30 Tigers, 6/13] (178)
"City Kids"
"Something To Be Said"
"Back To The Land"
"Iowa"
"Plant The Stars"
"Egg Money"
35: "In The Time Of Gods," Dar Williams [Razor & Tie, 4/12] (178)
"I Am The One Who Will Remember Everything"
"Storm King"
"I Have Been Around The World"
"Light And The Sea"
"Summer Child"
"Write This Number Down"
"This Earth"
37: "Everything Is Great," Erik Balkey [Hudson Harding, 2012] (177)
"Baseball In My Blood"
"Singer's Lament"
"My America"
"Born In The Usa"
"Love, It Ain't Easy"
"Everything Is Great"
"Hard Times"
38: "The Barn Birds," Jonathan Byrd & Chris Kokesh [Waterbug, 7/13] (174)
"We Used To Be Birds"
"One Night At A Time"
"Paint The Town Blue"
"In The Light Of Day"
"Sundays Loving You"
"Desert Rose"
"Lay Your Hands On The Highway"
39: "Endless Ocean," The Tuttles With A. J. Lee [Back Studio, 6/13] (172)
"Hickory Wind"
"My Window Faces The South"
"Columbus Stockade Blues"
"Cotton Eyed Joe"
"Oh, Mandolin"
"Beaumont Rag"
"Few Old Memories"
40: "The Old School," Peter Rowan [Compass, 4/13] (170)
"Keepin' It Between The Lines"
"Doc Watson Morning"
"That's All She Wrote"
"O Freedom"
"Mountain Man's Dream"
"True Love To Last"
41: "Old Yellow Moon," Emmylou Harris And Rodney Crowell [Nonesuch, 2/13] (168)
"Hanging Up My Heart"
"Invitation To The Blues"
"Black Caffeine"
"Spanish Dancer"
"Bluebird Wine"
"Dreaming My Dreams"
"Back When We Were Beautiful"
41: "Ring Them Bells," The Copper Ponies [Hudson Harding, 6/13] (168)
"Ring Them Bells"
"Last Train"
"Why Worry"
"If I Go"
43: "Give Me All You Got," Carrie Rodriguez [Ninth Street Opus, 1/13] (167)
"Devil In Mind"
"Sad Joy"
"Lake Harriet"
"Whiskey Runs Thicker Than Blood"
"I Cry For Love"
"I Don't Mind Waiting"
43: "Live At Caffe Lena," Various Artists [Tompkins Square, 9/13] (167)
"Green Rolling Hills Of West Virginia," Utah Phillips
"Mr. Bojangles," Jerry Jeff Walker
"City Of New Orleans," Arlo Guthrie
"Gaslight Rag," Dave Van Ronk
43: "Vancouver," Deborah Holland [RageOn, 6/13] (167)
"I Wanna Be A Canadian"
"Norwegian Wood"
"Vancouver"
"Home"
"Money"
46: "Our Lady Of The Tall Trees," Cahalen Morrison And Eli West
[cahalenandeli.com, 9/12] (164)
"Lady Does Not Often Falter"
"Church Street Blues"
"Our Lady Of The Tall Trees"
"Stone To Sand"
"Loretta"
"Red Prairie Dawn"
46: "Yes Please," The Bills [Red House, 8/12] (164)
"Plant Song"
"Shining Face"
"Blackberry Ivy And Broom"
"Hallowed Hall"
"Not The End"
"Pandora's In Flames"
48: "As The Crow Flies," Childsplay [childsplay.org, 7/13] (160)
"Hawk And Crow / As The Crow Flies"
"Leave No Millionaire Behind"
"Dear Companion"
"Katrina"
"Last Alleluia"
49: "The Good Book," Roy Book Binder [Peg Leg, 5/13] (158)
"The Good Book"
"It Coulda Been Worse"
"Step Right Up"
"Electric Cigarette Blues"
"Poker Playin' Papa"
"What You Gonna Do"
"Full Go Around"
50: "Bright Like Gold," April Verch [Slab Town, 4/13] (155)
"Sandy River Belle"
"Broken"
"No Other Would Do"
"Only One"
"Raven In The Hemlock"
51: "Coyote Wings," Zoe Mulford [Azalea City, 1/13] (154)
"Sister, Sail"
"Pocket Fulla Quarters"
"Coyote Wings"
"Storm Damage"
"When The Coffee's All Gone"
"Sunrise Susquehanna"
51: "They Called It Music," The Gibson Brothers [Compass, 3/13] (154)
"They Called It Music"
"Darker The Night, The Better I See"
"Buy A Ring, Find A Preacher"
"Daddy's Gone To Knoxville"
"Songbird's Song"
"Home On The River"
53: "Time," Kathy Kallick Band [Live Oak, 8/12] (153)
"Time"
"Long Time Travelin"
"Lord Protect My Soul"
"Old Black Choo Choo"
"Thinkin' Of Home"
"Dark Hollow"
54: "Greetings From Cheryl Wheeler Live," Cheryl Wheeler [Dias, 9/12] (152)
"Gandhi/Buddha"
"Where's All The Money"
"Arrow"
"Lady Gaga's Singing Program"
"Little Kids"
55: "New Everything," Brooks Williams [Red Guitar Blue, 7/13] (150)
"Deep River Blues"
"Carry On"
"Mercury Blues"
"King Of California"
"Prosperity"
"One Step"
56: "Electric," Richard Thompson [New West, 2/13] (148)
"Saving The Good Stuff For You"
"Salford Sunday"
"Snow Goose"
"Where's Home?"
"Good Things Happen To Bad People"
56: "Goodnight Moonshine," Molly Venter And Eben Pariser
[myspace.com/mollyventer, 2/13] (148)
"Willow Tree"
"Work I Done"
"Walking After Midnight"
"Dark Side Of The Rainbow"
"End Of The World Blues"
"Goodnight Moonshine"
"All Our Friends"
56: "Hammer Down," The Steeldrivers [Rounder, 2/13] (148)
"Shallow Grave"
"Burnin' The Woodshed Down"
"I'll Be There"
"Wearin' A Hole"
"When I'm Gone"
"When You Don't Come Home"
"Lonesome Goodbye"
56: "Say Grace," Sam Baker [sambakermusic.com, 8/13] (148)
"Isn't Love Great"
"Road Crew"
"Say Grace"
"Panhandle Winter"
"Go In Peace"
"Migrants"
56: "Christine Lavin Presents: Just One Angel v2.0," Various Artists
[Yellow Tail, 12/13] (148)
"These Ornaments," Craig Werth
"Snow Day," Honor Finnegan
"Light The Lamp," Emily Kurn
"Pass The Fruitcake," Claudia Russell And Bruce Kaplan
"I Want An Old Fashioned Christmas," Amy Speace
61: "Reunion," Lucy Kaplansky [Red House, 9/12] (147)
"This Morning I Am Born Again"
"I'm Looking Through You"
"Reunion"
"Scavenger"
"Beauty Way"
"I'll See You Again"
62: "Inside Llewyn Davis," Various Artists [Nonesuch, 11/13] (145)
"Green, Green Rocky Road," Oscar Isaac
"500 Miles," Justin Timberlake, Carey Mulligan And Stark Sands
"Fare Thee Well," Oscar Isaac And Marcus Mumford
"Last Thing On My Mind," Stark Sands With The Punch Brothers
"Death Of Queen Jane," Oscar Isaac
"Hang Me, Oh Hang Me," Oscar Isaac
63: "Kitchen, Love," Putnam Smith [Itchy Sabot, 6/13] (144)
"Succotash"
"Country Girl"
"Emily Dickinson"
"New Shoes"
"Cast Iron Pan"
64: "Brothers Of The Highway," Dailey And Vincent [Rounder, 5/13] (142)
"Brothers Of The Highway"
"Hills Of Caroline"
"Steel Drivin' Man"
"Back To Jackson County"
"Close By"
"Howdy Neighbor Howdy"
65: "Love Calling," Darden Smith [Compass, 7/13] (141)
"Angel Flight"
"Love Calling"
"Medicine Wheel"
"Mine Till Morning"
"7 Wonders"
"Better Now"
66: "Sing The Delta," Iris DeMent [Flariella, 10/12] (140)
"Go On Ahead And Go Home"
"Night I Learned How Not To Pray"
"Mama Was Always Tellin' Her Truth"
"There's A Whole Lotta Heaven"
"Sing The Delta"
67: "The Ash & Clay," The Milk Carton Kids [Anti-, 3/13] (139)
"Hope Of A Lifetime"
"Honey, Honey"
"Heaven"
"Ash And Clay"
"Jewel Of June"
67: "Dear Sister," Claire Lynch [Compass, 5/13] (139)
"Dear Sister"
"Buttermilk Road/The Arbours"
"How Many Moons"
"I'll Be Alright Tomorrow"
"Doin' Time"
"Once The Teardrops Start To Fall"
67: "Only Slightly Mad," David Bromberg Band [Appleseed, 9/13] (139)
"Nobody's Fault But Mine"
"Keep On Drinkin"
"I'll Rise Again"
"Drivin' Wheel"
"Fields Have Turned Brown"
"Nobody Knows The Way I Feel This Mornin"
70: "Back 40," Robin & Linda Williams [Red House, 10/13] (138)
"Boots Of Spanish Leather"
"Urge For Going"
"My Sweet Love Ain't Around"
"On And On"
"Pine County"
70: "High Moon Order," Betse Ellis [Free Dirt, 6/13] (138)
"Long Time To Get There"
"Elk River Blues"
"Twilight Is Stealing"
"Straight To Hell"
"Dry And Dusty"
"Stamper"
72: "Fossils," Aoife O'Donovan [Yep Roc, 6/13] (137)
"Lay My Burden Down"
"Red And White And Blue And Gold"
"Thursday's Child"
"Beekeeper"
"Briar Rose"
"Fire Engine"
72: "Wild Bill Jones," The Quiet American [quietamericanmusic.com, 1/13] (137)
"Apple In The Fall"
"Gallows Pole"
"Come Walkin' With Me"
"Wild Bill Jones"
"True Love Will Find You In The End"
74: "Down in Washington Square," Dave Van Ronk [Smithsonian/Folkways,
10/13] (136)
"Duncan And Brady"
"Another Time And Place"
"Gambler's Blues"
"Buckets Of Rain"
74: "My Favorite Picture Of You," Guy Clark [Dualtone, 7/13] (136)
"My Favorite Picture Of You"
"Rain In Durango"
"Cornmeal Waltz"
"El Coyote"
"Hell Bent On A Heartache"
"Heroes"
76: "The Comeback Album," Eric Brace And Peter Cooper [Red Beet, 4/13] (135)
"Ancient History"
"Boxcars"
"Mad"
"Ponzi Scheme"
"Nobody Knows"
"Rain Just Falls"
77: "Won't Be Long Now," Linda Thompson [Pettifer, 10/13] (134)
"As Fast As My Feet"
"Love's For Babies And Fools"
"Never Put To Sea Boys"
"If I Were A Bluebird"
"Father Son Ballad"
78: "Tom Rush Celebrates 50 Years Of Music," Tom Rush [Appleseed, 8/13] (133)
"Urge For Going"
"No Regrets/Rockport Sunday"
"Hot Tonight"
"What I Know"
"Drivin' Wheel"
79: "Build Me Up From Bones," Sarah Jarosz [Sugar Hill, 9/13] (132)
"Fuel The Fire"
"Over The Edge"
"Build Me Up From Bones"
"Dark Road"
"Mile On The Moon"
"Simple Twist Of Fate"
79: "Gravity Pulls," Hounds Of Finn [New Folk, 6/13] (132)
"Wild Mountain Thyme"
"Gravity Pulls"
"Ocean"
"Golden Ticket"
"My Father's Coat"
79: "Silver Lining," The Honey Dewdrops [thehoneydewdrops.com, 6/12] (132)
"One Kind Word"
"Hills Of My Home"
"Silver Lining"
"Let Me Sing"
"No More Trouble"
79: "Skipping Rocks," Ken & Brad Kolodner [Fenchurch, 9/13] (132)
"Down On My Knees"
"Orchard"
"Skipping Rocks"
"Billy In The Lowground"
"Red Rocking Chair"
79: "Threshold," Karine Polwart [Borealis, 2/13] (132)
"Rivers Run"
"Follow The Heron"
"Take Its Own Time"
"Better Things"
"Sorry"
84: "Jack Of All Trades," Steve Chizmadia [Jack Of All Trades, 2/13] (131)
"Song For Pete"
"Wall Street Fat-Cat Tax-Payer Bail-Out Blues"
"Memphis Girl"
"I'm Alright"
"Nashville Star"
84: "The Weather Inside," Beth Wood [Blue Rock, 2011] (131)
"Coyote Prayer"
"New Kid"
"Close Your Eyes, Here We Go"
"Backroads"
"Calico"
"The Weather Inside"
86: "We Made It Home," Melody Walker & Jacob Groopman [Maker/Mender,
10/13] (130)
"We Made It Home"
"Graceland"
"Little Blue Caboose"
"Retinue"
"Betelgeuse"
87: "Flash Company," Outside Track [Lorimer, 9/12] (127)
"Transatlantic"
"Mountain Road"
"Flash Company"
"False Knight On The Road"
"Whitby Maid"
87: "Grandma's Rules For Drinking," Annie Lou [annielou.ca, 6/12] (127)
"Grandma's Rules For Drinking"
"Take Your Leg Off Mine"
"Plaid Parade"
"Cluny Is So Tall"
"On The Main Drag"
"Winter Song"
89: "Broken Film," Disappear Fear [disappearfear.com, 9/13] (126)
"Farmland And The Sky"
"Banker"
"Start"
"Perfect Shade"
"American Artist"
"Broken Film"
89: "The Low Highway," Steve Earle & The Dukes (& Duchesses) [New
West, 4/13] (126)
"Love's Gonna Blow My Way"
"The Low Highway"
"After Mardi Gras"
"Warren Hellman's Banjo"
91: "Temptation," Spuyten Duyvil [spuytenduyvilmusic.com, 9/13] (125)
"I'll Fly Away"
"Honey On My Grave"
"Bitter"
"Honey Whiskey"
"Window"
92: "Tune Tramp," Erynn Marshall [Hickoryjack, 12/12] (124)
"Milwaukee Blues"
"Ragged But Right"
"Poor Hobo"
"Bonaparte's Retreat"
"Rambler's Blues"
93: "Angels Without Wings," Heidi Talbot [Compass, 1/13] (121)
"Dearest Johnny"
"Button Up"
"When The Roses Come Again"
"Angels Without Wings"
"Wine And Roses"
93: "Carved Wood Box," Cal Scott [Tamarack, 12/12] (121)
"Carved Wood Box"
"Paid Too Much For The Diamond"
"Smallest Act Of Kindness"
"One More River"
"Dig Down Deep"
"London Town"
93: "Take This Song With You," Maya And The Ruins
[mayaandtheruins.bandcamp.com, 9/12] (121)
"Train Whistle Blues"
"Bootlegger's Blues"
"Wildflowers"
"Let Me In"
"Roll Along Kentucky Moon"
"Write Me A Letter"
93: "Tender Is The Night," Old Man Luedecke [True North, 11/12] (121)
"Kingdom Come"
"Jonah And The Whale"
"I'm Fine"
"Song For Ian Tyson"
"Tortoise And The Hare"
97: "Tales From Jackson Bridge," Harpeth Rising [Grimm Rising, 9/13] (119)
"Sparrow"
"Wheelhouse"
"House Of The Rising Sun"
"It Don't Really Matter"
"Burn Away Your Troubles"
98: "Almanac Trail," Rik Palieri And George Mann [Almanac Trail, 7/13] (118)
"I'm Going Down That Road Feeling Bad"
"Union Maid"
"Which Side Are You On?"
"Harry Bridges"
"I Don't Want Your Millions, Mister"
98: "Light In The Sky," Red Molly [redmolly.com, 2011] (118)
"Walk Beside Me"
"Your Long Journey"
"Do I Ever Cross Your Mind"
"Come On In My Kitchen"
"It's Too Late To Call It A Night"
100: "Walking Song," Ron Block [Rounder, 7/13] (117)
"Walking Song"
"Nickel Tree Line"
"Devil In The Strawstack"
"Summer's Lullaby"
"Shortnin' Bread"
101: "Tell The Ones I Love," Steep Canyon Rangers [Rounder, 9/13] (116)
"Tell The Ones I Love"
"Come Dance"
"Stand And Deliver"
"Boomtown"
"Bluer Words Were Never Spoken"
102: "Land On Shore," Ari And Mia [ariandmiamusic.com, 5/13] (115)
"Glad You Came By"
"Starry Crown"
"Marble Moon"
"Land On Shore"
"Turtle"
102: "Still Green," Patty Larkin [Signature, 9/13] (115)
"Best Of Intentions"
"Mando Drum"
"It Could Be Worse"
"Bon Vivants"
"Down Through The Wood"
102: "Transistor Corazon," Melissa Greener [Anima, 3/13] (115)
"Ghost In The Van"
"That's What Makes You Strong"
"With The Weather"
"If I Fell"
"Transistor Corazon"
"Mess Love Made"
105: "Hand On The Plow," The Tillers [Muddy Roots, 7/13] (114)
"Road Neverending"
"Old Westside"
"Long Summer Day"
"Shanty Boat"
"Weary Soul"
105: "Paper Nickels," Corin Raymond And The Sundowners [Local Rascal,
8/13] (114)
"Ol' Fort Mac"
"9 Inch Nails"
"Lord Giveth"
"Big Truck Brought It"
105: "Tooth & Nail," Billy Bragg [Cooking Vinyl, 3/13] (114)
"I Ain't Got No Home"
"Handyman Blues"
"No One Knows Nothing Anymore"
"Do Unto Others"
"There Will Be A Reckoning"
"Tomorrow's Going To Be A Better Day"
108: "Honey Man," Hey Mavis [Stellada, 2/13] (113)
"Let The Water Do The Work"
"Say Hello To Paris"
"Honey Man"
"Midnight Train"
"Red Hot"
108: "Rise," Elaine Mahon [Gatorbone, 1/13] (113)
"Rise Up Singing"
"Dust Tracks In The Road"
"56 Blue Chevy"
"6 Pelicans"
"Selkie Bride"
110: "December Moon," The Henry Girls [Broken Silence, 3/13] (108)
"December Moon"
"Ol' Cook Pot"
"Sing My Sister Down"
"Rain And Snow"
"Watching The Detectives"
111: "Heart Of The Country," Chris Brashear [Dog Boy, 9/12] (107)
"Time The Perfect Stranger"
"Old Pueblo"
"Today I Saw The Longest Train"
"Listen To Me Mother"
"Hills Of Arkansas"
111: "Juba Dance," Guy Davis [M. C., 9/13] (107)
"That's No Way To Get Along"
"Lost Again"
"See That My Grave Is Kept Clean"
"My Eyes Keep Me In Trouble"
"Statesboro Blues"
111: "Oldies And Old Time," Ivan Rosenberg [Vole-O-Tone, 6/13] (107)
"Red Rocking Chair"
"Abject Woodchuck"
"Sloth Up A Gum Stump"
"Willow Tree"
"Don't Pity Me"
114: "Against The Grain," Moors And McCumber [moorsandmccumber.com, 6/13] (105)
"Love And War"
"Against The Grain"
"Buried In Stone"
"Feeling In Your Belly"
"Hey Hey"
"Raining Down In Georgia"
114: "Steel And Salt," Carolann Solebello [Elizabeth, 8/13] (105)
"Brooklyn In The Rain"
"River"
"Falling Is Easy"
"Backward"
"Put Down The Gun"
116: "Carry Me Home," The Dustbowl Revival [Self, 4/13] (104)
"John The Revelator"
"New River Train"
"Swing Low"
"Shine"
"Soldier's Joy"
117: "Everything Is Moving," Laura Smith [Borealis, 4/13] (103)
"I Built A Boat"
"Lonely Waterloo"
"Magdalen McGillivray"
"Horses And Plough"
"John Keane's Boys"
117: "Runaway Freeway Blues," Black Lillies [North Knox, 3/13] (103)
"Fall"
"Ramblin' Boy"
"Gold And Roses"
"Glow"
119: "To All The Girls?," Willie Nelson [Legacy, 10/13] (102)
"Grandma's Hands"
"From Here To The Moon And Back"
"Always On My Mind"
"Dry Lightning"
120: "Rag And Bone," 3 Penny Acre [Second String, 7/13] (101)
"Slim Was A Teamster"
"Will And Woody"
"Gibsonville"
"Rag And Bone"
"Somewhere In The Middle"
120: "Room Enough For All," Battlefield Band [Temple, 3/13] (101)
"Farewell To Indiana"
"Bagpipe Music"
"Hairy Angler Fish"
"Major George Morrison Dso"
120: "Wishing Well," Hans Theessink [Blue Groove, 4/13] (101)
"Early This Morning Blues"
"Make Me Down A Pallet On Your Floor"
"Living With The Blues"
"Snowin' On Raton"
"Wayfaring Stranger"
123: "Pepper's Ghost & Other Banjo Visitations," Joel Mabus [Fossil,
10/13] (100)
"Pepper's Ghost"
"Leather Wing Bat"
"Panhandle Prairie"
"Fire On The Mountain"
"American Patrol"
124: "Texodus," Dylan Sneed [myspace.com/dylansneed, 2010] (99)
"Texodus"
"Garden"
"Girls Just Want To Have Fun"
"Midnight Promenade"
"Climb This Wall"
125: "Ordinary Cats," Jon Shain [Flyin', 2/13] (98)
"Ordinary Cats"
"Cut Out Bin"
"Level It Out"
"Luckier Than Most"
"You Cannot Hide Your Heart From The Band"
126: "New Frontier," Missy Raines And The New Hip [Compass, 8/13] (97)
"I Learn"
"Blackest Crow"
"Long Way Back Home"
"What's The Callin' For?"
"Nightingale"
126: "Spiorad," Talitha MacKenzie [Sonas, 2/13] (97)
"Changerais-Tu?"
"Fionnaghuala"
"Hopa!"
"Fear A' Bhata"
126: "Tin Star," Lindi Ortega [Last Gang, 10/13] (97)
"Tin Star"
"Hard As This"
"Voodoo Mama"
"Gypsy Child"
"Waitin' On My Luck To Change"
129: "Almost There," Suzie Brown [suziebrownsongs.com, 9/13] (95)
"Almost There"
"I'm Gonna Be A Wheel Someday"
"Everywhere I Go"
"Fallen Down"
"Sugar Blues"
129: "Roll Me, Tumble Me," Deadly Gentlemen [Rounder, 6/13] (95)
"I Fall Back"
"Working"
"Bored Of The Raging"
"Faded Star"
"Roll Me, Tumble Me"
131: "Elements," Paul McKenna Band [Greentrax, 6/13] (94)
"Ruins By The Shore"
"Flying Through Flanders"
"Cold Missouri Waters"
"Mickey Dam"
"Take Your Time"
131: "Song Of The Seas," Eagle McCall [eaglemccall.com, 10/12] (94)
"Valparaiso Suite"
"Leavin' Of Liverpool"
"My Ireland"
"Song Of The Peter Iredale"
131: "Traces," Karine Polwart [Borealis, 8/12] (94)
"Salters Road"
"King Of Birds"
"Don't Worry"
"Cover Your Eyes"
"We're All Leaving"
131: "When We Fall," Rebecca Frazier [Compass, 5/13] (94)
"Human Highway"
"Ain't Gonna Work Tomorrow"
"Better Than Staying"
"Clifftop"
"40 Blues"
135: "All Our Luck Is Changing," Claudia Russell [Radio Rhythm, 5/13] (93)
"Pirate Girls"
"All Our Luck Is Changing"
"Follow Your Tail Lights Home"
"Hey Hey"
135: "Coyote's Calling," James Gordon [Borealis, 1/13] (93)
"We're The Ninety-9"
"Jack's Dream"
"Silence Of The Snow"
"Coyote's Calling"
135: "The Last Day Of Winter," Chris Vallillo [Gin Ridge, 11/12] (93)
"The Last Day Of Winter"
"Water Is Wide"
"Bonaparte's Retreat"
"Old Joe Clark"
"Steel Guitar Rag"
"Tequila"
135: "Hudson Harding Sampler, Vol. 8: Happy Holidays," Various Artists
[Hudson Harding, 12/13] (93)
"Give To Receive," Jonathan Byrd And Chris Kokesh
"Santa Drank The Whole Damn Bar," Mark Stepakoff
"One Little Partridge," Zoe Mulford
"Taladh Chriosda," Mara Levine With Jeff Scroggins And Colorado
139: "Belong," Susan McKeown [Hibernian, 11/12] (92)
"Everything We Had Was Good"
"On The Bridge To Williamsburg"
"Cure For Me"
"Lullaby Of Manhattan"
139: "History: The First 25 Years," James Keelaghan [Borealis, 10/13] (92)
"My Skies"
"Sweetgrass Moon"
"Glory Bound"
"Abraham"
139: "Lay Down, Lay Low," The Steel Wheels [thesteelwheels.com, 1/12] (92)
"Breaking Like The Sun"
"Lay Down Lay Low"
"Halfway To Heaven"
"Rain In The Valley"
139: "Magdalene," Karyn Oliver [Buxom County, 5/13] (92)
"Magdalene"
"Water"
"Slip Away With Me"
"Hallelujah"
"Weeping Willow Road"
139: "On The Edge," Frank Solivan & Dirty Kitchen [Compass, 4/13] (92)
"Day To Day"
"Letter"
"On The Edge Of Letting Go"
"Wild Unknown"
"M80"
139: "A Very Blue Rock Christmas," Various Artists [Blue Rock, 12/13] (92)
"Christmas In The Ashram," Tom Prasada-Rao
"Do You Hear What I Hear?," Terri Hendrix
"Miracle," David Wilcox
"Rudolph, The Red-Nosed Reindeer," Ruthie Foster
"Rudy Rap," David Wilcox
139: "Zuzu's Petals," Cary Cooper [MacKinaw Harvest, 9/13] (92)
"Charlie Brown Kinda Day"
"Wildest Dreams"
"Little Things"
"Gandhi Drove A Cab"
"This Too Shall Pass"
146: "Howl," Howlin' Brothers [Readymade, 3/13] (91)
"Big Time"
"Gone"
"Julia Belle Swain"
"Delta Queen"
"Mama Don't You Tell Me"
146: "Rabbits Motel," Woody Pines [woodypines.com, 4/13] (91)
"Train That Carried My Gal From Town"
"Hobo And His Bride"
"Keep Your Hands Off Her"
"Like I Do"
146: "The Things I Notice Now: Anne Hills Sings the Songs of Tom
Paxton," Anne Hills [Appleseed, 11/12] (91)
"Early Snow"
"Hard Times Are Here Again"
"Mother"
"Things I Notice Now"
"Hold On To Me, Babe"
146: "Unknown Blessings," Jaime Michaels [Frumdahart, 8/13] (91)
"Good Luck John"
"True And Fine"
"Alice Dances"
"Dirty Wine"
"I Don't Believe In Yesterday"
150: "Showin' My Roots," Donna Ulisse [Hadley, 10/13] (90)
"Take This Hammer"
"Showin' My Roots"
"Fist City"
"How Mountain Girls Can Love"
"In The Good Old Days When Times Were Bad"
150: "World Of Possibility," Arlon Bennett [Red Sea, 1/13] (90)
"World Of Possibility"
"Question For Einstein"
"Sal"
"Carry Me"
"I America"
152: "Old-Fashioned Gal," The Carper Family [carperfamilyband.com, 5/13] (89)
"Foolish Ramblin' Man"
"Old Fashioned Gal"
"Bad Attitude"
"Last Chance To Dance"
152: "Tether My Heart," Hannah Shira Naiman [Merriweather, 10/13] (89)
"Little Fox"
"Same Old Song"
"Way To Go Home"
"Kentucky"
"Looking For My Own"
154: "Flourish," Katie McNally [Self, 1/13] (88)
"In And Out / Dud's Jig"
"Waulking Of The Fauld/Lillian's"
"Bad Soup/Riff Raff And Widget"
"Sepal, Petal And Thorn/ The Golden Poppy"
154: "One More Time Around," Scott Cook [Groove Revival, 8/13] (88)
"Pass It Along"
"New Grist"
"Among The Trees"
"Broke, And So Far From Home"
156: "American Hornpipe," Dana And Susan Robinson [Threshold, 6/12] (87)
"When This Old Hat Was New"
"Lazy John"
"Raleigh And Spencer"
"Who Killed Cock Robin"
"Will The Circle Be Unbroken"
156: "My Friend Hafiz," The Levins [thelevinsmusic.com, 2009] (87)
"Dropping Keys"
"Sun Never Says"
"Act Great"
156: "Old Buck," Old Buck [Tin Halo, 8/13] (87)
"False Hearted Lover's Blues"
"Chilly Winds"
"You Win Again"
"Tribulations"
156: "Some Bright Morning," Rani Arbo And Daisy Mayhem [Signature, 4/12] (87)
"Hear Jerusalem Moan"
"East Virginia"
"I'll Fly Away"
"Crossing The Bar"
160: "Block Out The Sirens Of This Lonely World," Chip Taylor [Train
Wreck, 5/13] (86)
"Block Out The Sirens Of This Lonely World"
"Last Video"
"Ukrainian Girls"
"Better Put My Glasses On"
160: "Monocle Band," Monocle Band [monocleband.com, 10/13] (86)
"Can't Get By"
"Heart House"
"As Fast As I Can"
"Water Sky"
160: "New Primitive," Adam Steffey [Organic, 6/13] (86)
"Johnny Don't Get Drunk"
"Squirrel Hunters"
"Goodbye Girls I'm Going To Boston"
"Garfield's Blackberry Blossom"
"Rock The Cradle Joe"
160: "This Land: Woody Guthrie's America," John McCutcheon
[Appalsongs, 2011] (86)
"Biggest Thing That Man Has Ever Done"
"This Land Is Your Land"
"Deportees"
"This Is Our Country Here"
164: "No Man's Land," Yvette Landry [yvettelandry.com, 5/13] (85)
"Dog House Blues"
"3 Chords And A Bottle"
"My Next Mr. Ex"
"Butterfly Kisses"
164: "Northern Lights," Matt Stone [mattfolkmuse.com, 3/13] (85)
"Brown Dog"
"Simple Things"
"Spirit Of The Wolf"
"Orion"
164: "Plays Kenny Baker Plays Bill Monroe," Noam Pikelny [Compass, 10/13] (85)
"Jerusalem Ridge"
"Wheel Hoss"
"Road To Columbus"
"Ashland Breakdown"
167: "Flight," Trout Steak Revival [troutsteak.com, 10/12] (84)
"Darling Corey"
"Blackjack Supper Club"
"Greasy Coat"
"Where Do My Bluebird Fly"
167: "House And Garden," Nell Robinson And Jim Nunally [Self, 5/13] (84)
"Life In The Garden"
"Old Old House"
"Gardener"
"My Blue Tears"
167: "Outshine The Sun," The Foghorn String Band
[foghornstringband.com, 9/12] (84)
"Indian Ate The Woodchuck"
"Outshine The Sun"
"Be Kind To A Man While He's Down"
170: "A Million Stars," Ashleigh Flynn [Home Perm, 4/13] (83)
"Dirty Hands And Dirty Feet"
"A Million Stars"
"Prove It On Me"
"Prohibition Rose"
170: "Ready For The Times," Sutton, Holt & Coleman [High Windy, 2/13] (83)
"Travelin' Man"
"Hotel Wall"
"Ready For The Times To Get Better"
"Solid Gone"
172: "Calling Me Home," Kathy Mattea [Sugar Hill, 9/12] (82)
"Gone, Gonna Rise Again"
"West Virginia, My Home"
"Black Waters"
"Wood Thrush's Song"
172: "Leaving Eden," Carolina Chocolate Drops [Nonesuch, 2/12] (82)
"Country Girl"
"No Man's Mama"
"Leaving Eden"
172: "Wide Awake," Joy Kills Sorrow [Signature, 6/13] (82)
"Such Great Heights"
"Was It You"
"Gold In The Deep"
"Working For The Devil"
172: "Wilder Girl," Sally Barris [sallybarris.com, 8/12] (82)
"Wilder Girl"
"Let The Wind Chase You"
"Just Won't Do"
"Sinful Thoughts"
176: "We The People," Lou Dominguez [loudominguez.com, 10/13] (81)
"Citizens United"
"Happy American Solstice"
"All The Way To Iraq"
"Record Store"
"Gun Country"
177: "Borderland," The Stray Birds [reverbnation.com/thestraybirds, 3/12] (80)
"Birds Of The Borderland"
"Down In The Willow Garden"
"Come Sunday"
"My Horses Ain't Hungry"
177: "New Siberia," Antje Duvekot [antjeduvekot.com, 4/12] (80)
"Sleepy Sea Of Indigo And Blue"
"Into The City"
"New Siberia"
"Ballad Of Fred Noonan"
177: "The Same Way Down," Annalivia [annaliviamusic.bandcamp.com, 9/12] (80)
"False Sir John"
"Bright Sunny South"
"New Mown Meadow"
"Turtle Dove"
177: "Sweetheart Of The Sun," The Greencards [Darling Street, 8/13] (80)
"Black, Black Water"
"Forever Mine"
"Paddle The Torrens"
"Boxcar Boys"
177: "What We Lost," Ben Bedford [Waterbug, 9/12] (80)
"John The Baptist"
"What We Lost"
"Guinevere Is Sleeping"
"Fallen"
182: "Brambles And Thorns," John Wort Hannam [Borealis, 10/12] (79)
"Great Lakes"
"Pretty Good"
"Radiant Land"
"Beautiful Friend"
182: "Brother Sun," Brother Sun [World Wide, 2011] (79)
"What Must Be Done"
"All I Want Is A Garden"
"Love Is The Water"
"Sister Moon"
182: "A Good Place To Be," Mustard's Retreat [Yellow Room, 7/13] (79)
"A Good Place To Be"
"Going Back To School"
"Wind Chimes And Trains"
"Holy Ground"
182: "Release Your Shrouds," Lindsay Lou & The Flatbellys [Earthwork, 6/12] (79)
"My Side Of The Mountain"
"Pass Me The Whiskey"
"All Day"
186: "Seinn," Mary Jane Lamond And Wendy MacIsaac [Factor, 9/12] (78)
"If You Were Mine"
"Yellow Coat"
"Keeping Up With Calum"
"Boise Monsters"
186: "The Story Behind The Story," Mark Stepakoff [markstepakoff.com, 7/13] (78)
"You Either Get It Or You Don't"
"Beer View Mirror"
"Kitty Is A Cougar"
"War Movies And Westerns"
186: "We're Not Lost," The Show Ponies [theshowponies.com, 10/13] (78)
"Baby, I'm In Love With You"
"Whiskey And Wine"
"Gone"
"If I Die Tomorrow"
"We're Not Lost"
189: "One & Many," Noel Paul Stookey [Neworld, 9/12] (77)
"Not That Kind Of Music"
"In These Times"
"Big Picture"
"Every Breath You Take"
189: "This One's For Him: A Tribute To Guy Clark," Various Artists
[Icehouse, 2011] (77)
"Texas Cookin," Gary Nicholson, Darrell Scott And Tim O'Brien
"Dublin Blues," Joe Ely
"Guitar," Ramblin' Jack Elliott
191: "Beneath Some Lucky Star," Bill Staines [Red House, 10/12] (76)
"Along The Road"
"Salt Air"
"Shady Grove"
"Christmas Lullaby"
191: "Fists Of Violets," Sarah Alden [Self, 10/12] (76)
"Dink's Tune"
"Ida Red"
"Ruby, Honey Are You Mad At Your Man?"
"Come Take A Trip On My Airship"
191: "Prelude," Ronstadt Generations [ronstadtgenerations.com, 10/12] (76)
"California Blues"
"For What It's Worth"
"Thunder And Sadness"
"Malaguena Salerosa"
191: "Spring And Fall," Paul Kelly [Gawd, 11/12] (76)
"New Found Year"
"Time And Tide"
"Gonna Be Good"
"None Of Your Business Now"
191: "Wood And Wire," Wood And Wire [woodandwireband.com, 3/13] (76)
"Rambler's Blues"
"Brand New Day"
"Mexico"
196: "Hits & Holidays," Debi Smith [Degan, 10/13] (75)
"Pie"
"Haunted"
"Pampa Texas"
196: "This Side Of Jordan," Mandolin Orange [Yep Roc, 8/13] (75)
"Turtle Dove And The Crow"
"House Of Stone"
"There Was A Time"
198: "Cluck Ol' Hen," Ricky Skaggs And Bruce Hornsby [Skaggs Family, 8/13] (74)
"How Mountain Girls Can Love"
"Gulf Of Mexico Fishing Boat Blues"
"Toy Heart"
"Way It Is"
198: "Homesteady," Tin Bird Choir [tinbirdchoir.bandcamp.com, 6/13] (74)
"Sea Change"
"Angels"
"Cheaper, Less Painful"
"Straight Face"
198: "Kindred Spirits: A Collection," Carrie Newcomer [Rounder, 11/12] (74)
"Breathe In Breathe Out"
"Gathering Of Spirits"
"There Is A Tree"
"Geodes"
198: "Let's Face The Music And Dance," Willie Nelson And Family [Sony,
4/13] (74)
"Let's Face The Music And Dance"
"Matchbox"
"South Of The Border"
198: "Living Room," Andrew Calhoun [Waterbug, 6/13] (74)
"Hallelujah Morning"
"Gates Of Love"
"Crawdad Song"
"Walk Easy"
203: "Royal Street," Amanda Pearcy [Self, 2/13] (73)
"Barking Dogs"
"Bring You Home"
"No Expectations"
"Ordinary Lives"
204: "At The Heart Of It All," Capercaillie [Compass, 8/13] (72)
"At The Heart Of It All"
"Abu Chuibhl"
"S' Och A' Dhomhnaill Oig Ghaolaich"
"Nighean Dubh Nighean Donn"
204: "I Read Your Book," Friction Farm [Self, 6/13] (72)
"Let It Rain"
"These Days"
"Katie Raise Your Sails"
"You Always Bring Me Down"
204: "Opening Day," Peter Cooper [Red Beet, 9/13] (72)
"Grandma's Tattoo"
"Much Better Now"
"Birches"
"Great Today"
204: "Southeastern," Jason Isbell [Southeastern, 6/13] (72)
"Traveling Alone"
"Flying Over Water"
"Stockholm"
"Different Days"
208: "Ash And Bone," Dan Weber [8 Ball, 7/12] (71)
"Hank And Jesus"
"Wishin's Just For Fools"
"In Her Prime"
208: "Cheater's Game," Kelly Willis And Bruce Robison [30 Tigers, 2/13] (71)
"Border Radio"
"9, 999, 999 Tears"
"Cheater's Game"
208: "Greenin' Up," David Mallett [North Road, 11/12] (71)
"Greenin' Up"
"Summer Of My Dreams"
"Garden Song"
"April"
208: "The Hard Work Of Living," Heather Pierson [Sacred Vessel, 10/13] (71)
"Nothing Left"
"Let It Roll Off Your Back"
"Speak Wisely"
"Crime Most High"
208: "Little Blue Egg," Dave Carter And Tracy Grammer [Red House, 2/12] (71)
"Way Over Yonder In The Minor Key"
"Cross Of Jesus"
"Gypsy Rose"
"Hard To Make It"
213: "From Fresh Water," Stan Rogers [Fogarty's Cove, 1984] (70)
"White Squall"
"Lock-Keeper"
"Nancy"
213: "Honky Tonk," Son Volt [Rounder, 3/13] (70)
"Hearts And Minds"
"Seawall"
"Down The Highway"
213: "Isle Of Hope," Jefferson Ross [Deep Fried, 6/13] (70)
"Take The Picture"
"2 Horses"
"Family Drama"
213: "Little Pilgrim," Jory Nash [Thin Man, 11/12] (70)
"Best Of Your Heart"
"Song About Love"
"Never Enough For Me"
"Take Me Back To Monticello"
213: "Northwest Passage," Stan Rogers [Fogarty's Cove, 1981] (70)
"Northwest Passage"
"Field Behind The Plow"
"Idiot"
218: "Courage," Si Kahn [Strictly Country, 2010] (69)
"Peace Will Rise"
"Washington Square"
"Abe Lincoln Walks Tonight"
"Otis Is Flying"
218: "If Only I Could Fly," Emerald Rae [Green Jewel, 12/12] (69)
"If Only I Could Fly"
"Sugar Baby"
"Fire Fly"
"Summer Time Will Come"
218: "Pickin' Like A Girl," Daughters Of Bluegrass [Blue Circle, 1/13] (69)
"Pickin' Like A Girl"
"Hound Dog Blues"
221: "The Beautiful Old: Turn-of-the-Century Songs," Various Artists
[Doubloon, 6/13] (68)
"Band Played On," Richard Thompson And Christine Collister
"Long Time Ago," Jimmy Lafave
"Love's Old Sweet Song," Heidi Talbot And John McCusker
221: "The Harrow And The Harvest," Gillian Welch [Acony, 2011] (68)
"Way It Goes"
"Scarlet Town"
"Silver Dagger"
221: "Standing In The English Rain," Lizanne Knott [lizanneknott.com,
12/12] (68)
"Stones Throw Away"
"Be Careful With My Heart"
"I Think It's Gonna Rain Today"
"3 Steps Shy"
221: "Tongues In Trees," Dan Berggren [Sleeping Giant, 4/13] (68)
"Capitalist Without A Soul"
"Occupy This Moment"
"Balance"
225: "It's Just A Road," The Boxcars [Mountain Home, 4/13] (67)
"It's Just A Road"
"Trouble In Mind"
"You Took All The Ramblin' Out Of Me"
"Cornelia"
225: "Let Us In Americana: The Music of Paul McCartney," Various
Artists [Reviver, 5/13] (67)
"I've Just Seen A Face," Sam Bush
"Yellow Submarine," Buddy Miller
"Fool On The Hill," Bruce Cockburn
"I Will," Steve Earle And Allison Moorer
225: "Old School Old Time," Fiddle Whamdiddle [Owl Mountain, 12/12] (67)
"Spider Bit The Baby"
"Peekaboo Waltz"
"Sandy Boys"
228: "Another Self Portrait: The Bootleg Series, Vol. 10," Bob Dylan
[Columbia, 9/13] (66)
"When I Paint My Masterpiece"
"Thirsty Boots"
228: "Beyond That," Meg Hutchinson [Red House, 9/13] (66)
"Let's Go"
"Beyond That"
"Nowhere"
228: "Bright Sunny South," Sam Amidon [Nonesuch, 5/13] (66)
"My Old Friend"
"Bright Sunny South"
"As I Roved Out"
228: "Down The Line," Brad Cole [bradcolemusic.com, 7/12] (66)
"Cry Cry Cry"
"Pilgrimage"
"Something About Goodbye"
"Get Back On It"
228: "Drifters & Dreamers," Naming The Twins [Duet Right, 6/13] (66)
"Huckleberry Finn"
"Lonesome Valley"
"Gullwind"
"Skippers And Mates"
228: "Feeling Mortal," Kris Kristofferson [KK, 1/13] (66)
"Feeling Mortal"
"Ramblin' Jack"
"Bread For The Body"
228: "O Brother, Where Art Thou? Soundtrack," Various Artists
[Mercury, 2000] (66)
"I Am A Man Of Constant Sorrow," Soggy Bottom Boys
"Down To The River To Pray," Alison Krauss
"In The Jailhouse Now," Soggy Bottom Boys
228: "Same Old Heart," Buffy Ford Stewart [Global, 1/13] (66)
"Daydream Believer"
"Snakes Of Nuevo Laredo"
"Some Kind Of Love"
228: "Spirityouall," Bobby McFerrin [Sony, 5/13] (66)
"Joshua"
"Glory"
"I Shall Be Released"
"Everytime"
237: "Between The Breaks…Live!," Stan Rogers [Fogarty's Cove, 1979] (65)
"Mary Ellen Carter"
"Witch Of The Westmorland"
"White Collar Holler"
"First Christmas"
237: "Driving Toward The Sun," Susan James [Mri, 2/13] (65)
"Wandering"
"U-Haul In The Driveway"
"Agua Dulce Tears"
237: "From Bamako To Carencro," Beausoleil avec Michael Doucet
[Compass, 2/12] (65)
"2-Step De Port Arthur"
"Bamako"
"You Got To Move"
237: "Ghost Of Your Charms," New Country Rehab [Kelp, 3/13] (65)
"Lizzy Dying Of A Broken Heart"
"Back In Time"
"Empty Room Blues"
"Home To You"
237: "I Don't Want Love You Won't Give Until I Cry," Finnders And
Youngberg [Swingfingers, 9/13] (65)
"Hey Ramona"
"Diner"
"Lonely Too Long"
"Girl From The North Fork Valley"
237: "Wool And Grant," Wool And Grant [Self, 6/13] (65)
"Wild Women"
"Get The Frack Outta Here"
"In America"
"Janis"
243: "Sowing The Seeds: The 10th Anniversary," Various Artists
[Appleseed, 2007] (64)
"Waist Deep In The Big Muddy," Ani Difranco
"Ghost Of Tom Joad," Pete Seeger And Bruce Springsteen
"Universal Soldier," Donovan
243: "Fine Times At Fletcher's House," Fletcher Bright And Bill Evans
[Native And Fine, 6/13] (64)
"Polly Put The Kettle On"
"Northern White Clouds"
"Yellow Barber"
243: "Gone Away Backward," Robbie Fulks [Bloodshot, 8/13] (64)
"Sometimes The Grass Is Really Greener"
"That's Where I'm From"
"When You Get To The Bottom"
"Long I Ride"
243: "No Borders," Spinney Brothers [Mountain Fever, 5/13] (64)
"Grandpa's Way Of Life"
"I Want My Dog Back"
"Whiskey Daniels"
247: "Drum Hat Buddha," Dave Carter And Tracy Grammer [Signature, 2001] (63)
"Gentle Arms Of Eden"
"I Go Like The Raven"
"Ordinary Town"
"Love, The Magician"
247: "These Changing Skies," Elephant Revival [30 Tigers, 9/13] (63)
"Grace Of A Woman"
"Remembering A Beginning"
"Rakers"
"Spinning"
247: "Walls That Talk," Roy Schneider [Shiny Gnu, 9/12] (63)
"Signs"
"Soldier's Joy 1864"
"Dancin' On The Mountain"
"Walls That Talk"
247: "We Have Made A Spark," Rose Cousins [Old Farm Pony, 2/12] (63)
"Darkness"
"If I Should Fall Behind"
"All The Stars"
"What I See"
Top Songs of 2013
1. "Lady Of The Harbor" (75)
by Brother Sun
from "Some Part Of The Truth"
2. "Dream In Blue" (70)
by The Stray Birds
from "The Stray Birds"
3. "Long Gone Out West Blues" (63)
by Pharis And Jason Romero
from "Long Gone Out West Blues"
4. "Devil In Mind" (58)
by Carrie Rodriguez
from "Give Me All You Got"
5. "In The Name Of Love" (56)
by Brother Sun
from "Some Part Of The Truth"
5. "Rain" (56)
by David Francey
from "So Say We All"
7. "Gandhi/Buddha" (55)
by Cheryl Wheeler
from "Greetings From Cheryl Wheeler Live"
7. "Ring Them Bells" (55)
by The Copper Ponies
from "Ring Them Bells"
7. "When You Get To Asheville" (55)
by Steve Martin And Edie Brickell
from "Love Has Come For You"
10. "Dancing In The Dark" (54)
by Ruth Moody
from "These Wilder Things"
11. "Last Train" (53)
by The Copper Ponies
from "Ring Them Bells"
12. "Geordie" (51)
by Anais Mitchell & Jefferson Hamer
from "Child Ballads"
12. "Go Up To That Mountain" (51)
by The Steel Wheels
from "No More Rain"
14. "Dreams Of Life" (50)
by Darryl Purpose
from "Next Time Around"
14. "Parting Glass" (50)
by Rita Hosking
from "Little Boat"
14. "Trouble And Woe" (50)
by Ruth Moody
from "These Wilder Things"
14. "Walk Away" (50)
by The Steel Wheels
from "No More Rain"
14. "Wild Bill Jones" (50)
by Pharis And Jason Romero
from "Long Gone Out West Blues"
19. "Fortunate Ones" (48)
by Amy Speace
from "How To Sleep In A Stormy Boat"
20. "Still Fighting The War" (47)
by Slaid Cleaves
from "Still Fighting The War"
20. "The Dutchman" (47)
by Mara Levine
from "Jewels And Harmony"
20. "These Hands" (47)
by Brother Sun
from "Some Part Of The Truth"
20. "Why Worry" (47)
by The Copper Ponies
from "Ring Them Bells"
24. "Girl From Golden" (46)
by Darryl Purpose
from "Next Time Around"
24. "One Light Shining" (46)
by Ruth Moody
from "These Wilder Things"
24. "Sea And The Shore" (46)
by Amy Speace
from "How To Sleep In A Stormy Boat"
27. "I Wanna Be A Canadian" (45)
by Deborah Holland
from "Vancouver"
28. "Everybody's Cryin' Mercy" (44)
by Brother Sun
from "Some Part Of The Truth"
29. "I Am The One Who Will Remember Everything" (43)
by Dar Williams
from "In The Time Of Gods"
29. "I'll Fly Away" (43)
by Spuyten Duyvil
from "Temptation"
29. "Rivers Run" (43)
by Karine Polwart
from "Threshold"
32. "Baseball In My Blood" (42)
by Erik Balkey
from "Everything Is Great"
32. "Ohio Turnpike" (42)
by Red Tail Ring
from "The Heart's Swift Foot"
34. "Hope Of A Lifetime" (41)
by The Milk Carton Kids
from "The Ash & Clay"
34. "If I Needed You" (41)
by The Boxcar Lilies
from "Sugar Shack"
34. "On A Sea Of Fleur De Lis" (41)
by Burning Bridget Cleary
from "Pressed For Time"
37. "Letter From Down The Road" (40)
by Della Mae
from "This World Oft Can Be"
38. "I Ain't Got No Home" (39)
by Brother Sun
from "Some Part Of The Truth"
38. "Lightnin" (39)
by The Boxcar Lilies
from "Sugar Shack"
38. "Succotash" (39)
by Putnam Smith
from "Kitchen, Love"
38. "Willie Of Winsbury" (39)
by Anais Mitchell & Jefferson Hamer
from "Child Ballads"
42. "Long Long Road" (38)
by David Francey
from "So Say We All"
42. "Pandora's Box" (38)
by David Francey
from "So Say We All"
42. "Riddles Wisely Expounded" (38)
by Anais Mitchell & Jefferson Hamer
from "Child Ballads"
45. "Aragon Mill" (37)
by Si Kahn And The Looping Brothers
from "Aragon Mill: The Bluegrass Sessions"
45. "I Drink" (37)
by Mary Gauthier
from "Live At Blue Rock"
45. "Lay My Burden Down" (37)
by Aoife O'Donovan
from "Fossils"
45. "Pushing Stones" (37)
by Brother Sun
from "Some Part Of The Truth"
45. "They Called It Music" (37)
by The Gibson Brothers
from "They Called It Music"
50. "5 Star Location" (36)
by Rita Hosking
from "Little Boat"
50. "For Catherine" (36)
by Laura Cortese
from "Into The Dark"
50. "Go Wherever You Wanna Go" (36)
by Patty Griffin
from "American Kid"
50. "Itzbin Reel" (36)
by John Reischman
from "Walk Along John"
50. "Sun's Gonna Shine" (36)
by Steve Martin And Edie Brickell
from "Love Has Come For You"
50. "Urge For Going" (36)
by Tom Rush
from "Tom Rush Celebrates 50 Years Of Music"
50. "We Used To Be Birds" (36)
by Jonathan Byrd & Chris Kokesh
from "The Barn Birds"
57. "Carved Wood Box" (35)
by Cal Scott
from "Carved Wood Box"
57. "Cheap Motel" (35)
by David Francey
from "So Say We All"
57. "One Kind Word" (35)
by The Honey Dewdrops
from "Silver Lining"
57. "Sarah Jane And The Iron Mountain Baby" (35)
by Steve Martin And Edie Brickell
from "Love Has Come For You"
57. "Time" (35)
by Kathy Kallick Band
from "Time"
57. "We Made It Home" (35)
by Melody Walker & Jacob Groopman
from "We Made It Home"
63. "Carnival" (34)
by Nora Jane Struthers & The Party Line
from "Carnival"
63. "City Kids" (34)
by Susan Werner
from "Hayseed"
63. "Honey, Honey" (34)
by The Milk Carton Kids
from "The Ash & Clay"
63. "Into The Dark" (34)
by Laura Cortese
from "Into The Dark"
63. "Keepin' It Between The Lines" (34)
by Peter Rowan
from "The Old School"
63. "Northwest Passage" (34)
by Stan Rogers
from "Northwest Passage"
63. "Wild Mountain Thyme" (34)
by Hounds Of Finn
from "Gravity Pulls"
70. "Hanging Up My Heart" (33)
by Emmylou Harris And Rodney Crowell
from "Old Yellow Moon"
70. "Love's Gonna Blow My Way" (33)
by Steve Earle & The Dukes (& Duchesses)
from "The Low Highway"
70. "My Side Of The Mountain" (33)
by Lindsay Lou & The Flatbellys
from "Release Your Shrouds"
70. "Next Time Around" (33)
by Darryl Purpose
from "Next Time Around"
70. "River" (33)
by Mara Levine
from "Jewels And Harmony"
70. "Saving The Good Stuff For You" (33)
by Richard Thompson
from "Electric"
70. "Sugar Cane" (33)
by Mary Gauthier
from "Live At Blue Rock"
70. "Things Are Coming My Way" (33)
by Marcy Marxer
from "Things Are Coming My Way"
70. "Train That Carried My Gal From Town" (33)
by Woody Pines
from "Rabbits Motel"
70. "When I Sing With You" (33)
by Mara Levine
from "Jewels And Harmony"
80. "Come On Home" (32)
by Pharis And Jason Romero
from "Long Gone Out West Blues"
80. "Deportee" (32)
by Ani Difranco
from "Woody Guthrie At 100! Live At The Kennedy Center"
80. "Dropping Keys" (32)
by The Levins
from "My Friend Hafiz"
80. "Everything We Had Was Good" (32)
by Susan McKeown
from "Belong"
80. "Jericho Road" (32)
by Brother Sun
from "Some Part Of The Truth"
80. "Leaves That Are Green" (32)
by Mara Levine
from "Jewels And Harmony"
80. "My Favorite Picture Of You" (32)
by Guy Clark
from "My Favorite Picture Of You"
80. "Pass It Along" (32)
by Scott Cook
from "One More Time Around"
80. "Rust Belt Fields" (32)
by Slaid Cleaves
from "Still Fighting The War"
80. "Shout Little Lula" (32)
by Dubl Handi
from "Up Like The Clouds"
80. "This Morning I Am Born Again" (32)
by Lucy Kaplansky
from "Reunion"
80. "We're The Ninety-9" (32)
by James Gordon
from "Coyote's Calling"
92. "Angel Flight" (31)
by Darden Smith
from "Love Calling"
92. "Deep River Blues" (31)
by Brooks Williams
from "New Everything"
92. "Fall" (31)
by Black Lillies
from "Runaway Freeway Blues"
92. "Heaven's Kitchen" (31)
by John McCutcheon
from "22 Days"
92. "Heel To Toe" (31)
by Laura Cortese
from "Into The Dark"
92. "Lady Does Not Often Falter" (31)
by Cahalen Morrison And Eli West
from "Our Lady Of The Tall Trees"
92. "Our Lady Of The Tall Trees" (31)
by Cahalen Morrison And Eli West
from "Our Lady Of The Tall Trees"
92. "Salford Sunday" (31)
by Richard Thompson
from "Electric"
92. "Sierra Bound" (31)
by Rita Hosking
from "Little Boat"
92. "Sister, Sail" (31)
by Zoe Mulford
from "Coyote Wings"
92. "Sweet South Anna River" (31)
by Alice Gerrard
from "Bittersweet"
92. "Texas Love Song" (31)
by Slaid Cleaves
from "Still Fighting The War"
92. "Wheel Inside The Wheel" (31)
by Mary Gauthier
from "Live At Blue Rock"
105. "Empire" (30)
by Della Mae
from "This World Oft Can Be"
105. "House That Jack Built" (30)
by Brother Sun
from "Some Part Of The Truth"
105. "Last Of The Hobo Kings" (30)
by Mary Gauthier
from "Live At Blue Rock"
105. "Love Has Come For You" (30)
by Steve Martin And Edie Brickell
from "Love Has Come For You"
105. "My Heart's Own Love" (30)
by Red Tail Ring
from "The Heart's Swift Foot"
105. "Only Love Can Save Me" (30)
by Cara Luft
from "Darlingford"
105. "Sugar Shack" (30)
by The Boxcar Lilies
from "Sugar Shack"
105. "Tell The Ones I Love" (30)
by Steep Canyon Rangers
from "Tell The Ones I Love"
105. "Waiting For The Evening Mail" (30)
by Pharis And Jason Romero
from "Long Gone Out West Blues"
105. "Walk Along John To Kansas" (30)
by John Reischman
from "Walk Along John"
105. "Whistle Blows" (30)
by The Steel Wheels
from "No More Rain"
105. "Your Sister Cried" (30)
by Mary Gauthier
from "Live At Blue Rock"
117. "Beauty Of Alaska" (29)
by Si Kahn
from "Bristol Bay"
117. "Christmas In The Trenches" (29)
by John McCutcheon
from "Live At Wolf Trap"
117. "Clyde Waters" (29)
by Anais Mitchell & Jefferson Hamer
from "Child Ballads"
117. "Doc Watson Morning" (29)
by Peter Rowan
from "The Old School"
117. "The Good Book" (29)
by Roy Book Binder
from "The Good Book"
117. "Hawk And Crow / As The Crow Flies" (29)
by Childsplay
from "As The Crow Flies"
117. "Hills Of My Home" (29)
by The Honey Dewdrops
from "Silver Lining"
117. "Lake Harriet" (29)
by Carrie Rodriguez
from "Give Me All You Got"
117. "Let The Water Do The Work" (29)
by Hey Mavis
from "Honey Man"
117. "New River Train" (29)
by The Dustbowl Revival
from "Carry Me Home"
117. "One Night At A Time" (29)
by Jonathan Byrd & Chris Kokesh
from "The Barn Birds"
117. "Singer's Lament" (29)
by Erik Balkey
from "Everything Is Great"
117. "Something To Be Said" (29)
by Susan Werner
from "Hayseed"
117. "Song For Pete" (29)
by Steve Chizmadia
from "Jack Of All Trades"
117. "Storm King" (29)
by Dar Williams
from "In The Time Of Gods"
117. "Such Great Heights" (29)
by Joy Kills Sorrow
from "Wide Awake"
117. "Willow Tree" (29)
by Molly Venter and Eben Pariser
from "Goodnight Moonshine"