Two regional affiliates of Folk Alliance International — an association that aims to foster and promote contemporary, traditional and multicultural folk music — hold their annual conferences this month. Folk Alliance Region-West (FAR-West) convenes Oct. 16-19 in Oakland, California, while the Folk Alliance Region Midwest (FARM) Gathering is set for Oct. 23-26 in St. Louis, Missouri.
Booking gigs is the primary objective of some musicians and singer-songwriters who attend these conference, while many presenters and folk DJs come primarily to scout out new artists and those whom they have not previously heard and seen in live performance. However, the conference experience is much more than that; it's really about learning and networking, forging connections, renewing existing relationships, and building community.
FAR-West Conference, Oct. 16-19, 2014 in Oakland, California
More than 300 performing artists, presenters, managers, agents and others engaged more than peripherally in the world of folk and acoustic music are expected to converge on the Marriott City Center in Oakland, CA, Oct. 16-19 for the 1lth annual FAR-West Conference. There they will listen, celebrate, recognize and enjoy the richness of folk music and arts in the West. Several conference events also will be open to the public for nominal fees.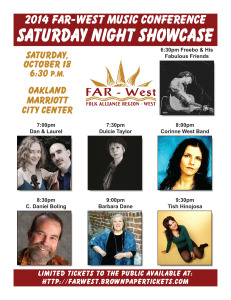 Conference highlights include the opening Venues' Choice Concert on Thursday night and juried Official Showcases on Friday and Saturday evenings. On Thursday, Oct. 16, from 7-9:30 p.m., venues from around the region will each present artists of their choice. These include The Woodshed (Keith Greeninger), Studio 55 (Run Boy Run), Mighty Fine Guitars (Walter Strauss), SF Live Arts @Cyprians (David Jacobs-Strain), and The Palms (Red Meat). Official Showcases extending from 6:30-10 p.m. on Friday, Oct. 17, will feature John Flynn, Kenny Kerr, Linda McRae, Cej, FarmStrong, Honey Whiskey Trio and Beth Wood. Saturday's lineup includes Freebo & His Fabulous Friends, Dan and Laurel, Dulcie Taylor, Corinne West Band, C. Daniel Boling, Barbara Dane and Tish Hinojosa. Each of the Official Showcase artists will perform 25-minute sets in the hotel's grand ballroom. A limited number of tickets are available for the public to each of these events for $15 and may be purchased online at www.farwest.brownpapertickets.com.
Following the Venues' Choice and Official Showcases, from 10:30 p.m. to 2 a.m., there will be late-night private guerilla showcases arranged by conference attendees and held in their hotel rooms, as well as a New Voices Showcase for conference first-timers – all taking place on one floor. Also on the docket are jams that often extend until dawn. The Suzanne Millsaps Memorial Coffeehouse, named after a beloveded folk DJ who passed away, will feature short performances by a total of 80 artists/acts on Thursday overnight and Friday and Saturday afternoons.
During the daytime hours, conference-goers can choose from among a broad array of more than 24 panel discussions and workshops focusing on such topics as the art of accompaniment, the changing landscape of music media, co-writing, harmony singing, house concerts, international touring, music and healing, playing for contra and square dances, recording your song, shooting video to promote yourself, starting and sustaining a music nonprofit, and teaching at workshops and camps. Musicians and folks from related businesses and organizations also can get to know each other in the conference's networking center.
The annual Best of the West Awards will be presented during a Saturday afternoon luncheon. Established by FAR-West in 2005, these awards honor individuals — one performing artist and one non-performer — who have maintained an enduring presence in the folk and acoustic music scene in the West and have established themselves as true leaders and inspirations to others through their talents and efforts on behalf of the community. This year's honorees include a noted blues, jazz and folk artist and the executive director of a Marin County, California-based nonprofit organization that brings free, lively quality music and arts to people who are institutionalized of otherwise isolated from society.
Barbara Dane worked with some of the biggest names in the blues and jazz worlds during the 1950s and 1960s and made frequent appearances on notable radio and television shows of the era. During the turbulent 1960s and 1970s, she became increasingly politically active in the struggles for peace and justice and gravitated more towards folk music (or began to really embrace folk music). Dane also became a club and record label owner and produced music by other artists. She has remained active in the music world and as a champion of social justice causes well into her 80s.
Cassandra Flipper succeeded the late Mimi Farina at the helm of Bread and Roses, which is now marking its 40th year of bringing hope, healing music and wellness to a very underserved segment of society. Through its staging of more than 600 shows yearly in more than 125 institutions throughout the San Francisco Bay Area, Bread and Roses also brings a sense of community to the organization's more than 1, 400 volunteers.
The FAR-West Conference concludes on Sunday afternoon with a Story Expo featuring seven storytellers who enjoy the enrichment that music brings to their art. Tickets for this event, slated for 2-3:30 p.m. and priced at $10, also are available to the public via Brown Paper Tickets. A pre-conference Wednesday Song Showcase at High Street Station in Alameda featuring 20 artists performing two songs each and a post-conference Sunday Afternoon Song Showcase at Oakland's Awaken Café also are open to the public. For more information, visit www.far-west.org.
FARM Gathering, Oct. 23-26, in St. Louis, Missouri
Tim Grimm, an Indiana-based singer-songwriter who has been dubbed "The poet laureate of the rural Midwest" by Michigan Folk Live, will keynote the annual FARM Gathering that's set for Oct. 23-26 at the Sheraton Westport Chalet Hotel in St. Louis, MO. Grimm has recorded a number of albums that have reached the top of the Folk DJ and EuroAmericana charts, has worked as an actor in film and on television, and also has hosted the Americana Music Series in Columbus, Indiana for the past decade. Besides keynoting the conference, he will conduct a Thursday afternoon songwriting master class that is to be followed by a program on "The Legacy of the Carter Family" and a Presenter and Folk DJ Showcase.
Fifteen Official Showcase artists have been selected by a panel of judges to perform during this year's conference, which has attracted more than 200 registrants to date. Friday night's lineup includes Dana Cooper, No Fuss & Feathers Roadshow, Scott Cook, Andrew Calhoun, The Wilhelms, Josh Harty, and Dennis Stroughmatt et L'Espirit Creole Duo. Gracing the stage on Saturday night will be Mark Dvorak, Heather Pierson, Paddy Mills, Lyal Strickland, Ashley Condon, Moors & McCumber, and The Underhills.
Friday and Saturday afternoons will feature an array of workshops and panel discussions, while the evenings' official showcases will be preceded and followed by Performance Lane (an open mic of sorts featuring select artists who are not performing in juried showcases), private showcases hosted by conference attendees in their hotel rooms, jams, song circles and community singing that extend from midnight into the early morning hours.
During the conference, singer-songwriter and Red House Records president Eric Peltoniemi will receive FARM's Folk Tradition in the Midwest Lifetime Award, an annual honor bestowed on an individual who resides in the region and who has made a significant contribution to the folk community for at least 25 years. Engaged in the music industry for more than 40 years, Peltoniemi also has been a Grammy Award-winning producer. He's spent three decades with Red House, where he succeeded Bob Feldman as president in 2006. In addition to his own recordings, Peltoniemi's songs have been recorded by Bok Trickett & Muir, Robin and Linda Williams, Sally Rogers, Claudia Schmidt and various Finnish artists, among others.
The FARM Gathering concludes on Sunday at noon, following a continental breakfast and a membership meeting.
A Taste of FARM will afford those individuals who only want to attend the evening concerts an opportunity to do so. One-night is $20, while a three-night pass costs $50. For more information, visit www.farmfolk.org.
As previously noted, FAR-West and FARM are part of the larger Folk Alliance International (www.folk.org). The 27th International Folk Alliance Conference & Winter Music Camp is set for Feb. 18-22, 2015 in Kansas City, Missouri. Folk Alliance International has three other regional affiliates. The Southwest Regional Folk Alliance (SWRFA) held its annual conference in Austin, Texas earlier this fall, while the Northeast Regional Folk Alliance (NERFA) has slated its 20th annual conference for Nov. 13-16 in Kerhonkson, New York and the Southeast Regional Folk Alliance (SERFA) conference takes place next May in Montreat, North Carolina.
Editor's Note: I am an elected board member of both Folk Alliance International and NERFA. A communications and public relations strategist, I will be part of a panel discussion on "Communications and Marketing for Artists" during the FAR-West Conference.