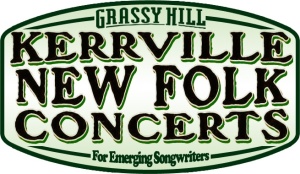 Thirty-two songwriters have been named as finalists in the 2015 Grassy Hill Kerrville New Folk Competition for Emerging Songwriters. Chosen from among hundreds of submissions from around the world, the finalists will perform the two songs they submitted during the New Folk Concerts slated for Saturday and Sunday afternoons, May 23 and 24, as part of the Kerrville Folk Festival.
Scheduled to perform (in order of performance) at the Threadgill Theater on the Quiet Valley Ranch Campgrounds in the Texas Hill Country on May 28, from 1-4 p.m., are Clint Alphin (Nashville, TN), John Brown (Winter Gardens, FL), Mary Bragg (Nashville, TN), Tom Meny (Buda, TX), Susan Cattaneo (Medford, MA), Teresa Storch (Longmont, CO), Dan Weber (Vancouver, WA), Cherie Call (Spanish Fork, UT), Becky Warren (Nashville, TN), Amy McCarley (Huntsville, AL), Chase Gassaway (Austin, TX), Aubryn (Nashville, TN), Andrew Delaney (Plano, TX), Abby Lappen (Claverack-Red Mills, NY), David Berkeley (Santa Fe, NM), and Heather Styka (Portland, ME).
New Folk Finalists slated to perform on May 29 include Hope Dunbar (Utica, NE), Drew Kennedy (New Braunfels, TX), Kerry Patrick Clark (Whitehouse, OH), Mare Wakefield (Nashville, TN), Anna Tivel (Portland, OR), Lisa Nicole Grace (Alberta, Canada), Eliot Bronson (Atlanta, GA), Amy Kucharik (Somerville, MA), Wes Collins (Chapel Hill, NC), Andy Roo Forrest (Seattle, WA), Emily Clepper (Austin, TX), Robert Smith (Roanoke, VA), Man in the Ring (Kansas City, MO), Angela Easterling (Green, SC), Candy Lee (Fayetteville, AR), and Jess Klein (Austin, TX).
Mike P. Ryan (Clifton, VA), Emily White (Chicago, IL) and Meg Braun (New York, NY) were named as alternates.
After performing, six songwriters will be selected as 2015 New Folk Winners by noted songwriters David Wilcox and Ellis Paul, who are serving as judges. The six will receive cash honorariums and other prizes, as well as the opportunity to return the following weekend to each perform 20-minute sets during a Grassy Hill Kerrville New Folk Winners concert at the festival on Sunday afternoon, May 31.
Established in 1972 at the urging of Peter Yarrow, the Kerrville New Folk Concerts have become a highlight of the annual festival that is geared towards singer-songwriters of various musical styles and is the longest continuously running festival of its kind in North America. Being named as a New Folk Winner is regarded as a very prestigious honor.
In addition to concerts each evening, Kerrville features Ballad Tree song-sharing sessions, campfire jam sessions, concerts and activities for children, organized canoe trips on the Guadelupe River and Hill Country bike rides, early morning yoga sessions, a professional development program for teachers, as well as a four-day songwriters school and instrumental workshops. The festival runs for 18 straight days – Thursday, May 21– Sunday, June 7. For a complete schedule and additional information, visit www.kerrville-music.com.