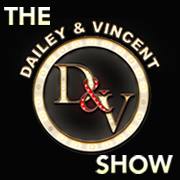 Popular bluegrass duo Dailey & Vincent will host a television show beginning this fall. The Dailey & Vincent Show, filmed before a live audience at the historic Franklin Theatre in Franklin, Tennessee, debuts on Saturday, September 5 at 9:30 p.m. EST/8:30 p.m. CST on cable network RFD-TV.
The half-hour music, entertainment and lifestyle show – set for a 26-episode run extending through August 2016 – will feature live performances by the duo and special guest artists (including Vince, Dan Tyminski and The Oak Ridge boys, among others), along with cooking and interview segments.
"Words can't describe the joy and humbleness I feel as our TV show comes to life," said Darrin Vincent. "We've been conceptualizing this show for years, and it brings happy tears to my eyes now that our dreams have come true." Echoing his sentiments, Jamie Dailey noted: "As a teenager, I used to lie on the floor and watch my favorite TV shows, Nashville Now and The Statler Brothers Show, and dream about what it would be like to have my own TV show someday. That dream has come true, and I couldn't be more excited or thankful."
The duo has received a bevy of awards and accolades since releasing its debut album in 2008, after apprenticing for years under Doyle Lawson and Ricky Skaggs, respectively. Dailey & Vincent have garnered 13 International Bluegrass Music Awards, including being named three times as both Entertainer of the Year and Vocal Group of the Year. The duo has also been the recipient of numerous awards, including Vocal Group of the Year, from the Society for the Preservation of Bluegrass Music in America (SPBGMA) and has been nominated for several Grammy Awards. Individually, Dailey is a four-time Male vocalist of the Year and Vincent was named Bluegrass Bass Player of the Year four consecutive times between 2009-2012.
The duo's latest studio album, Dailey & Vincent Sing The Statler Brothers, a bluegrass tribute to the legendary country music quartet, spent many weeks on Billboard Magazine's Top Bluegrass Albums Chart and was named Album of the Year in the International Bluegrass Music Awards last year. More recently, Dailey & Vincent released Alive in Concert on both CD and DVD.