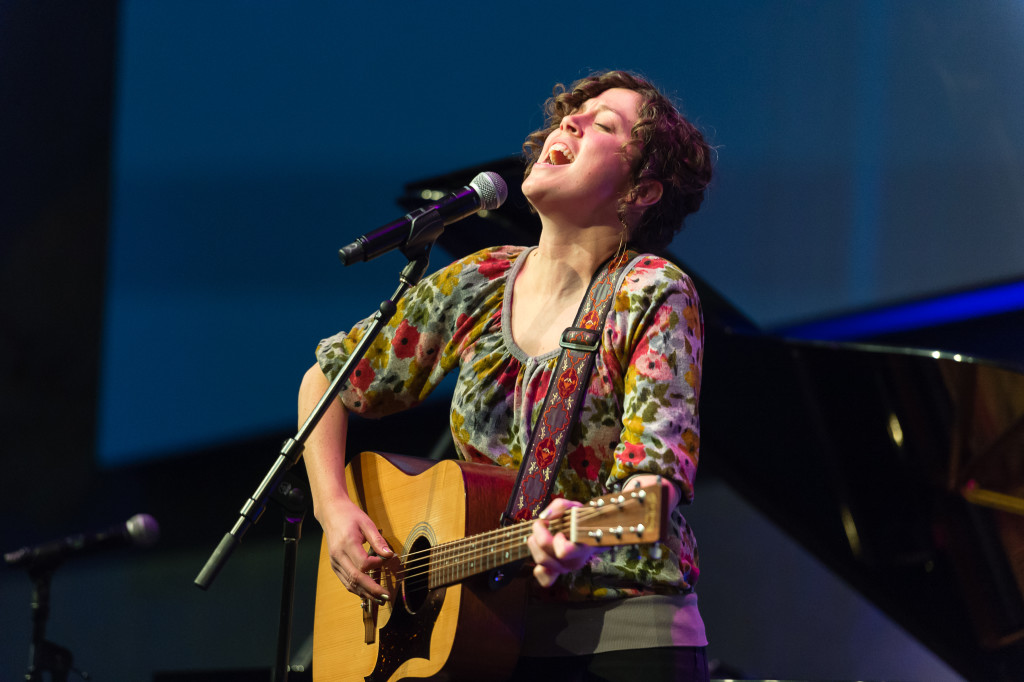 Rachael Kilgour performs during the 2015 NewSong Music Showcase and Competition Finals (Photo: Darial Sneed)
Rachael Kilgour, a Duluth, Minnesota-based singer-songwriter, was named the grand prize winner of the 2015 NewSong Contest after performing, along with eight other artists, during a music showcase and competition finals held January 7, 2016 at Lincoln Center's David Rubenstein Atrium in New York City.
Now in its 14th year, the NewSong Contest showcases emerging performing songwriters. NewSong Music is an independent music organization that aims to build a supportive community of performers and songwriters across various genres of music and skill levels, while identifying truly exceptional artists and introducing their music to a broader, international audience.
As the contest's grand prize winner, Kilgour will receive a performance slot at the 2016 Sundance Film Festival's ASCAP Music Café in Park City, Utah in later January; an opportunity to perform at Lincoln Center later this year; and a recording session at Echo Mountain Recording Studios in Asheville, NC, produced by Gar Ragland, NewSong Music's executive director, for an album to be released under the NewSong Recordings label.
A passionate and engaging performing artist whose songs merge the personal and political, Kilgour also was the winner of the 2015 LEAF Newsong Contest in North Carolina and a finalist in last year's Telluride Troubadour Competition. Noted singer-songwriter Catie Curtis is producing Kilgour's next crowd-funded CD, which is set for release later this year.
Here's a link to a video of "If I Am Gonna Fall Apart," recorded live last September 10 at the World One Studios in Maryland:
http://www.perfectduluthday.com/2015/09/30/rachael-kilgour-if-i-am-gonna-fall-apart/
Among the tracks on the forthcoming album is "If I Am Gonna Fall Apart," which impressed both a capacity crowd and the judges, securing Kilgour a slot in the competition's final round, along with Blair Bodine (Brooklyn, NY), Bonomo (New York, NY) and Sarah Morris (Shoreview, MN). During the second round, Kilgour poured her heart and soul into singing "Still My Wife" and "In America."
Here's a link to a video of "In America":
https://www.youtube.com/watch?v=p6ilvjaA6Eo
"How incredible to have not only a room full of eager listeners, but a panel of judges connect with my work in such a big way," says Kilgour. Reflecting on the experience, she cites "good music, new friends and a kind of validation that a person doesn't get to experience very often. Pretty sure I should keep doing this."
This writer, who considered Kilgour my favorite new discovery at last summer's Falcon Ridge Folk Festival although she did not have an official slot, certainly shares that sentiment — as do many others.
"When Rachael performs, a force of nature erupts," writes Richard Cuccaro in an Acoustic Live! in New York City and Beyond cover feature. "She unleashes a palpable torrent of passion, whether singing about social justice or a searing personal revelation…. When the gigs begin piling up here in the northeast, be sure to see her. The missives from her heart will win yours."