Burning Bridget Cleary, a high-energy Celtic band from Pennsylvania, had both the most-played album (These Are The Days) and three of the four most-played songs on folk radio during January 2016. So say charts compiled by Richard Gillmann from radio playlists submitted to FOLKDJ-L, an electronic discussion group for DJs and others interested in all folk-based music on the radio.
Burning Bridget Cleary's previous release, Pressed For time, reached #1 on the Roots Music Report Folk and Roots radio airplay charts in 2013 and was among the most-played albums on FOLKDJ-L that year. Fronted by charismatic young fiddler and vocalist Rose Baldino, the band also features Amy Beshara (fiddle), Lou Baldino (guitar) and Peter Trezzi (percussion).
The January 2016 FOLKDJ-L charts are based on 15,008 airplays from 148 different DJs. Label and release date appear in brackets below, while the number of reported spins is shown in parentheses. The charts are posted on AcousticMusicScene.com, with permission.
Top Albums of January 2016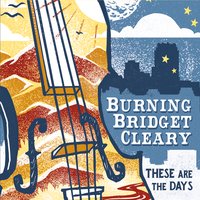 1: These Are The Days, Burning Bridget Cleary [burningbridgetcleary.com, 11/15] (71)
2: The K.O.A. Tapes (Vol. 1), Kate Campbell [Large River, new] (68)
3: Foxhounds, Kathy Kallick Band [Live Oak, 11/15] (67)
4: Weighted Mind, Sierra Hull [Rounder, new] (55)
5: The Hazel And Alice Sessions, Laurie Lewis And The Right Hands [Spruce And Maple, new] (52)
6: Oh Freedom! Songs of the Civil Rights Movement, Chris Vallillo [Gin Ridge, 10/15] (49)
6: Traveling Circus, No Fuss And Feathers [Roadshow, new] (49)
8: Ain't We Brothers, Sam Gleaves [Community, 11/15] (42)
9: Dori Freeman, Dori Freeman [Free Dirt, new] (41)
10: Fine Bloom, Free The Honey [freethehoney.com, 9/15] (38)
11: Just For The Love Of It, Happy Traum [happytraum.com, 7/15] (37)
12: So Lucky, The Lucky Sisters [Patio, 12/15] (36)
13: At Peace With One's Ghosts, The Paperboys [paperboys.com, 2014] (34)
14: Pompadour, Tim O'Brien [Howdy Skies, 10/15] (32)
15: Charm City Junction, Charm City Junction [Patuxent, 6/15] (31)
16: Beg And Borrow, Battlefield Band [Temple, 8/15] (28)
17: Joy Of Living: A Tribute To Ewan MacColl, Various Artists [Compass, 10/15] (27)
17: Shadow Trails, Linda McRae [Borealis, 9/15] (27)
17: Shifted, Harpeth Rising [Grimm Rising, 8/15] (27)
20: The Back Of Winter, Adrianna Ciccone [adriannaciccone.com, 9/15] (26)
21: Knockout Rose, Boxcar Lilies [boxcarlilies.com, 9/15] (25)
21: Third Street, Peter Mayer [Blue Boat, 2014] (25)
23: Sorrows And Glories, Red Moon Road [redmoonroad.com, 9/15] (24)
24: In The Magic Hour, Aoife O'Donovan [Yep Roc, new] (23)
24: Tomorrow's Child, Jonathan Edwards [Rising, 6/15] (23)
24: The Ultimate Guide To Scottish Folk, Various Artists [ARC, 10/15] (23)
27: #LoveInEvolution, Sweet Honey In The Rock [Appleseed, new] (22)
27: Tomorrow Is My Turn, Rhiannon Giddens [Nonesuch, 2/15] (22)
27: A Wanderer I'll Stay, Pharis And Jason Romero [Lula, 3/15] (22)
30: Jayme Stone's Lomax Project, Jayme Stone [Borealis, 2/15] (21)
30: So Familiar, Steve Martin And Edie Brickell [Rounder, 10/15] (21)
32: Hard Cry Moon, Donna Ulisse [Hadley, 9/15] (20)
32: The Jeremiahs, The Jeremiahs [Self, 2014] (20)
32: Roses And Victory, Honor Finnegan [Frock, new] (20)
32: This River, Amy Soucy [amysoucymusic.com, 6/15] (20)
32: Too Big World, Bumper Jacksons [bumperjacksons.com, 6/15] (20)
37: Anna And Elizabeth, Anna And Elizabeth [Free Dirt, 3/15] (19)
37: Manannan's Cloak, Barrule [Easy On The Record, 5/15] (19)
37: Ready For The Storm, Lori Lieberman [Drive On, 10/15] (19)
40: At Home: The Maine Tour, Noel Paul Stookey [Neworld, 9/15] (18)
40: Domestic Eccentric, Old Man Luedecke [True North, 7/15] (18)
40: Happy Prisoner: The Bluegrass Sessions, Robert Earl Keen [Dualtone, 2/15] (18)
40: Leave Some Things Behind, The Steel Wheels [Big Ring, 4/15] (18)
40: The Tennessee Sessions, The Swamp Brothers [Itchy Sabot, 7/15] (18)
45: North East Rising Sun, Brooksie Wells [Down Home Diva, 10/15] (17)
45: Silver Lining, Efrat [efratmusic.com, 10/15] (17)
47: Anna Laube, Anna Elizabeth Laube [Ahh? Pockets, 5/15] (16)
47: Beyond The Ash And Steel, Judy Kass [Self, new] (16)
47: Brotherhood, The Gibson Brothers [Rounder, 2/15] (16)
47: Dreams And Ghosts: A Family Album, Avery Hill [averyhilltunes.com, 7/15] (16)
47: The Heart Is The Hunter, Lenne Klingaman [Humuncules, 8/15] (16)
47: Salt As Wolves, Jeffrey Foucault [Blueblade, 10/15] (16)
47: Hudson Harding Sampler, Vol. 10: Happy Holidays, Various Artists [Hudson Harding, 12/15] (16)
54: Birds Say, Darlingside [30 Tigers, 9/15] (15)
54: Blues And Ballads: A Folksinger's Songbook, Volumes I & II, Luther Dickinson [New West, new] (15)
54: Dancing Toward The Light, Jesse Palidofsky [Azalea City, 2014] (15)
54: The Fiddle Preacher, Otter Creek [ottercreekduo.com, 8/15] (15)
54: A Silent Song, Archie Fisher [Red House, 9/15] (15)
54: The Song Of The Banjo, Alison Brown [Compass, 10/15] (15)
54: Songs Of Heart And Home, Greg Blake [gregblakemusic.com, 9/15] (15)
54: Through Many A Land, Eden MacAdam-Somer And Larry Unger [Black Socks, 11/15] (15)
54: Woven, Jenna Moynihan [Self, 10/15] (15)
63: And Then There's This, The Grascals [Mountain Home, new] (14)
63: Depot Light: Songs Of Eric Taylor, Peter Cooper [Red Beet, 11/15] (14)
63: Kokomo Kidd, Guy Davis [M. C., 9/15] (14)
63: Man In The Moon, Andy M. Stewart [Green Linnet, 1994] (14)
63: Old Time Reverie, Mipso [Robust, 10/15] (14)
63: So Far, So Good, David Roth [Wind River, 6/15] (14)
63: So Low, Tim Williams [Lowdenproud, 11/15] (14)
70: Cayamo Sessions At Sea, Buddy Miller And Friends [New West, new] (13)
70: Crimson, Kirsten Maxwell [Self, 4/15] (13)
70: Dogwood Cats, Jefferson Ross [Deep Fried, 6/15] (13)
70: Experienced, Larry Keel [Keel Fish, new] (13)
70: Nashville Obsolete, Dave Rawlings Machine [Acony, 9/15] (13)
70: Round Trip, Beppe Gambetta And Tony McManus [Borealis, 8/15] (13)
70: Runaway Train, Flatt Lonesome [Mountain Home, 10/15] (13)
Top Songs of January 2016
1. "Madam I'm A Darling" (21)
by Burning Bridget Cleary
from These Are The Days
2. "Mountain" (17)
by Burning Bridget Cleary
from These Are The Days
3. "Union Pacific" (16)
by No Fuss And Feathers
from Traveling Circus
4. "Another Day" (15)
by Burning Bridget Cleary
from These Are The Days
5. "Greensboro" (12)
by Kate Campbell
from The K.O.A. Tapes (Vol. 1)
6. "Ain't Nobody" (11)
by Dori Freeman
from Dori Freeman
6. "Let The Mystery Be" (11)
by The Lucky Sisters
from So Lucky
6. "Snowflakes" (11)
by Kathy Kallick Band
from Foxhounds
9. "Black River" (10)
by Sierra Hull
from Weighted Mind
10. "Foxhounds" (9)
by Kathy Kallick Band
from Foxhounds
10. "In-Between" (9)
by Sierra Hull
from Weighted Mind
10. "Pretty Bird" (9)
by Laurie Lewis And The Right Hands
from The Hazel And Alice Sessions
10. "Some Song" (9)
by Kate Campbell
from The K.O.A. Tapes (Vol. 1)
10. "Won't You Come Sing For Me" (9)
by Laurie Lewis And The Right Hands
from The Hazel And Alice Sessions
10. "Working Girl Blues" (9)
by Laurie Lewis And The Right Hands
from The Hazel And Alice Sessions
16. "Angel In The Ashes" (8)
by Sam Gleaves
from Ain't We Brothers
16. "Better Than The Last" (8)
by Paperboys
from At Peace With One's Ghost
16. "Beyond The Ash And Steel" (8)
by Judy Kass
from Beyond The Ash And Steel
16. "Careless Love Blues" (8)
by Happy Traum
from Just For The Love Of It
16. "Down In The Woods" (8)
by Jonathan Edwards
from Tomorrow's Child
16. "Drift Away" (8)
by No Fuss And Feathers
from Traveling Circus
16. "From Galway To Graceland" (8)
by Kate Campbell
from The K.O.A. Tapes (Vol. 1)
16. "Motherless Child" (8)
by No Fuss And Feathers
from Traveling Circus
16. "So Dang Lonesome" (8)
by Kathy Kallick Band
from Foxhounds
16. "Stranded" (8)
by Sierra Hull
from Weighted Mind
16. "Strangeness Of The Day" (8)
by Kate Campbell
from The K.O.A. Tapes (Vol. 1)