Solas, an Irish-American band currently marking its 20th anniversary, had the most-played album (All These Years) on folk radio during February 2016. This is the second consecutive month that a Celtic band has had the #1 album; In January, These Are The Days by Burning Bridget Cleary topped the charts compiled by Richard Gillmann from radio playlists submitted to FOLKDJ-L, an electronic discussion group for DJs and others interested in all folk-based music on the radio.
Boulder, Colorado-based singer-songwriter Rebecca Folsom's "Better Times" was February's most-played song, edging out Burning Bridget Cleary's "Madam I'm a Darling," January's top song.
The February 2016 FOLKDJ-L charts are based on 13,220 airplays from 143 different DJs. Label and release date appear in brackets below, while the number of reported spins is shown in parentheses. The charts are posted on AcousticMusicScene.com with permission.
Top Albums of February 2016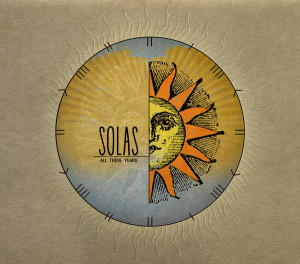 1: All These Years, Solas [solasmusic.com, 2/16] (93)
2: The Hazel And Alice Sessions, Laurie Lewis And The Right Hands [Spruce And Maple, 1/16] (75)
3: Roses And Victory, Honor Finnegan [Frock, 2/16] (63)
4: These Are The Days, Burning Bridget Cleary [burningbridgetcleary.com, 11/15] (56)
5: Extraordinary Days, Rebecca Folsom [rebeccafolsom.com, 1/16] (55)
5: The K.O.A. Tapes (Vol. 1), Kate Campbell [Large River, 1/16] (55)
5: Live From Blue Rock, Moors And McCumber [moorsandmccumber.bandcamp.com, new] (55)
8: Dori Freeman, Dori Freeman [Free Dirt, 2/16] (53)
9: Didn't We Waltz, Amy White with Al Petteway [Fairewood, new] (50)
10: Ladies And Gentlemen, Infamous Stringdusters [Compass, 1/16] (48)
11: Weighted Mind, Sierra Hull [Rounder, 1/16] (47)
12: Where I Belong, Lauren Heintz [Gatorbone, 2015] (46)
13: Traveling Circus, No Fuss And Feathers [Roadshow, 1/16] (45)
14: Foxhounds, Kathy Kallick Band [Live Oak, 11/15] (41)
15: Big Sky Country, Sofia Talvik [Makaki, 4/15] (38)
15: Folkest, Denise Jordan Finley [Dome Island, new] (38)
17: Beyond The Ash And Steel, Judy Kass [judykassmusic.com, 1/16] (33)
17: Folk Art, The Robert Bobby Duo [I Likemike, new] (33)
19: Beyond The Rain, Quiles And Cloud [Compass, 1/16] (32)
19: Real Midnight, Birds Of Chicago [5 Head, new] (32)
21: The Both, Eli West [Self, new] (30)
21: Please Come Home, The Debutones [debutones.com, 8/15] (30)
23: Less Is More, Gordie Tentrees [tentrees.ca, 4/15] (29)
23: You're Dreaming, Cactus Blossoms [Red House, 2/16] (29)
25: Love You Strong, Terri Hendrix [Wilory, new] (28)
26: The Back Of Winter, Adrianna Ciccone [adriannaciccone.com, 9/15] (26)
26: Hobo Jungle Fever Dreams, Corin Raymond [Local Rascal, new] (26)
26: Lola, Carrie Rodriguez [Luz, new] (26)
29: Above The Prairie, The Pines [Red House, new] (24)
29: The Guest House, Ellis [Singing Crow, 2/16] (24)
29: Subcontinental Drift, Sultans Of String with Anwar Khurshid [McK, 9/15] (24)
32: Crow The Dawn, Jon Shain And Joe Newberry [Flyin, new] (23)
32: Pompadour, Tim O'Brien [Howdy Skies, 10/15] (23)
32: So Lucky, The Lucky Sisters [Patio, 12/15] (23)
35: The Ghosts Of Highway 20, Lucinda Williams [Highway 20, new] (22)
35: The Jeremiahs, The Jeremiahs [Self, 2014] (22)
37: C&O Canal, Eric Brace And Peter Cooper [Red Beet, new] (21)
37: Charm City Junction, Charm City Junction [Patuxent, 6/15] (21)
37: Love, Guns And Money, Bianca De Leon [Self, 2011] (21)
40: A Congress Of Treasons, Grant Peeples And The Peeples Republik [Gatorbone, new] (20)
41: City Painted Gold, The Brothers Comatose [Swamp Jam, new] (19)
41: Crimson, Kirsten Maxwell [Self, 4/15] (19)
41: Simon Linsteadt, Simon Linsteadt [Stormy Deep, 2/15] (19)
41: Traveling Roots, Matt Flinner Trio [Compass, 1/16] (19)
45: God Don't Never Change: The Songs Of Blind Willie Johnson, Various Artists [Alligator, new] (18)
45: In The Magic Hour, Aoife O'Donovan [Yep Roc, 1/16] (18)
45: Meridian Rising, Paul Burch [Plowboy, new] (18)
45: Through Many A Land, Eden MacAdam-Somer And Larry Unger [Black Socks, 11/15] (18)
49: Domestic Eccentric, Old Man Luedecke [True North, 7/15] (17)
49: Fine Bloom, Free The Honey [freethehoney.com, 9/15] (17)
51: Beg And Borrow, Battlefield Band [Temple, 8/15] (16)
51: I'll Take You Home, Steve Brooks [Frog, new] (16)
51: Joy Of Living: A Tribute To Ewan MacColl, Various Artists [Compass, 10/15] (16)
51: Something More Than Free, Jason Isbell [Southeastern, 7/15] (16)
51: Sorrows And Glories, Red Moon Road [redmoonroad.com, 9/15] (16)
51: Too Big World, Bumper Jacksons [bumperjacksons.com, 6/15] (16)
57: Blues And Ballads: A Folksinger's Songbook, Volumes I & II, Luther Dickinson [New West, 2/16] (15)
57: Cayamo Sessions At Sea, Buddy Miller And Friends [New West, new] (15)
57: Experienced, Larry Keel [Keel Fish, 2/16] (15)
57: Nashville Obsolete, Dave Rawlings Machine [Acony, 9/15] (15)
61: Ain't We Brothers, Sam Gleaves [Community, 11/15] (14)
61: Another Black Hole, Malcolm Holcombe [Gypsy Eyes, new] (14)
61: Bela Fleck & Abigail Washburn, Bela Fleck & Abigail Washburn [Rounder, 2014] (14)
61: So Familiar, Steve Martin And Edie Brickell [Rounder, 10/15] (14)
65: At Peace With One's Ghosts, The Paperboys [paperboys.com, 2014] (13)
65: Dreams And Ghosts: A Family Album, Avery Hill [averyhilltunes.com, 7/15] (13)
65: The Fiddle Preacher, Otter Creek [ottercreekduo.com, 8/15] (13)
65: Just For The Love Of It, Happy Traum [happytraum.com, 7/15] (13)
65: The Tennessee Sessions, The Swamp Brothers [Itchy Sabot, 7/15] (13)
65: A Wanderer I'll Stay, Pharis And Jason Romero [Lula, 3/15] (13)
Top Songs of February 2016
1. "Better Times" (17)
by Rebecca Folsom
from
Extraordinary Days
2. "Madam I'm A Darling" (16)
by Burning Bridget Cleary
from These Are The Days
3. "You Say" (15)
by Dori Freeman
from
Dori Freeman
4. "Darkness Darkness" (14)
by Solas
from
All These Years
5. "Pretty Bird" (12)
by Laurie Lewis And The Right Hands
from
The Hazel And Alice Sessions
5. "You're My Favorite" (12)
by Amy White with Al Petteway
from
Didn't We Waltz
7. "Another Day" (11)
by Burning Bridget Cleary
from
These Are The Days
7. "Constantly Tweaking" (11)
by The Robert Bobby Duo
from
Folk Art
7. "Librarian" (11)
by Honor Finnegan
from
Roses And Victory
7. "Queen Of Hearts/Royal Tea" (11)
by Sierra Hull
from
Weighted Mind
7. "Union Pacific" (11)
by No Fuss And Feathers
from
Traveling Circus
7. "Walking In My Sleep" (11)
by Laurie Lewis And The Right Hands
from
The Hazel And Alice Sessions
13. "Cowboy Jim" (10)
by Laurie Lewis And The Right Hands
from
The Hazel And Alice Sessions
13. "James Alley Blues" (10)
by Laurie Lewis And The Right Hands
from
The Hazel And Alice Sessions
13. "Let The Mystery Be" (10)
by The Lucky Sisters
from
So Lucky
13. "Roarie Bummlers" (10)
by Solas
from
All These Years
13. "Standing On The Shore" (10)
by Solas
from
All These Years
13. "Where I Stood" (10)
by Dori Freeman
from
Dori Freeman
13. "Won't Be Long" (10)
by Infamous Stringdusters
from
Ladies And Gentlemen
20. "16 Come Next Sunday" (9)
by Solas
from
All These Years
20. "By The Rio Grande" (9)
by Quiles And Cloud
from
Beyond The Rain
20. "Drift Away" (9)
by No Fuss And Feathers
from
Traveling Circus
20. "I'll Never Find Another You" (9)
by Lauren Heintz
from
Where I Belong
20. "Law And The Lonesome" (9)
by Corin Raymond
from
Hobo Jungle Fever Dream
20. "This Path Tonight" (9)
by Graham Nash
from
This Path Tonight
20. "Unnamed Shetland Reel / Da Full Rigged Ship" (9)
by Solas
from
All These Years
20. "Won't You Come And Sing For Me?" (9)
by Laurie Lewis And The Right Hands
from
The Hazel And Alice Sessions