Ten selected songwriters or songwriting teams will be afforded the opportunity to perform an original bluegrass song in front of some of the top bluegrass artists and producers in the industry as part of a Sept. 29 Songwriter Showcase during the International Bluegrass Music Association (IBMA) World of Bluegrass in Raleigh, North Carolina. Online applications are due March 31. Judges will consider both the quality of submitted songs and their appeal to bluegrass audiences in making their selections.
In addition to general contact information, applicants must submit bios, a high-res photo, one demo recording of the song in mp3 format only, and song lyrics (PDF only) with their online applications. Songwriters must be willing to perform the song live if chosen. They do not need to be IBMA members. Although there is no application fee, and multiple entries may be submitted, songwriters selected to showcase are required to register for the IBMA Business Conference in order to participate.
For more information and to complete the online application form, visit
https://ibma.org/world-of-bluegrass/songwriter-track/songwriter-showcase-application-information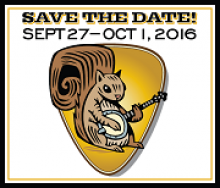 Now in its fourth year in Raleigh, IBMA's World of Bluegrass is bluegrass music's annual industry gathering and family reunion. Featuring a wide array of professional development seminars, meetings and forums, artist showcases and late-night hospitality functions, a keynote speaker (to be announced), an exhibit hall, plenty of networking and relationship-building opportunities, the business conference portion will extend from Tuesday, Sept. 27 through Thursday, Sept. 29. The 25th annual International Bluegrass Music Awards, a centerpiece of the week, will be presented on Thursday evening, Oct. 2, while the festival portion will take place Friday and Saturday, Sept. 30 and Oct. 1.
Featuring both free stages and ticketed performances, the Wide Open Bluegrass Music Festival will afford attendees and the general public opportunities to hear a wide variety of bluegrass music and enjoy a street fair with music stages, vendors of all sorts, and youth activities. A bluegrass film festival also is being planned for the second consecutive year.
Registration and ticket sales for World of Bluegrass open April 5 for IBMA members and April 19 for non-members. For more information, visit www.ibma.org.