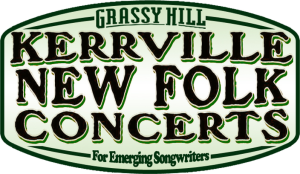 Thirty-two songwriters have been named as finalists in the 2016 Grassy Hill Kerrville New Folk Competition for Emerging Songwriters. Chosen from among more than 600 submissions from around the world, the finalists will perform the two songs they submitted during the New Folk Concerts slated for Saturday and Sunday afternoons, May 28 and 29, as part of the Kerrville Folk Festival.
Scheduled to perform (in order of performance) at the Threadgill Theater on the Quiet Valley Ranch Campgrounds in the Texas Hill Country on May 28, from 1-4 p.m., are Annalise Emerick (Nashville, TN), Rachel Laven (San Antonio, TX), Ro Colegrove (Jamaica Plain, MA), Freddy & Francine (Los Angeles, CA), Donal Hinely (Springfield, TN), Kirsten Maxwell (Huntington, NY), The River Has Many Voices (Austin, TX), Karyn Oliver (New York, NY), Heather Mae (Washington DC), Kelley McRae (Austin, TX), Justin Farren (Sacramento, CA), Annika Bennett (Breezy Point, NY), Dear June (Boston, MA), Michael Braunfeld (Philadelphia, PA), Bob Hillman (San Francisco, CA) and Avery Hill (Portland, OR)
New Folk Finalists slated to perform on May 29 include Aaron Smith (Harrison, AR), Ezra Vancil (Dallas, TX), Joe Shields (Alto, MI), Emily Scott Robinson (Chattanooga, TN), Addie Brownlee (Brooklyn, NY), Ben de la Cour (Nashville, TN), Mare Wakefield and Nomad (Nashville, TN), Grant Peeples (Tallahassee, FL), Meg Braun (Nashville, TN), Randy Palmer (Amarillo, TX), Josh Harvey (San Francisco, CA), Suzanna Choffel (New York, NY), Twangtown Paramours (Nashville, TN), Daniel Champagne (Nashville, TN), Aly Tadros (Brooklyn, NY) and Bethel Steele (Ft Collins, CO).
Named as alternates were Mike Laureanno (Providence, RI), Santiago La Rochelle (Las Vegas, NV), Jeremy Nash (New York, NY), Alex Woodward (Encinitas, CA), and Susan Cattaneo (Medford, MA).
After performing, six songwriters will be selected as 2016 New Folk Winners by noted songwriters Johnsmith, Cheryl Wheeler and Kenny White, who are serving as judges. The six will receive cash honorariums and other prizes, as well as the opportunity to return the following weekend to each perform 20-minute sets during a Grassy Hill Kerrville New Folk Winners concert at the festival on Sunday afternoon, June 5.
Established in 1972 at the urging of Peter Yarrow, the Kerrville New Folk Concerts have become a highlight of the annual festival that is geared towards singer-songwriters of various musical styles and is the longest continuously running festival of its kind in North America. Being named as a New Folk Winner is regarded as a very prestigious honor.
In addition to concerts each evening, Kerrville features "Ballad Tree" song-sharing sessions, campfire jam sessions, concerts and activities for children, organized canoe trips on the Guadelupe River and Hill Country bike rides, a professional development program for teachers, as well as a three-day songwriters school and instrumental workshops. The festival runs for 18 straight days – Thursday, May 26– Sunday, June 12. For a complete schedule and additional information, visit www.kerrville-music.com.