Ten singer-songwriters have been named as finalists in the 2016 Telluride Troubadour Competition, held in conjunction with the 43rd Telluride Bluegrass Festival that takes place June 16-19 amid Colorado's rugged San Juan Mountains. They will now vie for cash and other prizes, as well as the honor of being named the Telluride Troubadour.
This year's finalists, chosen from among more than 300 entries, are Joel Ansett (Denver, CO), Amanda Cevallos (Austin, TX), Brad Cunningham (Kansas City, MO), Hadley Kennary (Nashville, TN), Tom Meny (Austin, TX), Jean Rohe (Brooklyn, NY), Talia Segal (Brighton, MA), Nikki Talley (Asheville, NC), Anna Tivel (Portland, OR) and Emily White (Chicago, IL). Ray Smith (Rollinsville, CO) and Lydia Luce (Los Angeles, CA) were named as alternates.
Each of the ten finalists – who were judged on the basis of their songs' composition, vocal delivery, and the overall presentation — will perform two original songs in the preliminary round at the Elks Park Stage in downtown Telluride, while the top five finalists will perform two different original songs in the final round the following afternoon. In addition to a complimentary four-day festival pass, each finalist also receives an "'in-the-round" performance slot in Elks Park, a live radio spot, a performance coaching session, and an opportunity to perform a "tweener" song on the festival's main stage. The Troubadour winner performs a 15-minute set on Saturday evening.
Previous winners in the competition include Larry Good (1991), Cosy Sheridan (1992), Dan Sheridan (1993), Catie Curtis (1994), LJ Booth (1995), Michael Lille (1996), Jonathan Kingham (1997), Eugene Ruffolo (1998), Libby Kirkpatrick (1999), Mary Coppin (2000), Kris Delmhorst (2001), Deb Talan (2002), Rachel Davis (2003), Brian Joseph (2004), Keith Greeninger (2005), Nels Andrews (2006), Gregory Alan Isakov (2007), Nathan Moore (2008), Mitch Barrett (2009), Robby Hecht (2010), Matt Harlan (2011), Reed Waddle (2012), Reed Turner (2013), Michael Kirkpatrick (2014), and Caitlin Canty (2015).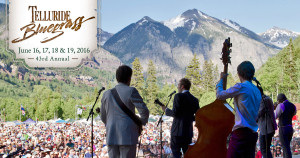 More information on the Telluride Troubadour Competition and on the Telluride Bluegrass Festival can be found online at www.bluegrass.com/telluride.