More than 200 people will converge on the Montreat Conference Center in Montreat, North Carolina, just off the Blue Ridge Parkway, near Asheville, May 18-22, 2016 for the ninth annual Southeast Regional Folk Alliance (SERFA) Conference featuring contemporary and traditional folk music, networking and learning opportunities. AcousticMusicScene.com will host late-night song swaps.
A regional affiliate of Folk Alliance International, SERFA (www.serfa.org) exists to promote, develop and celebrate the diverse heritage of roots and indigenous music, dance, storytelling and related arts in the Southeastern United States. Its annual conference is a primary means of doing that. This is the sixth consecutive year that it is being held at the same location — a beautiful and tranquil spot nestled in the Blue Ridge Mountains. This year's conference opens with a barbecue, followed by a barn dance and an open mic on Wednesday night, and concludes on Sunday morning with a farewell breakfast.
Peggy Seeger is Conference Keynoter
Noted folksinger and songwriter Peggy Seeger will deliver a keynote address on Friday and will also receive a Kari Estrin Founding President's Award for Outstanding Contributions to Music and Culture in the Southeast. Although she has lived in England for many years, Seeger, 81, called Asheville, NC home during part of the 1990s. She has 23 solo recordings to her credit and has been part of more than 100 more with other artists. She has also written music for films, television and radio, published a songbook featuring 150 of her more than 200 songs, and is writing a memoir that is due out next year. She is the widow of Ewan MacColl, with whom she played a major role in the British folksong revival, singing and lecturing for 35 years on the role of folk songs in the world, developing a "radio ballad" folk form, running a folk music club, forming their own record label, and producing an annual political satire revue. She also collaborated with MacColl, Alan Lomax and Edith Fowke on books of folk songs called The New City Songster. A new biography entitled Peggy Seeger: A Life of Music, Love and Politics, by Jean Friedman, is scheduled for release this coming winter.
Others to be honored for their contributions to music and culture in the Southeast include Jim Magill. founding director of the Swannanoa Gathering and outgoing SERFA board member, Jennifer Pickering, founding and current executive director of LEAF Community Arts, and Phil Jamison, who has dedicated more than 40 years to calling and researching dance.
Workshops Organized by Tracks; Controversial HB2 Legislation to be Discussed
A number of 75-minute workshops during the conference will be organized by tracks: Business, Dance, Motivational/The Road, Performance/Accompaniment, Promotion/Gigs, Recording and Songwriting. Seeger will lead one entitled Songwriting – Those Controversial Issues.
Controversy has swirled around the state of North Carolina of late with the recent passage and signing into law of the Public Facilities and Private Security Act, HB2, which discriminates against people based on sexual orientation and gender status. The SERFA board of directors recently unanimously adopted a statement that reads in part: "The backroom politics that created and passed HB2 is a blight on the face of North Carolina, and SERFA is proud to stand with the majority of not only North Carolina citizens, but the American people in general, businesses, artists and religious leaders who are advocates of equal rights for all, and against HB2. SERFA will continue to welcome all regardless of sexual preference, identity or gender, without regard to religion, nationality or race. We encourage unity and decry legislation that fosters discrimination, prejudice and fear." During the conference, activist singer-songwriters Tret Fure and Si Kahn will facilitate discussions on Collaborative Songwriting: Writing a Social Justice Song Against HB2 and Local Voices for Justice: SERFA and HB2.
Besides the workshops and panel discussions, there will be a house concert presenters peer group meeting, yoga sessions led by singer-songwriter Caroline Cotter, communal meals, and, of course, a lot of music.
Official and Guerilla Showcases Abound

A number of artists have been selected by a panel of judges to present official showcases on Thursday, Friday and Saturday nights from 7:15-10:30 p.m. Slated to perform on Thursday are Si Kahn, Sam Gleaves, Cathy Fink and Marcy Marxer, Bruce Michael Miller, Tish Hinojosa, Martyn Joseph, Christie Lenee, BettySoo and Victor & Penny. Friday's official showcase lineup features No Fuss and Feathers, Lipbone Redding, Kirsten Maxwell, Lyal Strickland, Jon Shain & FJ Ventre, The Gather Rounders, Clint Alphin, Letters to Abigail and Rebecca Loebe. Saturday's showcase artists include Mark Mandeville and Raianne Richards, David Roth, Gene and Gayla Mills, Ian Foster, Bob Sinclair and the Big Deals, Lowell Levinger – Banana from the Youngbloods, Dave Curley and Mari Black World Fiddle Ensemble. Persons not registered for the conference can attend these showcases on Thursday, Friday and Saturday for $12 each night or $25 for all three nights.
Following the official showcases, late-night guerilla showcases will take place in various meeting rooms between 10:40 p.m. and 2 a.m. AcousticMusicScene.com, which has had a presence at the SERFA Conference for the past five years, will host late-night showcases on Thursday and Friday, May 19 and 20, overnight. These will take the form of song swaps.
Here's the AcousticMusicScene.com showcase schedule:
Thursday Night, May 19:
10:40 Mass. Appeal: Dan & Faith, Rob Lytle, Mark Mandeville & Raianne Richards, Steven Pelland
11:30 Women's Voices: Meg Braun, Caroline Cotter, Judy Kass
12:00 A Trio of Duos: Fraser & Girard, Victor & Penny, The YaYas
12:30 Young Folk: Erika Kulnys, Kirsten Maxwell, Mike Tedesco
1:00 Strings & Songs: Dave Curley, Eric Lee, Kristin Rebecca
1:30 Last Round: Lorraine Conard, Karyn Oliver, Jeff Talmadge
Friday Night, May 20:
10:40 O Canada: Bob Ardern, Shawna Caspi, Ian Foster, Suzie Vinnick (with Cheryl Prashker on percussion)
11:30 NY/NJ Artists: Robin Greenstein, Mara Levine, Dennis McDoNoUgh!
12:00 Carolina Guys: Eric Bannan, Wes Collins, Todd Hoke
12:30 Austin Songwriters: BettySoo, Steve Brooks, Tom Meny
1:15 Nashville Cats: Clint Alphin, Anne E. DeChant, Claudia Nygaard, Becky Warren
Also during the conference, a number of artists will visit a local elementary school to share songs with youngsters and give them a chance to play instruments and learn about the various types of folk instruments and the styles of music they create.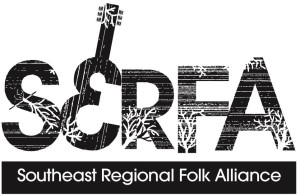 SERFA conference programming is designed to afford participants opportunities to have some downtime, meet other attendees in informal situations such as meals and impromptu jams and even take naps, yet still get a lot out of it, said Estrin. "Last year, many commented on how refreshed and energized they felt leaving SERFA, which was one of our goals."
Editor's Note: In addition to hosting an AcousticMusicScene.com showcase, I will be part of two workshop panel discussions in the Promotion/Gigs track: Making Technology Work for You – Creating an Internet Identity, and Music Journalism – What Makes You Interesting. I will also again be a mentor offering advice and counsel on public relations, strategic communications, artist bios and one-sheets, website content and social media, and other topics of interest to performing artists and presenters. I am a Folk Alliance International board member and also serve as vice president of the Northeast Regional Folk Alliance (NERFA) board of directors.