Glenn Yarbrough, a folksinger and frontman of the Limeliters, a popular West Coast-based folk trio during the folk revival of the early 1960s, and who later enjoyed some success as a solo artist, died August 11, 2016 in Nashville. He was 86.
Yarbrough, a lyric tenor and guitarist, formed the Limeliters in 1959, with Alex Hassilev (banjo player and baritone vocalist) and Lou Gottlieb (bass player and vocalist). They took their name from that of the Limelite Club that Yarbrough had opened earlier in Aspen, Colorado after a bit of touring on the coffeehouse circuit.
In the tradition of the Kingston Trio, the Limeliters arranged and performed an extensive repertoire of traditional and contemporary songs in an entertaining fashion and achieved considerable success as both performing and recording artists. From their first performance at San Francisco's Hungry I club to their last one before disbanding in the summer of 1963, the trio toured extensively throughout the U.S. – playing such notable venues as New York City's Village Vanguard and Los Angeles' Hollywood Bowl, along with many radio and television appearances. They also released nearly a dozen albums for RCA Victor. The Limeliters scored hits with such songs as "There's A Meetin' Here Tonight, "City of New Orleans," "Lonesome Traveler," and "Whiskey in a Jar."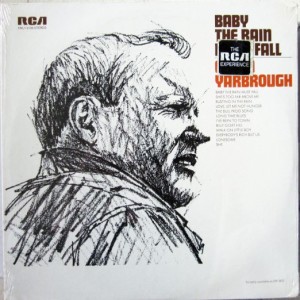 After the trio broke up, Yarbrough embarked on a successful solo career – recording a string of albums for RCA Victor and several other labels. His biggest hit was "Baby The Rain Must Fall." The theme song for a 1965 film starring Steve McQueen and Lee Remick, it reached #2 on Billboard Magazine's Adult Contemporary chart. He also began a collaboration with Rod McKuen, the late poet and songwriter, recording several albums of his songs.
Here's a link to listen to "Baby The Rain Must Fall":
https://www.youtube.com/watch?v=PsLqL8lDN80
Although he sang in the choir of Grace Church, a historic Episcopal church in Manhattan, during his youth, Yarbrough's interest in folk music was reportedly piqued by an impromptu Woody Guthrie performance in his own dorm room (that he shared with Elektra Records founder Jac Holzman) in 1950 while a student studying philosophy at St. John's College in Annapolis, Maryland. Not into the pop music of the day but inspired by Guthrie, Yarbrough bought his first guitar the next day. Following a stint in the U.S. Army during the Korean War, he launched his initial solo career as a performing artist. His first solo LP, Here We Go, Baby, was also the first release on Holzman's label in 1957.
While music brought him much early fame and financial success, it apparently didn't bring Yarbrough total happiness. In a 1961 interview, he told The Saturday Evening Post: "The only thing success has taught me is that success is meaningless." Later in the 1960s, he sold his cars and several properties and launched a school for disadvantaged children near Los Angeles that lasted until funding ran out in the 1970s He then spent the better part of five years at sea on a 57-foot sailboat.
Prior to moving to his daughter's house six years ago, Yarborough had lived for some time near Guadalajara, Mexico, while also spending much of his time at sea, making appearances as a soloist and in Limeliters reunion tours. He continued performing until he turned 80. He was married four times and is survived by three children, a son-in-law, two stepdaughters, a grandson and a great grandson. Hassilev, his former singing partner in the Limeliters, lives in California, while Gottlieb died 20 years ago.