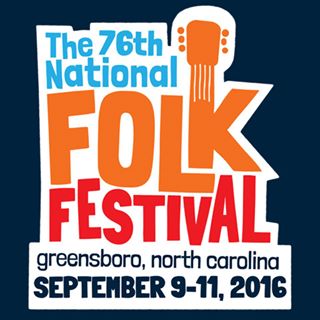 Diversity is the hallmark of the 76th National Folk Festival taking place Sept. 9-11, 2016 in downtown Greensboro, North Carolina. The free event, programmed and co-produced by the National Council for Traditional Arts (NCTA), the U.S.'s oldest nonprofit folk arts organization, in partnership with Arts Greensboro, celebrates togetherness and the diversity of America's arts and heritage – with artists young and old honoring America's musical soul and cultural roots.
The National Folk Festival will feature more than 300 traditional musicians, dancers and craftspeople in performances, workshops and demonstrations, in addition to hand-on activities for children and youth, participatory dance, storytelling, parades and more. Music and dance traditions from every part of the nation will be represented.
Among the many artists slated to perform on the festival's seven stages are Alberti Flea Circus, Balsam Range (an award-winning NC-based bluegrass group), Jeffery Broussard and the Creole Cowboys from Lafayette, Louisiana (zydeco), Bill Kirchen (Austin, TX-based master of the Telecaster), Quebecois group Le Vent du Nord, Quebe Sisters (Texas fiddling and western swing), Super Chikan & the Fighting Cocks (Delta blues from Clarksdale, MS) and Youth Rising: Tomorrow's Masters of Appalachian Music.
A North Carolina Folklife Area – including the North Carolina Traditions Stage and the North Carolina Folklife Demonstration Area – will celebrate the state's rich, living traditions – from the southern Appalachians to the Piedmont to the coastal plains. Traditional and modern arts and crafts that express the cultural identity of the artists and their communities will be showcased in The Masters and Makers Area within the Folklife Area, while the North Carolina Arts Marketplace will feature juried, handmade creations by artists and craftspeople from the North Carolina region.
A wide array of regional and ethnic food, as well as traditional festival fare, will be available for purchase at seven food courts.
America's longest-running event of its kind, the National Folk Festival, founded in 1934, generally rotates to a new home every three years and hopes to lay the groundwork for sustainable, locally-produced festivals and events that continue at each host city after it moves on. More than two-dozen cities have played host to the festival to date, and musicians and craftspeople from every state and most U.S. territories have participated. 2016 marks its second year in Greensboro, where it drew more than 100,000 people of all ages and backgrounds in 2015. An even larger crowd is anticipated to descend on the small southern city this year.
For more information, visit www.nationalfolkfestival.com.