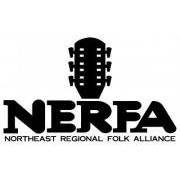 Some 800 performing artists, presenters, promoters, agents and managers, folk DJs and others actively engaged in contemporary and traditional folk music will converge on the Crowne Plaza in Stamford, Connecticut, Nov. 10-13, 2016, for the 22nd Annual Northeast Regional Folk Alliance (NERFA) Conference. AcousticMusicScene.com will again have a major presence as it hosts afternoon and late-night song swaps in addition to its popular Midnight Hoot at the close of the conference's first day.
The NERFA Conference – being held in Stamford for the first time after outgrowing its previous location in The Catskills of upstate New York — will feature several jam-packed days and nights of music showcases, song swaps/in-the-rounds, an open mic, informal jam sessions, informative panel discussions and workshops, a keynote by singer-songwriter Christine Lavin, mentoring sessions, a large trade show-like exhibit hall, communal meals in the dining room, a welcoming party and happy hours, and lots of informal conversation and networking.
Booking gigs may be the primary objective of some performers who attend the NERFA Conference, and many presenters and folk DJs do scout out new artists and those whom they have not previously heard and seen in live performance. However, the conference experience is much more than that; it's really about forging connections, building community, and attending workshops and seminars to learn about options to further careers, promote the music, and attract audiences and listeners.
Among the more than 30 workshops slated during the conference are a two-hour songwriting session with Tom Paxton; a Wisdom of the Elders panel featuring Nora Guthrie, Tom Rush and Noel Paul Stookey, and a panel discussion on The Folk Revival of the '60s moderated by AcousticMusicScene.com's Michael Kornfeld and interspersed with performances of songs from the era by panelists David Amram and Paxton. Rush also will participate in a short Q &A session following the screening of the documentary "Tom Rush – No Regrets." By popular demand, there will be two fast-paced 90-minute "On the Griddle" instant critique sessions. Sarah Craig will explore "The Rebirth of Caffe Lena: How We Saved America's Longest-Running Folk Club," while Nora Guthrie, daughter of the legendary American folksinger and songwriter, will discuss Holy Ground: Woody Guthrie's Yiddish Connection." During other workshops and panel discussion, attendees will learn how to build a loyal audience for their venues, spruce up their online image, strengthen their bios and news releases, make a radio-ready recording, listen for that sideman, prepare contracts, and stay healthy on the road. Singer-Songwriters Amy Soucy and Karyn Oliver will lead morning yoga sessions, while MusiCares will fit folks for custom earplugs.
Juried and Guerrilla Showcases Abound
Taking center stage during this year's conference will be 14 artists/acts selected by a panel of judges, each to perform a 15-minute formal showcase set on Friday and Saturday nights. Slated to perform on Friday are Durham County Poets, Lara Herscovitch, Michael Braunfeld, Uncle Bonsai, Christine Tassan et Les Imposteures, Tom Chapin, and Man About a Horse. Saturday's Formal Showcase lineup features Scott Wolfson & Other Heroes, The Levins, Eric Schwartz, Rosie & the Riveters, Silver City Bound, Jacob Johnson, and Irish Mythen.
After the formal showcases, attendees will shuffle between three conference ballrooms to catch short sets by 30 additional artists who were selected by a different set of judges. Performing in tricentric showcases on Friday night are The Brother Brothers, Cricket Blue, The Doll Sisters, Ian Foster, The Gaslight Tinkers, Manitoba Hal, Louise Mosrie, Red Tail Ring, Monica Rizzio, Ryanhood, Putnam Smith with April Reed-Cox, Carolann Solebello, Suzie Vinnick, Rupert Wates, and Dan Weber. Saturday's Tricentric Showcase artists include Cliff Eberhardt, Freebo, Tret Fure, Connor Garvey, Dave Gunning, Heather Mae, Phil Henry Acoustic Trio, Tish Hinojosa, Kirsten Maxwell, Linda McRae, Heather Pierson Acoustic Trio, Tom Rush, Bethel Steele, Noel Paul Stookey, and Heather Styka.
Following the juried showcases each evening (as well as on Friday and Saturday afternoons), AcousticMusicScene.com will join dozens of presenters, performers and others in hosting guerilla showcases in their hotel rooms that extend through the early morning hours. Community sings, open mics, informal jam sessions, private showcases, thematic song circles and round-robin song swaps round out the musical mix. Musicians also are apt to stake out other areas of the hotel and jam until 4 or 5 a.m.

AcousticMusicScene.com Midnight Hoot Features Artists and Singing Folk DJs

An overflow crowd will likely descend on the AcousticMusicScene.com suite (2031) on Thursday overnight for its popular Midnight Hoot. Following the Suzi Wollenberg Folk DJ Showcase and extending from 11:45 p.m. to 3 a.m., the AcousticMusicScene.com Midnight Hoot is a pre-arranged, round robin song swap featuring several singing folk DJs (Barbara and Graham Dean, Wanda Fischer and Jon Stein) and some 40 artists/acts – each performing one song.
Now in its 10th year, the Midnight Hoot is intended to shine a spotlight on several folk DJs who also enjoy singing, while providing them, presenters and others with an opportunity to get a small sampling of the music of a lot of artists in a short period of time.
A house band comprised of Mark Dann (bass), Efrat (violin), Eric Lee (violin), Marshal Rosenberg (percussion), and Nick Russo (banjo) also will be there for anyone who desires accompaniment.
As in recent years, the musical festivities in the AcousticMusicScene.com room will wrap up on Saturday overnight with an extended "O Canada" song swap. Carrying their instruments and the maple leaf, a number of talented Canadian artists will march into the room at 2 a.m. singing their national anthem.
Schedules for the AcousticMusicScene.com showcases appear below.
Thursday Night
11:45 p.m. – 3 a.m.
AcousticMusicScene.com Midnight Hoot
Featuring one song by each of the following (not listed in order of appearance)
Folk DJs: Graham & Barbara Dean, Wanda Fischer, Jon Stein
Artists: Jeremy Aaron, Antonio Andrade, Banjo Nickaru & Western Scooches, The Belle Hollows, Jim Bizer & Jan Krist, Sophie Buskin, Rob Carlson, Meghan Cary: Sing Louder, Shawna Caspi, Greg Cornell and the Cornell Brothers, Cricket Blue, Vincent Cross, Crowes Pasture, Efrat, Freebo, Friction Farm, Gathering Sparks, Gathering Time, Generations: Mike & Aleksi Glick, Stuart Kabak, Brian Kalinec, Judy Kass, Ladybird, Eric Lee, Mara Levine, Gigi Love, Anna Ludlow, Kirsten Maxwell, Mike McKenna Jr., Emily Mure, Dan Navarro, Kaitlyn Raitz & Ben Plotnick, Red Tail Ring, Bill Scorzari, Hank Stone, Shawn Taylor, The End of America, The Everly Set, Avi Wisnia, The YaYas
Grassy Hill Youth Scholarship Recipients: Sara Chodak, Ayssa Dann
House Band: Mark Dann (bass), Efrat (violin), Eric Lee (violin), Marshal Rosenberg (percussion), Nick Russo (banjo)
Friday Afternoon
2:00
Long Island Sound: Ray Lambiase, The Royal Yard, Bill Scorzari
2:30 Long Island Sound: Rorie Kelly, Scott Krokoff, Hank Stone
3:00 Keystone Staters: Ladybird, Robert Bobby Duo, The End of America
3:30 Keystone Staters: Meghan Cary: Sing Louder, Mist-Covered Mountains, Aaron Nathans
4:00 Joan & Joni: Allison Shapira & Kipyn Martin
4:30 "I'm From New Jersey": Sharon Goldman, Dennis McDoNoUgh!, John Sonntag
Friday Late Night
11:45 CT State Troubadours: Kate Callahan, Kristen Graves, Lara Herscovitch
12:15 Rob Carlson and Benefit Street
12:30 Funny Folk: Lois Morton, Carla Ulbrich
1:00 Strings & Songs: Banjo Nickaru & Western Scooches, Efrat
1:30 Roots-Americana – Greg Cornell & the Cornell Brothers, He-Bird, She-Bird, Pluck & Rail
2:00 Mass. Appeal – Stephanie Corby, Neale Eckstein, Eric Lee, Steven Pelland, Monica Rizzio, Jim Trick
Note: Mass. Appeal will extend until 3 a.m.
Saturday Afternoon
2:00 Maine Event: Connor Garvey, Putnam Smith (with April Reed-Cox), Sorcha, Ashley Storrow,
3:00 Pirate Camp: Generations: Mike & Aleksi Glick, Diane Perry, Hank Stone
3:30 Pirate Camp: Jacob Johnson, Elaine Romanelli. The Whispering Tree
4:00 Pirate Camp: Susan Kane, Judy Kass
4:30 Pirate Camp: Freebo, Stuart Kabak, Heather Pierson Acoustic Trio
Saturday Late Night
11:45 Pesky J. Nixon
12:00 Harmonic Convergence: Mike Agranoff, Gathering Time, Mara Levine
12:30 Female Folk: Kate Copeland, Rachael Kilgour, Kirsten Maxwell
1:00 Two Trios: The Boxcar Lilies, Cole, Nakoa & Treacher
1:30 The Belle Hollows and Friction Farm
2:00 O Canada: Shawna Caspi, Durham County Poets, Ian Foster, Gathering Sparks, Irish Mythen, Erika Kulnys, Anna Ludlow, Manitoba Hal, David Newland, Benjamin Dakota Rogers, Suzie Vinnick, Katherine Wheatley, The Young Novelists (Percussion: Cheryl Prashker)
Note: O Canada will extend until 3:30 a.m. or thereabouts.
One-Day On-Site Conference Registration Available
Special one-day walk-up registration rates have been established for those actively engaged in the folk music community who are unable to attend the entire conference. For $100 on Friday or $120 on Saturday, folks will receive badges entitling them to sit in on workshops and showcases and to visit the exhibit hall. Meals are not included. Workshop descriptions and showcase listings and schedules may be found online at (www.nerfa.org.
NERFA is a regional affiliate of Folk Alliance International, a nonprofit organization that seeks to nurture, engage and empower the international folk music community – traditional and contemporary, amateur and professional – through education, advocacy and performance.
Editor's Note: My thanks to Stuart Kabak for providing a carpeted wooden platform stage and stage lights for this year's AcousticMusicScene.com showcases. Thanks also are due to him, Mira Shapiro, Putnam Smith and Hank Stone for graciously offering to host afternoon showcases, and to Amy Blake and Sybil Moser for the loan of folding chairs. Much appreciation as well to Blue Point Brewing Company (www.bluepointbrewing.com) on Long Island, NY for providing cases of its tasty craft brews.

In addition to hosting the AcousticMusicScene.com Midnight Hoot and other showcases during
the NERFA Conference and moderating the Folk Revival panel discussion, I will be promoting a few artists, participating on a panel entitled Strengthening Your Bio and Press Releases, and doing some mentoring. Currently vice president of NERFA's board of directors. I also serve on the board of Folk Alliance International.