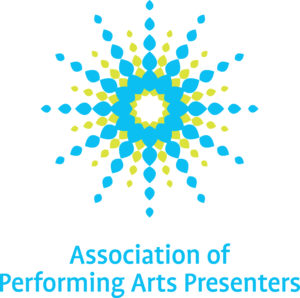 Several thousand people are expected to converge on New York City, Jan. 6-10, 2017 for the annual conference of the Association of Performing Arts Presenters (APAP). Now in its 60th year, the global performing arts marketplace and conference will feature more than 1000 showcases (including a few-dozen featuring folk and roots music artists), nearly 400 exhibitors promoting their artists and their work, networking opportunities galore, daily plenary sessions and keynote speakers, and a wide array of professional development workshops and forums. Four plenary sessions will live stream free for industry professionals, artists and the public, while Wavelengths: APAP Global Music Pre-Conference and other pre-conference sessions on Jan. 5-6 also are open to the public as are some of the ticketed showcases at venues throughout the city.
"APAP/NYC presents significant opportunities, economically and creatively, for the performing arts community," says Mario Garcia Durham, APAP's president and CEO. "We provide a platform for those working in the performing arts to engage in discussions and solutions around pressing current issues such as cultural conflict and social justice. These are issues that have intensified since last January and that resonate throughout our communities, and fuel our collective need for innovation, creativity and partnership. We will also further explore the real challenges of equity, access and inclusion continually being addressed by performing arts community leaders."
Several pre-conference events on Thursday and Friday, Jan. 5 and 6 (including APAP's Professional Development Institute and the Wavelengths: APAP Global Music Pre-Conference, featuring workshops, panels discussions and artist pitch sessions arranged by music PR firm Rock Paper Scissors in cooperation with globalFEST that takes place concurrently) are open to the public, while the conference's plenary sessions featuring creative thinkers, thought leaders and artists from around the world will be live-streamed via Howlround.tv. Among them is Taylor Mac, a playwright, actor, singer-songwriter and performance artist, whose most recent work, "A 24-Decade History of Popular Music," is a 24-hour-long marathon of American song that Scott Stoner, an APAP vice president, says "speaks directly to today's headlines around equality, equity, civility and our fundamental human rights." For information on the sessions to be live-streamed and to find a link to RSVP for them, visit www.artspresenters.org, click on the Conference tab along the top of the home page and then on Live Streaming under Programs & Events in the menu at the bottom of the conference's home page.
Folk and Roots Artists to Showcase Their Talents
As in years past, dozens of performers from the folk, roots and singer-songwriter communities in the U.S., Canada and several other countries will showcase their talents during the multidisciplinary arts business conference. Among them will be African desert blues singer Kiran Ahluwalia, Tuvan throat singers Alash, folk-indie-rock singer-songwriter Sam Amidon, Briga (a violinist who combines Balkan dance tunes with songs sung in French and English), singer-songwriter Jonatha Brooke, the Celtic ensembles Cherish The Ladies and Danu, Senegalese singer-songwriter and percussionist Elage Diouf, singer-songwriter Seth Glier, award-winning Canadian ukulele player and songwriter James Hill (with cellist and songwriter Anne Janelle), the global Georgian folk sounds of Ilusha, Jeremy Kittel Trio (fronted by a gifted fiddle player), Los Llaneros (music of the Colombian and Venezuelan savannas), Vermont-based strings and vocal trio Low Lily, Bruce Molsky's Mountain Drifters, Mark Newman (a singer-songwriter and guitarist who has been a sideman with a number of musical luminaries), up-and-coming singer-songwriter Matt Nakoa, Derik Nelson & Family (a pop-folk trio of siblings), Parsonsfield (an eclectic and harmonic band whose repertoire includes elements of bluegrass, folk, jazz and more), Martha Redbone Roots Project, banjoist Cynthia Sayer, singer and composer Moira Smiley, Jayme Stone's Folklife, harmonic folk-rockers The Sweet Remains, Celtic-Americana duo Switchback, Tartan Terrors, and Villalobos Brothers (Mexican singer-songwriters and multi-instrumentalists).
Randy Noojin will perform excerpts from Hard Travelin' with Woody, his multimedia solo show featuring the music and artworks of Woody Guthrie. Gregory Greene leads jig-rockers The Prodigals and their mellower side, The Acoustic Mix. Clay Ross fronts Matuto (a NYC-based Brazilian bluegrass ensemble) and Ranky Tanky (performing Gullah music from the Carolina coast). Sunday brunch double-bills at City Winery (also open to the public) will feature Metropolitan Klezmer and Isle of Klezbos.
Dana Louise & The Glorious Birds (with Trout Fishing in America) plays the Iridium on Thursday night, while Susan Werner, a gifted singer-songwriter known for her musical versatility and for her witty repartee during live performances, showcases her talents at the midtown jazz club on Saturday night.
Alaska-based fiddler and poet Ken Waldman presents "From Red Hook to the Real Alaska" and "From Manhattan to Moose Pass" roots music variety showcases featuring a number of acts at Brooklyn's Jalopy Theatre on Thursday night and at the Manhattan nightclub Don't Tell Mama on Friday that also are open to the public ($15 on Jan. 5 and $50 on Jan. 6). Featured artists include Nic Gareiss & Maeve Gilchrist (percussive dance meets Scottish harp), Kaia Kater (young Afro-Canadian banjo sensation joined by a bassist and dancer), Wild Hog (a trio that plays outside the lines of American traditional music), Brian & Claire (newlywed duo featuring fiddles, guitar, voices, plus classic banjo), Miller, Knuth, Kilianski (a jazzy mix with sax/banjo/dobro + fiddle + guitar), Jefferson Hamer Band (a roots music trio performing Americana originals), Laura Cortese & the Dance Cards, plus Ken's Class Party and Ken Waldman & The Secret Visitors. Kaia Kater will also be part of a Free Dirt Records & Friends Sunday night showcase at Rockwood Music Hall on NYC's Lower East Side that also will feature the duo Anna & Elizabeth and singer-songwriters Rachel Baiman and Kristin Andreassen (with Chris Eldridge).
Artists in various other musical genres also will showcase their talents, while the APAP Conference will feature comedy, dance and theatrical showcases as well, along with programming geared towards children and families. Conference exhibition halls will again teem with booking agents and presenters eager to speak with them, and there'll be a whole lot of networking opportunities.
A Washington, D.C.-based nonprofit, APAP is a national service, advocacy and membership organization dedicated to developing and supporting a robust performing arts presenters field and the professionals who work within it.