As a teenager in the early-mid 1970s, Trooper, a New Jersey native, frequented and was inspired by the Greenwich Village folk scene. He penned largely personal narrative-style songs that were character studies — portraits of people living through good and bad times — while his music straddled the line between alt-country, folk, folk-and-roots rock, Memphis soul and Texas troubadour.
Prior to relocating to Brooklyn, New York in 2008, Trooper who recorded his debut album, We Won't Dance, while living in New York City in the mid-1980s, spent time in Austin, Texas, Lawrence, Kansas and Nashville, Tennessee. Until his cancer diagnosis in the summer of 2015 prompted him to cancel several months of concerts as he underwent chemotherapy, he had generally spent more than half the year on the road as a touring artist – playing everything from house concerts and intimate listening rooms to larger theaters and festivals. However, he continued writing songs and performing them and told a writer for a Scottish publication one year ago that doing so "helped [him] to feel normal," noting, "there's an enormous amount of comfort in being able to play music." Although he generally accompanied himself on acoustic guitar, Trooper also played mandolin, harmonica and piano.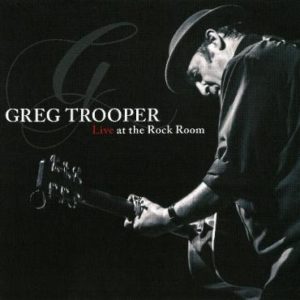 During more than a decade in Nashville, the Music City to which he moved in the mid-1990s, Trooper recorded several critically acclaimed albums and was a featured performer during annual "Freedom Sings" concerts at the Bluebird Café, benefiting the First Amendment Center. Emmylou Harris and Rosanne Cash provided harmony vocals on a couple of his albums.
Trooper's 13th album, Live at the Rock Room, was recorded during a single performance in Austin in January 2015 and released that June. It might be viewed now as a career retrospective since its 14 tracks represent a cross-section of the gifted singer-songwriter and storyteller's work over the years. – including a number of songs that were also featured on his last studio album, 2013's Incident on Willow Street.
Singer-songwriter Greg Trooper died Jan. 15, two days after his 61st birthday and less than two years after being diagnosed with pancreatic cancer. Trooper, who released 13 albums over the span of 30 years, also had his songs recorded by many artists. Among them were Billy Bragg, Steve Earle (who recorded "Little Sister"), Vince Gill, Lucy Kaplansky, Robert Earl Keen, Maura O'Connell and Tom Russell.