John McCutcheon, one of America's most revered folksinger-songwriters, had both the most played album (Trolling For Dreams) and song ("Y'all Means All") on folk radio during January 2017 and was the month's top artist. Three other tracks from his latest album were among the top 10 songs. So say charts compiled by Richard Gillmann from radio playlists submitted to FOLKDJ-L, an electronic discussion group for DJs and others interested in all folk-based music on the radio.
McCutcheon, who has been performing and recording since the mid-1970s, is a multi-instrumentalist who plays a dozen different traditional instruments. A longtime labor and social activist, he is a founder and leader of Local 1000, the traveling acoustic musicians local of the American Federation of Musicians (AFM). McCutcheon has keynoted conferences for two regional affiliates of Folk Alliance International in recent years. His classic "Christmas in the Trenches" tied for the most-played song on folk radio last December.
Ordinary Elephant, a Texas-based husband and wife duo, had the second most-played album (Before I Go) in January, while New York-based singer-songwriter Christine Lavin's politically timely single, "When It All goes Wrong We'll Turn This Ship Around," was the month's second most-played song.
The January 2017 FOLKDJ-L charts are based on 14, 088 airplays from 137 different DJs. Label and release date appear in brackets below, while the number of reported spins is shown in parentheses. The charts are posted on AcousticMusicScene.com, with permission.
Top Albums of January 2017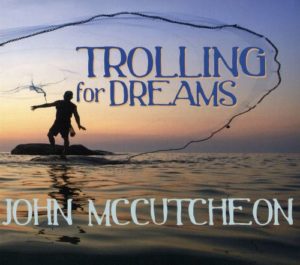 1: Trolling For Dreams, John McCutcheon [Appalsongs, 1/17] (111)
2: Before I Go, Ordinary Elephant [Berkalin, 1/17] (75)
3: Waves, Jennifer Cutting's Ocean Orchestra [Sunsign, 1/17] (70)
4: Boots No. 1: The Official Revival Bootleg, Gillian Welch [Acony, 11/16] (67)
4: Laws Of Gravity, The Infamous Stringdusters [Compass, 1/17] (67)
6: For Better, Or Worse, John Prine [Oh Boy, 9/16] (62)
7: Far Away, Long Ago, Jack Williams [Wind River, new] (57)
8: Brooks' Blues, Brooks Williams [Red Guitar Blue, 2016] (56)
8: The Swift House, Ken And Brad Kolodner [Fenchurch, 1/17] (56)
10: While We're Here, Catie Curtis [Magenta, new] (51)
11: Rabbit Hole, Billy Crockett [Blue Rock, 10/16] (45)
12: Sixty, Julie Gold [juliegold.com, 11/16] (44)
13: Time To Turn The Tide, Millpond Moon [Tikopia, 2015] (43)
14: The Willow Collection, Cassie And Maggie [cassieandmaggie.com, 11/16] (36)
15: Awake Again, Isabel Taylor [isabeltaylorsings.com, 3/16] (34)
15: Natural Conclusion, Rose Cousins [Old Farm Pony, new] (34)
17: Penny's Farm, Jim Kweskin And Geoff Muldaur [Kingswood, 9/16] (33)
18: The April Verch Anthology, April Verch [Slab Town, new] (32)
19: Big Things And Little Things, Truckstop Honeymoon [Squirrel, new] (31)
19: Frailing To Succeed, Daniel Koulack [Little Giant, 5/16] (31)
21: Peel Back Another Layer, Laura Oden [lauraoden.com, new] (29)
22: Blink, Rebecca Loebe [Black Wolf, new] (28)
22: Boat In The Water, Tom Paxton [Pax, new] (28)
22: The Life And Songs Of Emmylou Harris, Various Artists [Rounder, 11/16] (28)
25: Fall Away Blues, Red Tail Ring [redtailring.com, 8/16] (27)
25: Know The Mountain, Hannah Shira Naiman [Merriweather, 10/16] (27)
25: Turn Styles, Naming The Twins [Duet Right, 11/16] (27)
28: No Rain, No Rose, John Craigie [Self, new] (25)
28: Recitative, Robert Sarazin Blake [Self, new] (25)
28: Wonderful World Outside, The Piedmont Melody Makers [Vigortone, 11/16] (25)
31: Greenland, Ben Plotnick [benplotnick.com, 9/16] (24)
31: Made In Brooklyn, John McEuen [Chesky, 9/16] (24)
33: Get Up And Do Right, Cathy Fink And Marcy Marxer [Community, new] (23)
33: Stitch Of The World, Tift Merritt [Yep Roc, new] (23)
33: Undercurrent, Sarah Jarosz [Sugar Hill, 6/16] (23)
33: Weights And Wings, Brother Sun [brothersun.com, 4/16] (23)
37: Weighted Mind, Sierra Hull [Rounder, 1/16] (22)
38: Gone For Evermore, The Lonesome Ace Stringband [lonesomeace.com, 9/16] (21)
38: I Sang The Song, Mac Wiseman [Mountain Fever, new] (21)
38: Workin's Too Hard, Rayna Gellert [Self, new] (21)
41: Dori Freeman, Dori Freeman [Free Dirt, 2/16] (20)
41: Every Now And Then, Elva Jones-Hahn [Self, 2016] (20)
41: Long List Of Priors, Kenny White [MVP, 9/16] (20)
41: New Shoes, The Bombadils [Borealis, 9/16] (20)
41: The Ultimate Guide To English Folk, Various Artists [Arc, 10/16] (20)
41: When It All Goes Wrong We'll Turn This Ship Around (single), Christine Lavin [Self, new] (20)
47: The Beautiful Not Yet, Carrie Newcomer [Available Light, 9/16] (19)
47: Before Beginning, John Gorka [Red House, 7/16] (19)
47: Borderland, Joe K. Walsh [Skinny Elephant, 9/16] (19)
47: Fryd, Sver [Folkhall, 8/16] (19)
47: Kings And Kings, Blackie And The Rodeo Kings [Self, 10/16] (19)
47: Magic Fire, The Stray Birds [Yep Roc, 8/16] (19)
47: Playing It Forward, The Savage Hearts [thesavagehearts.com, 9/16] (19)
54: Hanging Tree, Blue Mafia [Pinecastle, new] (18)
55: 1000 Arms, Blue Rodeo [Telesoul, 10/16] (17)
55: Beneath Still Waters, Courtney Granger [Valcour, 10/16] (17)
55: The Boston States, Katie McNally Trio [katiemcnally.com, 10/16] (17)
55: Deep Waters, The Lonely Heartstring Band [Rounder, 6/16] (17)
55: Good Days a Comin, Ivas John [Right Side Up, 6/16] (17)
55: North By South, Claire Lynch [Compass, 9/16] (17)
55: Tears And Laughter, Robin Greenstein [Windy, 9/16] (17)
62: Hudson Harding Sampler, Vol. 11: Happy Holidays, Various Artists [Hudson Harding, 12/16] (16)
62: Afterlight, Imar [Big Mann, new] (16)
62: Bandit Queen, Sarah Beatty [King Of The Road, new] (16)
62: Deliverance, The Nordic Fiddlers Bloc [thenordicfiddlersbloc.com, 4/16] (16)
62: Duende, The Band Of Heathens [Boh, new] (16)
62: Incident On Willow Street, Greg Trooper [52 Shakes, 2013] (16)
62: Innocent Road, Caleb Klauder And Reeb Willms [West Sound, 9/16] (16)
62: Miller's Creek, The Belle Hollows [Elm Hill, 8/16] (16)
62: Mount Royal, Julian Lage And Chris Eldridge [Free Dirt, new] (16)
62: Some Part Of The Truth, Brother Sun [brothersunmusic.com, 2013] (16)
62: Storyman, Sam Bush [Sugar Hill, 6/16] (16)
62: Tennessee Moon, Ray Cardwell [Pinecastle, new] (16)
Top Songs of January 2017
1. "Y'all Means All" (23)
by John McCutcheon
from
Trolling For Dreams
2. "When It All Goes Wrong We'll Turn This Ship Around" (20)
by Christine Lavin
from
When It All Goes Wrong We'll Turn This Ship Around
(single)
3. "Best Of You" (18)
by Ordinary Elephant
from
Before I Go
3. "Hard Life Makes A Good Song" (18)
by The Infamous Stringdusters
from
Laws Of Gravity
5. "3 Chords And The Truth" (16)
by John McCutcheon
from
Trolling For Dreams
5. "Gone" (16)
by John McCutcheon
from
Trolling For Dreams
7. "Ain't I A Woman" (15)
by Jack Williams
from
Far Away Long Ago
7. "Railroad Man" (15)
by Ordinary Elephant
from
Before I Go
7. "Sharecropper's Son" (15)
by John McCutcheon
from
Trolling For Dreams
10. "Freedom" (14)
by The Infamous Stringdusters
from
Laws Of Gravity
11. "America" (13)
by Julie Gold
from
Sixty
11. "While We're Here" (13)
by Catie Curtis
from
While We're Here
13. "Forever Young" (12)
by Millpond Moon
from
Time To Turn The Tide
14. "I've Endured" (11)
by Ken And Brad Kolodner
from
The Swift House
14. "She" (11)
by Jennifer Cutting's Ocean Orchestra
from
Waves
14. "Steel Rail Blues" (11)
by Ken And Brad Kolodner
from
The Swift House
14. "Waves" (11)
by Jennifer Cutting's Ocean Orchestra
from
Waves
18. "Chilly Winds" (10)
by Ken And Brad Kolodner
from
The Swift House
18. "Time To Turn The Tide" (10)
by Millpond Moon
from
Time To Turn The Tide
18. "What The Water Knows" (10)
by Isabel Taylor
from
Awake Again
18. "Your Move" (10)
by Laura Oden
from
Peel Back Another Layer
22. "All My Tomorrows Yesterday" (9)
by Robert Sarazin Blake
from
Recitative
22. "Broken" (9)
by John Craigie
from
No Rain, No Rose
22. "Come All Ye Fair And Tender Ladies" (9)
by Red Tail Ring
from
Fall Away Blues
22. "Hammond Song" (9)
by The Roches
from
The Roches
22. "Happy Tune" (9)
by Daniel Koulack
from
Frailing To Succeed
22. "John Henry" (9)
by Jack Williams
from
Far Away Long Ago
22. "This Year" (9)
by Isabel Taylor
from
Awake Again
22. "Wayfaring Stranger" (9)
by Millpond Moon
from
Time To Turn The Tide