Folk Alliance International Hosts Conference, Camp and Festival, Feb. 15-19, in Kansas City
by
Michael Kornfeld
on
Feb 11, 2017
•
9:58 am
No Comments
"Forbidden Folk," celebrating activism in art, is the theme of the 29th Folk Alliance International Conference that takes place, Feb. 15-19, in Kansas City, Missouri. Billy Bragg, a Grammy Award-winning British singer-songwriter and activist, keynotes the event and also headlines the second annual Kansas City Folk Festival that caps it.

Although Kansas City may be better known for jazz, blues, barbecue and fountains, some 2,500 people from nearly 20 countries are expected to converge on this Midwestern U.S. metropolis for the conference, festival and a Winter Music Camp.
Ranked among the five largest music conferences in North America, the Folk Alliance International Conference will feature several days of panel discussions and workshops (with a few exploring the global and historical role of music in social, political, economic and environmental movements), mentoring sessions, regional and peer group meetings, receptions, an exhibit hall, a health fair, and lots of music and networking.
During four nights (and several afternoons), emerging and renowned touring artists from throughout the world will showcase their talents for hundreds of concert and festival presenters, agents, managers, media, and music industry representatives. There will be 200 juried music showcases in the evenings (each 30-minutes in duration and held concurrently on full-production stages in nine ballrooms throughout the host hotel) and hundreds of private in-room showcases, in-the-round song swaps, and jams that extend late into the night and early morning hours. The Official Showcases, which extend from 8-11 p.m. nightly, will be open to the public for a small fee.
In addition to Bragg's keynote during the conference, singer-songwriter and social activist Ani DiFranco will speak about her music, activism, and the role of the protest singer in modern times.
International Folk Music Awards Show Opens the Conference
The conference opens on Wednesday, Feb. 15, with a star-studded International Folk Music Awards Show hosted by Grammy Award-winning artist Paula Cole and celebrating excellence, tradition, innovation, and the collective history of the global folk community.
In keeping with the theme of this year's conference and reflecting its ongoing commitment to honor the socially conscious roots of folk music, Folk Alliance International will introduce two new awards this year. Artist and activist Kris Kristofferson will present the inaugural People's Voice Award — recognizing an individual who has committed to social and political commentary in his/her creative work and folk music career — will be presented to Canadian folk-rocker Bruce Cockburn, who has highlighted environmental, social and indigenous issues globally over the past 40 years. The Clearwater Award, to be presented annually to a festival that prioritizes environmental stewardship and demonstrates public leadership in sustainable event production, will be bestowed by artist and activist Eliza Gilkyson to its namesake, the Clearwater Festival. Launched by the late Pete Seeger and others, The Great Hudson River Clearwater Revival celebrates environmental activism, music and education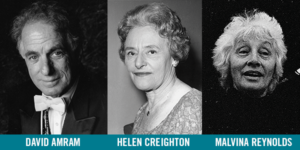 Elaine Weissman Lifetime Achievement Awards will be presented to noted composer, conductor, multi-instrumentalist and author David Amram (Living), the late activist songwriter Malvina Reynolds (Legacy), and prolific Canadian folklorist Helen Creighton (Business/Academic).
The Spirit of Folk Awards will be presented to six individuals who have been actively involved in the promotion and preservation of folk music through their creative work, community building, and demonstrated leadership: Barbara Dane, Chloe Goodyear, Michelle Conceison, Ramy Essam, Si Kahn, and SONiA disappear fear.
In addition, member-voted Best of 2016 Awards for Album, Song and Artist of the Year will be announced that evening, while inaugural members of a Folk DJ Hall of Fame will be inducted. Emmy- and Golden Globe Award-winning actress Megan Mullally, who is also a singer, will present the member-voted awards.
[AcousticMusicScene.com will report more in-depth on the awards and their recipients following the conference.]
Music Camp Offers Instruction for People of All Ages and Skill Levels
In conjunction with its 29th annual conference, Folk Alliance International also hosts its fourth annual music camp, Feb. 17-19, affording people of all ages, skill levels, and walks of life an opportunity to learn from 20 noted artists and instructors including Gilkyson, Beppe Gambetta, James Hill, Bruce Molsky, Kim Richey, Mark Stuart, and David Wilcox. Beginner, intermediate, advanced, and master classes in old-time banjo, step-dancing, flatpicking guitar, old-time fiddle, African guitar, and songwriting are among the offerings open to the public from 10 a.m. – 4:15 p.m. at the Sheraton Hotel, across the skywalk from the Westin Crown Center, where the conference takes place.
"I'm really excited to be on the staff in 2017," said April Verch, a Grand Master Fiddle Champion from Canada's Ottawa Valley. "This is such a great opportunity for musicians, songwriters, and performers to expand their skill set, share their passion, and find fresh inspiration. There's no better way to do all that than at a camp like this, which is filled to the brim with talent and love for what we all do."
Single-day tickets for the music camp are $60, while a three-day pass is $150. Conference delegates may attend for a special rate of $10 per class. A full schedule of classes, for which there is a Feb. 17 registration deadline, may be viewed online at www.folkcamp.org.
Folk Festival is Open to the Public on Feb. 19
Closing out the conference on Sunday, Feb. 19, from 10 a.m. to 5 p.m., the second annual Kansas City Folk Festival is free to all conference delegates and open to the public for a small fee. The indoor, family-friendly event will feature performances by national and international touring artists, an artisans market, and a ceili. Performers will include Blues Hall of Famer Bobby Rush, Grammy Award-winning children's artists The Okee Dokee Brothers, Latin American emerging artist Ani Cordero, Sam Baker, BettySoo, Orlagh De Bhaldraithe, Ensemble Iberica, Cathy Fink & Marcy Marxer, Jimmy LaFave, Steve Poltz, and Wilcox. There will also be musical tributes to Phil Ochs, Pete Seeger and Woody Guthrie.
Each of FAI's five regional affiliates will also present an artist/act. In order of appearance during the day, they are Lula Wiles (Northeast Regional Folk Alliance), Michelle Held (Folk Alliance Region Midwest), Grant Peeples and the Peeples Republik (Southeast Regional Folk Alliance), Rachel Laven (Southwest Regional Folk Alliance), and Scott Cook (Folk Alliance Region-West).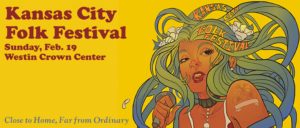 Billy Bragg will close out the afternoon on the festival's Mainstage from 4-5 p.m.
Tickets for the festival at the Westin Crown Center are $30 for adults, with discounts available for seniors, students, and youth (ages 5-14). For more information and to order tickets online, visit www.kansascityfolkfestival.org.
Kansas City-based Folk Alliance International is a nonprofit organization that seeks to nurture, engage and empower the international folk music community – traditional and contemporary, amateur and professional – through education, advocacy and performance.
Editor's Note: An elected member of the Folk Alliance International board of directors, I also serve as board president for its largest regional affiliate — Northeast Regional Folk Alliance (NERFA), whose boundaries extend from Washington, DC's northern Virginia suburbs to eastern Canada. I will moderate a panel discussion on "The Art of Adventurous Programming" for presenters, offer some one-on-one mentoring sessions, and lead a regional meeting during the conference.
Tags:
" Woody Guthrie
,
Ani cordero
,
Ani DiFranco
,
April Verch
,
Barbara Dane
,
Beppe Gabetta
,
BettySoo
,
Billy Bragg
,
Bobby Rush
,
Bruce Cockburn
,
Bruce Molsky
,
Cathy Fink & Marcy Marxer
,
Chloe Goodyear
,
Clearwater Festival
,
David Amram
,
David Wilcox
,
disappear fear
,
Eliza Gilkyson
,
Ensemble Iberica
,
Folk Alliance International
,
Folk Alliance International Conference
,
folk music
,
Grant Peeples
,
Helen Creighton
,
International Folk Music Awards
,
James Hill
,
Jimmy LaFave
,
Kansas City
,
Kansas City Music Festival
,
Kim Richey
,
Kris Kristofferson
,
Lula Wiles
,
Malvina Reynolds
,
Mark Stuart
,
Megan Mullally
,
Michelle Conceison
,
Michelle Held
,
music and activism
,
music and social protest
,
music awards
,
music camps
,
music conferences
,
NERFA
,
Northeast Regional Folk Alliance
,
Orlagh De Bhaldraithe
,
Paula Cole
,
Pete Seeger
,
Phil Ochs
,
Rachel Laven
,
Ramy Essam
,
Sam Baker
,
Scott Cook
,
Si Kahn
,
SONiA
,
Steve Poltz
,
The Okee Dokee Brothers