Thirty-two songwriters have been named as finalists in the 2017 Grassy Hill Kerrville New Folk Competition for Emerging Songwriters. Chosen from among more than 600 submissions from around the world, the finalists will perform the two songs they submitted at the New Folk Concerts slated for Saturday and Sunday afternoons, May 27 and 28, as part of the Kerrville Folk Festival.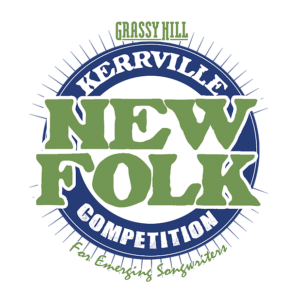 Scheduled to perform (in order of performance) at the Threadgill Theater on the Quiet Valley Ranch Campgrounds in the Texas Hill Country on Saturday, May 27, from 1-4 p.m., are Hadley Kennary (Nashville, TN), ordinary elephant (Livingston, TX), Wendy Colonna (Buda, TX), John John Brown (Winter Garden, FL), Letitia VanSant (Baltimore, MD), Catherine Miles & Jay Mafale – The YaYas (Greenlawn, NY), Arlon Bennett (Tappan, NY), Heather Styka (Addison, IL), Lyndy Butler (Hurricane, UT), Chris Moyse (Nashville, TN), Chris Petersen (Cedar City, UT), Jefferson Clay (San Antonio, TX), Ingrid Graudins (Nashville, TN), Emily Barnes (Johnsonburg, NJ), Ben Shannon (Pittsburgh, PA), and Robin Bienemann (Oak Park, IL).
New Folk Finalists slated to perform on Sunday afternoon, May 28, include Shawn Byrne (Nashville, TN), Rachael Kilgour (Duluth, MN), Eleanor Kleiner & Elie Brangbour – The Whispering Tree (Beacon, NY), Teresa Eggerston Cooke (Park City, UT), Isaac Hoskins (Denton, TX), Mary Bragg (Nashville, TN), Rich Krueger (Evergreen Park, IL), Teghan Devon (Myersville, MD), Kelly Hoppenjans (Nashville, TN), Dana Sipos (Guelph, Ontario), Martin Kerr (Edmonton, Alberta), Angela Parrish (North Hollywood, CA), Brian Pounds (Austin, TX), Andy Baker (Gobles, MI), and Winona Wilde (Bridgenorth, Ontario).
Named as alternates were Mila Maring-Sims (Alto Pass, IL), Alicia Viani (Bend, OR), Ben Bedford (Springfield, IL), Eric Stucky (Montrose, CO), Randy Palmer (Amarillo, TX), Wyatt Easterling (Chapel Hill, NC), Kevin T. Hale (Westlake Village, CA), and Jenny Reynolds (Austin, TX).
After performing, six songwriters will be selected as 2017 New Folk Winners by noted songwriters Amy Speace, Dan Navarro and Jeff Black, who are serving as judges. The six, to be announced during the evening concert on May 28, will receive cash honorariums and other prizes, as well as the opportunity to return the following weekend to each perform 20-minute sets during a Grassy Hill Kerrville New Folk Winners concert at the festival on Sunday afternoon, June 4.
Established in 1972 at the urging of Peter Yarrow, the Kerrville New Folk Concerts have become a highlight of the annual festival that is geared towards singer-songwriters of various musical styles and is the longest continuously running festival of its kind in North America. Being named as a New Folk Winner is regarded as a very prestigious honor.
In addition to concerts each evening, Kerrville features "Ballad Tree" song-sharing sessions, campfire jam sessions, concerts and activities for children, organized canoe and kayak trips on the Guadelupe River and Hill Country bike rides, a Young Artists Performance Incubator, a professional development program for teachers, as well as a three-day songwriters school and instrumental workshops. The festival runs for 18 straight days – Thursday, May 25– Sunday, June 11. For a complete schedule and additional information, visit www.kerrville-music.com.