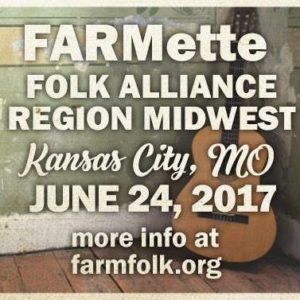 Official Showcase applications are now being sought for FARMette 2017, a one-day mini-conference presented by Folk Alliance Region Midwest (FARM), slated for Saturday, June 24, at The Buffalo Room in Kansas City, MO.
Performing artists have until 11:59 p.m. CDT on May 10 to apply for one of seven juried showcases by submitting two live performance video web links and their website URLs, along with a $10 showcase submission fee, online via http://www.listeningroomnetwork.com/showcase/FARMette.html). Official Showcase rules and guidelines also are posted there.
Although judges are being asked to focus on performance and song quality, rather than the production values of the video, audio quality is important. Selected artists will pay an additional $25 showcase fee and must be Folk Alliance International members and registered for the mini-conference, along with any band members/backup musicians.
FARMette 2017 is designed to give performing artists, presenters, agents, managers, folk DJs and others actively engaged in folk and roots music a small taste of what FARM's annual three-day fall conference, set this year in Iowa City, IA, Oct. 19-21, (for which applications for official juried showcases are being sought through May 31) is like. Besides the evening's Official Showcases, the day-long event will feature 44 Performance Lane showcases (10 minutes per artist/act), two sets of hour-long morning breakout sessions – one for working musicians and one for the community, and a keynote address by Calvin Arsenia, a two-time official showcase artist at Folk Alliance International conferences. Tickets for FARMette 2017 are $25 and may be purchased online at http://farmfolk.org/farmette-2017/farmette-registration/.
FARM (www.farmfolk.org), which serves 15 U.S. states and Canadian provinces, seeks to promote traditional, contemporary and multicultural folk music and dance and related performing arts in the Midwest. It is one of five regional affiliates of Folk Alliance International (www.folk.org), a Kansas City-based nonprofit organization that aims to nurture, engage and empower the international folk music community through education, advocacy and performance.