More than 250 people will converge on the Montreat Conference Center in Montreat, North Carolina, just off the Blue Ridge Parkway, near Asheville, May 17-21, 2017 for the 10th annual Southeast Regional Folk Alliance (SERFA) Conference featuring contemporary and traditional folk music, networking and learning opportunities. Kathy Mattea will be the keynote speaker. AcousticMusicScene.com will again host late-night song swaps.
A regional affiliate of Folk Alliance International, SERFA (www.serfa.org) exists to promote, develop and celebrate the diverse heritage of roots and indigenous music, dance, storytelling and related arts in the Southeastern United States. Its annual conference is a primary means of doing that. This is the seventh consecutive year that it is being held at the same location — a beautiful and tranquil spot nestled in the Blue Ridge Mountains. This year's conference opens with a barbecue, followed by a barn dance and an open mic on Wednesday night, and concludes on Sunday morning with a farewell breakfast.
Kathy Mattea to Deliver Keynote Address and Accept an Award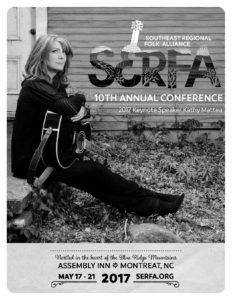 Kathy Mattea, a Grammy Award-winning country/folk artist and activist, will deliver a keynote address during the conference. Although best known for such country music chart topping hits as "18 Wheels and a Dozen Roses," "Come From the Heart" and "Goin' Gone," her 18 albums contain bluegrass, folk, gospel and Celtic influences. Mattea also made major waves in folk circles with her album, Coal, featuring songs about the Appalachian coal-mining culture and celebrated the Appalachian culture of her native West Virginia on her 2012 follow-up recording, Calling Me Home. Mattea has been part of the distinguished teaching staff for the annual Swannanoa Gathering in North Carolina each summer. She is married to singer-songwriter Jon Vezner, who penned such hits for her as "Where've You Been."
"There's nothing more powerful than sitting in a room and sharing music together," asserts Mattea. "Folk music is about stripping away all the bells and whistles, and celebrating the simplicity and directness of that connection." She believes "SERFA is important because it helps people who steward live music to connect directly with musicians, and helps those musicians find ways to connect with people who are passionate about keeping live performance… ALIVE!"
Mattea also will be among the recipients of awards from SERFA in recognition of extraordinary contributions to folk music and the folk music community in the Southeast. Also being honored are John McCutcheon and Sundilla Music.
McCutcheon, who was the keynote speaker at a previous SERFA Conference, is one of America's most revered folksinger-songwriters – perhaps best known for his classic "Christmas in the Trenches." A multi-instrumentalist who plays a dozen different traditional instruments, he has been performing and recording since the mid-1970s. His latest album, Trolling for Dreams, topped the folk radio charts in January. A longtime labor and social activist, McCutcheon also was a founder and leader of Local 1000, the traveling acoustic musicians local of the American Federation of Musicians.

Sundilla Music is an Auburn, Alabama-based nonprofit cultural organization that presents The Sundilla Concert Series and, along with Troy Public Radio, The Sundilla Radio Hour. Launched in 1993, the acoustic concert series' motto is "We're a great place on the way somewhere else," and its 12 concerts a year feature professional touring musicians from outside the area. The weekly hour-long radio program, which premiered on Troy Public Radio in March 2013, now airs on several radio stations and also is available as podcast via iTunes and other platforms. Hosted by Kelly Walker, the program features music and conversation with independent contemporary folk musicians.
Workshops and Panel Discussions Organized by Tracks
Some three-dozen 75-minute workshops during the conference will be organized by tracks: Activism, Business for Performing artists, Performing and Recording, Presenting, Songwriting, and Trad. Workshops and panel discussions will delve into such topics as The Art and Craft of Home Recording, Blues in Open Tunings, Can Music Change the World?, Creating Successful Tours, Creating Your Own Brand, How to Elicit Audience Participation, Marketing Your Music to Folk Radio, Music for Film and Television, Sharing Best Practices for Presenters, Sponsorship and Grants for Events, Videos: How and Why, Women as Tradition Bearers, Writing Songs On Purpose, and Writing Strong Bios and News Releases. Rain Perry, a singer-songwriter and independent filmmaker, will screen her new documentary about the music business, entitled The Shopkeeper, and will engage in a question and answer session following it.
A Wisdom of the Elders session will feature Reggie Harris, Doug Orr and Patrick Sky. An artist, educator and activist, Harris seeks to convey messages of joy, unity, tolerance and peace through music that is steeped in the tradition of Africa-American spirituals, folk, gospel, rock, and songs of civil and human rights. Orr, president emeritus of nearby Warren Wilson College, founded the Swannanoa Gathering that takes place there annually. He also is the co-author (with Scotland's Fiona Ritchie) of Wayfaring Strangers: The Musical Voyage from Scotland and Ulster to Appalachia, a 2014 New York Times best seller. Sky, who was part of the folk scene centered around New York City's Greenwich Village during the early 1960s, later embraced Irish music, established the noted Green Linnet Records label, and became an acclaimed uilleann piper and pipe maker.
Besides the workshops and panel discussions, there will be one-on-one mentoring sessions, a membership meeting, yoga, a community sing and an open mic, peer group meetings, exhibit tables, communal meals, and, of course, a lot of music. Conference attendees also can enjoy strolling around the beautiful grounds and hiking along the trails at Montreat. Also during the conference, a number of artists will visit a local elementary school to share songs with youngsters and give them a chance to play instruments and learn about the various types of folk instruments and styles of music they create.
Official and Guerilla Showcases Abound
A number of artists have been selected by a panel of judges to present official showcases on Thursday, Friday and Saturday nights from 7:15-10:15 p.m. Slated to perform on Thursday are Friction Farm, Andy Ferrell, Rebecca Wudarski, Johnsmith, Ordinary Elephant, Scott Cook, John Sherman & Randy Clepper, and Sultans of String. Friday's official showcase lineup features Sarah Clanton, Noah Zacharin, Hoot and Holler, Reggie Harris, Al Petteway, Anne McCue, Lyal Strickland, and Lauren Sheehan. Saturday's showcase artists include The Levins, Mare Wakefield and Nomad, Josh Harty, Mean Mary, Bill Mize, Rebecca Folsom, MSG Acoustic Blues Trio, and Blue Yonder. These artists were chosen from among nearly 150 applicants.
The official Showcases are open to the public for $15 each night or $30 for all three nights. Tickets will be available at the door at Convocation Hall, located inside the Assembly Inn at Montreat Conference Center.
Following the official showcases, late-night guerilla showcases will take place in various meeting rooms between 10:40 p.m. and 2 a.m. AcousticMusicScene.com, which has had a presence at the SERFA Conference for the past six years, will host late-night showcases on Thursday and Friday, May 18 and 19, overnight. These will take the form of song swaps.
Here's the AcousticMusicScene.com showcase schedule:
Thursday Night, May 18:
10:40: Steve Brooks, Jefferson Ross, Lyal Strickland, Dennis Warner
11:30: Antonio Andrade, Scott Cook, Gina Holsopple
12:00: Dan & Faith, Max & Ruth Bloomquist
12:30: Tony Denikos, Karyn Oliver, Letitia VanSant
1:00: Bruce Michael Miller Anna p.s., Laura Zucker
1:30: Mike & Amy Aiken, Eugene Tyler Band
Friday Night, May 19:
10:40: Nashville Cats: Wyatt Easterling, Sarah Lois Richards, Priscilla Sanders, Susan Shann
11:30: Leah Kaufman, Isabel Taylor
12:00: I'm From New Jersey: Diane Perry, John Sonntag
12:30: Reggie Harris, Mara Levine
1:00: New York Duos: The Levins, The YaYas
1:30: Acoustic Blues: Ann McCue, M.S.G. Acoustic Blues Trio, Jon Shain & FJ Ventre
Editor's Note: In addition to hosting AcousticMusicScene.com showcases, I will be part of workshop- panel discussions on artist bios and news releases and booking and management. I will also again be a mentor offering advice and counsel on various aspects of public relations and strategic communications. An elected board member of Folk Alliance International, I also serve as board president for the Northeast Regional Folk Alliance (NERFA).