Six singer-songwriters have been named as winners in the 2017 Grassy Hill Kerrville New Folk Competition for Emerging Songwriters. They were chosen by a panel of judges from among 32 finalists who performed two songs each during the New Folk Concerts on May 27 and 28 as part of the Kerrville Folk Festival, an 18-day event at the Quiet Valley Ranch in the Texas Hill Country.
Chris Moyse (Nashville, TN), Rachael Kilgour (Duluth, MN), Mia Rose Lynne (Nashville, TN), Letitia VanSant (Baltimore, MD), Ingrid Graudins (Nashville, TN), and Winona Wilde (Toronto, Ontario) will each perform 20-minute sets during a Grassy Hill Kerrville New Folk Winners concert at the festival on Sunday afternoon, June 4, and will receive cash honorariums and other prizes.
Established in 1972 at the urging of Peter Yarrow, the Kerrville New Folk Concerts have become a highlight of the annual festival that is geared towards singer-songwriters of various musical styles and is the longest continuously running festival of its kind in North America. Being named as a New Folk Winner is regarded as a very prestigious honor.
"It's a great honor to be selected — first as a finalist and then as one of the six winners of this year's contest," said Kilgour. "Some of my favorite songwriters of all time have been New Folk finalists and winners, It's pretty incredible to be included in that long and impressive list. I'm grateful for the time spent here at Kerrville amongst folks who share the deep love of a good song."
Amy Speace, who served as one of the judges, along with fellow singer-songwriters Dan Navarro and Jeff Black, reflected on her experience of being both a two-time New Folk judge and a former finalist in the competition:
"Although those of us creating the art can wax negative on these things — 'songwriting for sport, ick' — in the end, the truth is without these contests many of us would not be here. New Folk at Kerrville is a beautiful example of integrating a 'contest' with a welcoming key to a kingdom of community. As a former New Folk Finalist who has judged twice, I can see if from both sides. I was thrilled to be a finalist. I was disappointed to not win, but a year later I was playing the Main Stage and realized I wouldn't have been offered the gig without being seen in the contest, win or lose.
As a judge, I met Robby Hecht who has become a friend and a cowriter; maybe of one of my favorite songs I've ever had the pleasure of being a part of – 'The Sea & The Shore.' And one of my co-Finalists in 2006 (who won) was Jud Caswell, who co-wrote 'The Weight of the World' with me. So I may have lost the contest, but I think what I won far outweighs that disappointment. Kerrville keeps giving gifts and they get deeper each time I return."
In impromptu remarks at a gathering of New Folk Finalists and Winners at the Rouse House New Folk Camp, where many of the finalists stayed in tents and shared songs over bagels on the two mornings preceding their showcase performances, Speace lauded hosts Lindsay Lee and Deb Rouse for being so welcoming to New Folk Finalists over the years. "They have set up New Folk Central — creating a space for these 32 to create family, so that the experience is less competitive and more collaborative."
Speace also reflected on how, as festival producer Dalis Allen gave the New Folk Finalists a pep talk prior to their taking the stage, she observed that while it was a songwriting contest on the surface, it "was really a wide-swinging gate of entry into a communion with Tribe and an invitation to Mission." She recalled standing next to her fellow judges – "veterans of song and stage and the art of creating a living out of music, feeling the rumbles of Spirit move through me, the beginnings of new songs and the rekindling love of Why I Do This." Looking into the eager and nervous eyes of the finalists, she remembered her own jitters 11 years ago, and said she was moved to tears.
"I am deeply grateful to have spent this past weekend listening to 64 songs sung by 32 songwriters. I am re-inspired, humbled and honored to have shared the experience with my fellow judges who pored over every verse and chorus with cradling care and consideration of the deep importance of this small thing we do. And I am grateful for Dalis, for getting to see her big wide smile so often in the last few days, for dancing with her backstage, and for her thoughtfulness and care taking of an extraordinary place where, every May and June, for 18 days, people of all shapes, sizes, ages, religions, nationalities, genders, coffee preferences, and late night temperaments gather in Kerrville Texas in the simple and beautiful belief that a song could change the world."
The 46th annual Kerrville Folk Festival extends through Sunday, June 12. In addition to concerts each evening, Kerrville features "Ballad Tree" song-sharing sessions, late-night and afternoon song circles and jam sessions at various campsites, concerts and activities for children, organized canoe trips on the Guadelupe River and Hill Country bike rides, a professional development program for teachers, as well as a three-day songwriters school and instrumental workshops. For more information, visit www.kerrville-music.com.
Editor's Note: Although I have been writing about the Grassy Hill New Folk Competition since the inception of AcousticMusicScene.com in 2007, I was a first-time attendee at the Kerrville Folk festival last month and am so glad that my five days with this wonderful community included two afternoons of performances by the New Folk Finalists, as well as a bittersweet but beautiful musical tribute to Jimmy LaFave, who was to have been a festival headliner but passed away shortly before it started. I'm delighted to have been able to hear, meet and re-connect with so many talented singer-songwriters. I also express my appreciation to Dalis, Lindsay and Deb, as well as to Ken Gaines, who welcomed me to pitch my tent at Camp Stupid and to my friends Brian and Pam Kalinec for their gracious hospitality during my extended visit to Texas.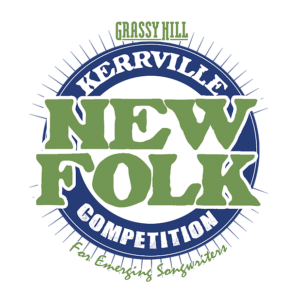 A listing of all of this year's New Folk Finalists was included in a previously posted article. In addition to the winners mentioned in the article above, the finalists included Andy Baker (Gobles, MI), Emily Barnes (Johnsonburg, NJ), Arlon Bennett (Tappan, NY), Robin Bienemann (Oak Park, IL), Mary Bragg (Nashville, TN), John John Brown (Winter Garden, FL), Lyndy Butler (Hurricane, UT), Shawn Byrne (Nashville, TN), Jefferson Clay (San Antonio, TX), Wendy Colonna (Buda, TX), Teresa Eggerston Cooke (Park City, UT), Teghan Devon (Myersville, MD), Kelly Hoppenjans (Nashville, TN), Isaac Hoskins (Denton, TX), Hadley Kennary (Nashville, TN), Martin Kerr (Edmonton, Alberta), Eleanor Kleiner & Elie Brangbour – The Whispering Tree (Beacon, NY), Rich Krueger (Evergreen Park, IL), Catherine Miles & Jay Mafale – The YaYas (Centerport, NY), ordinary elephant (Livingston, TX), Angela Parrish (North Hollywood, CA), Chris Petersen (Cedar City, UT), Brian Pounds (Austin, TX), Ben Shannon (Pittsburgh, PA), and Dana Sipos (Guelph, Ontario).