Tom Russell's Play One More: The Songs of Ian and Sylvia was the #1 album on folk radio during June 2017, while Joe Jencks had the most-played song ("Let Me Sing You a Song" from Poets, Philosophers, Workers and Wanderers, May's most-played album and #2 in June). Rosalie Sorrels, who died last month, was the most-played artist in June, followed by Russell and Jencks. So say charts compiled by Richard Gillmann from radio playlists submitted to FOLKDJ-L, an electronic discussion group for DJs and others interested in all folk-based music on the radio.
Russell, himself one of America's most-covered singer-songwriters, pays homage to the Canadian folk duo Ian and Sylvia Tyson on his latest album, Play One More: The Songs of Ian and Sylvia — featuring 14 of their songs. Jencks, best known to many as part of the folk harmony trio Brother Sun, lets his own resonant tenor shine on "Let Me Sing You a Song" and other tracks on his new solo release.
The June 2017 FOLKDJ-L charts are based on 13, 617 airplays from 137 different DJs. Label and release date appear in brackets below, while the number of reported spins is shown in parentheses. The top albums and songs charts are posted on AcousticMusicScene.com, with permission.
Top Albums of June 2017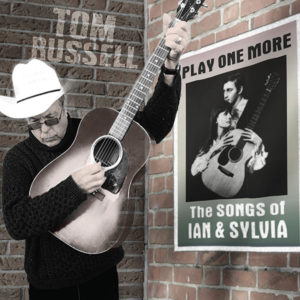 1: Play One More: The Songs Of Ian And Sylvia, Tom Russell [True North, 5/17] (82)
2: Poets, Philosophers, Workers And Wanderers, Joe Jencks [Turtle Bear, 5/17] (72)
3: Revolution Now, Emma's Revolution [Moving Forward, 5/17] (61)
4: Lines Of Longitude, Chris And Meredith Thompson [Alkali, 5/17] (56)
5: Against All Tides, Harpeth Rising [harpethrising.com, 5/17] (48)
5: Shame, Rachel Baiman [Free Dirt, 6/17] (48)
7: God Bless The Grass, The Malvinas [Soona, 4/17] (46)
8: When The Bloom Falls From The Rose, Sarah Jane Scouten [Light Organ, new] (45)
9: Alastair Moock, Alastair Moock [moock.com, 6/17] (42)
10: God's Problem Child, Willie Nelson [Legacy, 4/17] (41)
10: Land Of Doubt, Sam Baker [sambakermusic.com, new] (41)
12: The Nashville Sound, Jason Isbell And The 400 Unit [Southeastern, new] (36)
12: This Highway, Zephaniah Ohora [zephaniahohora.com, new] (36)
14: Hands In The Dirt, The Resonant Rogues [theresonantrogues.com, 5/17] (35)
14: Treasure Of The Broken Land: The Songs Of Mark Heard, Various Artists [Storm Weathered, 6/17] (35)
16: Wild As We Came Here, The Steel Wheels [Big Ring, 3/17] (32)
17: The Fairest Flower Of Womankind, Lindsay Straw [lindsaystraw.bandcamp.com, 4/17] (31)
17: Manic Revelations, Pokey LaFarge [Rounder, 5/17] (31)
19: Amanda Anne Platt And The Honeycutters, Amanda Anne Platt And The Honeycutters [Organic, new] (30)
19: Turn Your Face To The Sun, I Draw Slow [Compass, 4/17] (30)
19: You See This River, Janie Barnett And Blue Room [Minor Regrets, 3/17] (30)
22: Black Irish, Shannon McNally [Compass, 6/17] (29)
23: Freedom Highway, Rhiannon Giddens [Nonesuch, 2/17] (28)
23: Lucky Stars, Loretta Hagen [Bearfort, new] (28)
23: Singin, Heather Pierson Acoustic Trio [Vessel, new] (28)
23: Smoke Behind The Clouds, The Bucking Mules [Free Dirt, 4/17] (28)
27: If It's Alright With You: The Songs Of Gene MacLellan, Catherine MacLellan [True North, new] (27)
27: Resistance, Beth DeSombre [bethdesombre.com, new] (27)
27: Where The River Meets The Road, Tim O'Brien [Howdy Skies, 3/17] (27)
30: Different Hymnals, Joel Mabus [Fossil, new] (26)
30: So You Wannabe An Outlaw, Steve Earle And The Dukes [Warner, new] (26)
32: Ghost On The Car Radio, Slaid Cleaves [Candy House Media, new] (25)
33: 50 Years Of Blonde On Blonde, Old Crow Medicine Show [Columbia, 4/17] (24)
34: Americana, Ray Davies [Legacy, 4/17] (23)
34: Eyes Brand New, Zoe And Cloyd [zoeandcloyd.com, 4/17] (23)
34: A Stranger In This Time, Tim Grimm And The Family Band [Vault, 3/17] (23)
37: O'Connor Band Live!, O'Connor Band [Omac, new] (22)
37: Positively Bob: Willie Nile Sings Bob Dylan, Willie Nile [River House, new] (22)
37: You've Been Away So Long (EP), Alice Howe [alicehowe.com, 2/17] (22)
40: All My Heroes Sang The Blues, Sandy Ross [Slr, new] (21)
40: Almost Anyone, Montgomery Delaney [montgomerydelaney.com, 4/17] (21)
40: Binary, Ani Difranco [Righteous Babe, 6/17] (21)
40: Boots No. 1: The Official Revival Bootleg, Gillian Welch [Acony, 11/16] (21)
40: A Calm Sun, Lesley Kernochan [Maple Syrup, 12/16] (21)
40: Tunes From David Holt's State Of Music 2, Various Artists [High Windy, 4/17] (21)
46: Colter Wall, Colter Wall [Young Mary, 5/17] (20)
46: Fading Mystery, Taarka [taarka.com, 1/17] (20)
46: From Where I Started, Sera Cahoone [Lady Muleskinner, 3/17] (20)
46: Phat Live, Phil Henry Acoustic Trio [philhenryband.com, 5/17] (20)
46: Sgt. Pepper's Lonely Hearts Club Band, The Beatles [Apple, 1967] (20)
46: Threads, Tom Chapin [Sundance, 3/17] (20)
52: Balance, Shawn Taylor [Self, new] (19)
52: Divining Rod, Wyatt Easterling [Phoenix Rising, 3/17] (19)
52: Ironbark, The Waifs [Compass, 3/17] (19)
52: Songs I Left Behind, Rebb Firman [Lemon Cove, 4/17] (19)
52: Transient Lullaby, The Mastersons [Red House, 5/17] (19)
57: Turning The World, Rick Drost [Self, new] (18)
57: What She Said, Fred Gillen Jr [Dys, 4/17] (18)
59: Further Down The Line, Scott Cook [scottcook.net, 3/17] (17)
59: Kids In The Street, Justin Townes Earle [New West, 5/17] (17)
59: My Last Go Round, Rosalie Sorrels and Friends [Red House, 2004] (17)
59: Undercurrent, Sarah Jarosz [Sugar Hill, 6/16] (17)
59: Wow And Flutter, Amilia K Spicer [Free Range, 4/17] (17)
64: Beautiful World, Eliza Gilkyson [Red House, 2008] (16)
64: Bonfire To Ash, Porter Nickerson [Weasel, 1/17] (16)
64: Colors, The Farm Hands [Pinecastle, new] (16)
64: Report From Grimes Creek, Rosalie Sorrels [Green Linnet, 1991] (16)
64: TajMo, Taj Mahal And Keb' Mo' [Concord, 5/17] (16)
64: Time Machine, Peter Calo [En Route, 10/16] (16)
70: Cimarron Manifesto, Jimmy LaFave [Red House, 2007] (15)
70: Coming Down The Mountain, Mipso [mipsomusic.com, 4/17] (15)
70: The Dustbowl Revival, The Dustbowl Revival [Signature, 6/17] (15)
70: Rise, Molly Tuttle [Self, new] (15)
Top Songs of June 2017
1. "Let Me Sing You A Song" (19)
by Joe Jencks
from
Poets, Philosophers, Workers And Wanderers
2. "Sing People Sing" (14)
by Emma's Revolution
from
Revolution Now
2. "Thrown To The Wolves" (14)
by Tom Russell
from P
lay One More: The Songs Of Ian And Sylvia
2. "When I Go" (14)
by Chris And Meredith Thompson
from
Lines Of Longitude
2. "Wild Geese" (14)
by Tom Russell
from
Play One More: The Songs Of Ian And Sylvia
6. "Night The Chinese Restaurant Burned Down" (13)
by Tom Russell
from
Play One More: The Songs Of Ian And Sylvia
7. "God's Problem Child" (12)
by Willie Nelson
from
God's Problem Child
7. "Make It Great" (12)
by Alastair Moock
from
Alastair Moock
9. "Old Cheyenne" (11)
by Tom Russell
from
Play One More: The Songs Of Ian And Sylvia
10. "Crow" (10)
by The Malvinas
from
God Bless The Grass
10. "I Know What Love Is" (10)
by Chris And Meredith Thompson
from
Lines Of Longitude
10. "Never Tire Of The Road" (10)
by Rachel Baiman
from
Shame
10. "Summer Wind" (10)
by Sam Baker
from
Land Of Doubt
10. "When The Wolves No Longer Sing" (10)
by Tom Russell
from
Play One More: The Songs Of Ian And Sylvia
15. "535" (9)
by Harpeth Rising
from
Against All Tides
15. "Dream" (9)
by Alastair Moock
from
Alastair Moock
15. "God Bless The Grass" (9)
by The Malvinas
from
God Bless The Grass
15. "Going Home" (9)
by Joe Jencks
from
Poets, Philosophers, Workers And Wanderers
15. "Gonna Be Great" (9)
by Tim Grimm And The Family Band
from
A Stranger In This Time
15. "Hands In The Dirt" (9)
by The Resonant Rogues
from
Hands In The Dirt
15. "My Last Go Round" (9)
by Rosalie Sorrels and Friends
from My Last Go Round
also
Borderline Heart
15. "Same Kind Of Blue" (9)
by Sam Baker
from
Land Of Doubt
15. "Shame" (9)
by Rachel Baiman
from
Shame
15. "She Persisted" (9)
by Beth DeSombre
from
Resistance
15. "Sing Me Like A Folk Song" (9)
by The Steel Wheels
from
Wild As We Came Here
15. "Way Down In My Soul" (9)
by Zephaniah Ohora
from
This Highway