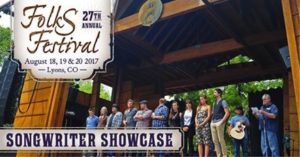 Ten singer-songwriters have been selected as finalists in the 2017 Folks Festival Songwriter Showcase, held in conjunction with the 27th Rocky Mountain Folks Festival in Lyons, Colorado, Aug. 18-20. The finalists will vie for cash and other prizes – including a 2018 festival main stage set and a Taylor guitar for the first-place winner.
The finalists are Andrew Delaney (Arlington, TX), Brian Dunne (Brooklyn, NY), Chase Gassaway (Austin, TX), Mike Herz (Newton, NJ), Leah Grams Johnson (Nashville, TN), Janelle Loes (Scottsdale, AZ), Mia Rose Lynne (Nashville, TN), Heather Mae (Washington, DC), Liz Ryder (Sacramento, CA), and Ira Wolf (Nashville, TN). Named as alternates were Letitia VanSant (Baltimore, MD) and Billy Shaddox (Lyons, CO).
Each of the ten finalists will perform two original songs on the festival's main stage on Friday, Aug. 18 and during in-the-round sessions in the Wildflower Pavilion, where songwriting workshops also will take place throughout the weekend. A panel of judges drawn from different facets of the music industry will evaluate their songs and select the winners based on a scoring criteria that includes quality of composition (50%), vocal rendering (25%), and delivery (25%).
Besides those in the Songwriter Showcase, artists slated to perform during the festival's opening day include Gregory Alan Isakov, Rhiannon Giddens, The Weepies, Peter Himmelman, Rachel Sermanni, and Phoebe Hunt & The Gatherers. Saturday's lineup features The Revivalists, Elephant Revival, Loudon Wainwright III, Mandolin Orange, Ben Sollee & Kentucky Native, The Mae Trio, and Korby Lenker (last year's Songwriter Showcase winner). Performing on Sunday will be Dave Rawlings Maching, Lake Street Dive, Josh Ritter, The Wailin' Jennys, SHEL, Mollie O'Brien & Rich Moore, and Ramy Essam.
More information on the 2017 Songwriter Showcase and on the Rocky Mountain Folks Festival can be found online at www.bluegrass.com/folks/.