Sarah Lee Guthrie and The Mammals (featuring Mike & Ruthy) will co-headline the 12th Annual Huntington Folk Festival on Saturday, July 29, at Heckscher Park, located off Main Street (Route 25A) and Prime Avenue, in Huntington, New York. Extending from 12 noon to 10:30 p.m., the free festival – co-presented by the Folk Music Society of Huntington and the Huntington Arts Council – is part of the 52nd Huntington Summer Arts Festival.
The theme for the evening concert is Generations. Performing on the park's Chapin Rainbow Stage at 8:30 p.m. will be Sarah Lee Guthrie and The Mammals (featuring Mike & Ruthy). Talented artists in their own right, Sarah Lee is the daughter of Arlo Guthrie and granddaughter of Woody Guthrie, while Ruth Ungar is the daughter of Jay Ungar (a noted fiddler and composer of the folk classic "Ashokan Farewell'). A special on-stage song swap — NERFA Presents Young Folk: Alice Howe and Mike Tedesco – is set for 8 p.m. [NERFA is an acronym for Northeast Regional Folk Alliance, a regional affiliate of Folk Alliance International.]
Prior to the evening concert, Michael Kornfeld, who is president of both FMSH and NERFA and editor & publisher of AcousticMusicScene.com, and Joe Pszonek of Joltin Joe's Radio Nowhere Internet Radio (streaming @ radionowhere903.com), will host unplugged showcases and song swaps from 1-6 p.m. These will take place near canopy tents on the upper lawn area overlooking the stage and will feature more than three-dozen artists/acts from New York and several other states. The day's musical festivities begin with an open mic at noon.
The afternoon lineup includes Jeremy Aaron, Clint Alphin, Alexis von Aulock, Emily Barnes, Tucker Bickell, Bill Buttner, Chris J. Connolly, Greg Cornell & The Cornell Brothers, Karen Dahlstrom, Folkapotamus, Marci Geller, Cosby Gibson & Tom Staudle, He-Bird, She-Bird, Gina Holsopple, Alice Howe, Josh Joffen, Susan Kane, Judy Kass, Colleen Kattau, Rorie Kelly, Ray Lambiase, Mara Levine, Lori Llyn, Annie Mark, Kirsten Maxwell, Stuart Markus, Catherine Miles and Jay Mafale (The YaYas), Lois Morton, Emily Mure, Nico Padden, Steven Pelland, Katherine Rondeau, John Sonntag, Hank Stone, Christine Sweeney, Sweet Little Bloodhound, Toby Tobias, and The Whispering Tree.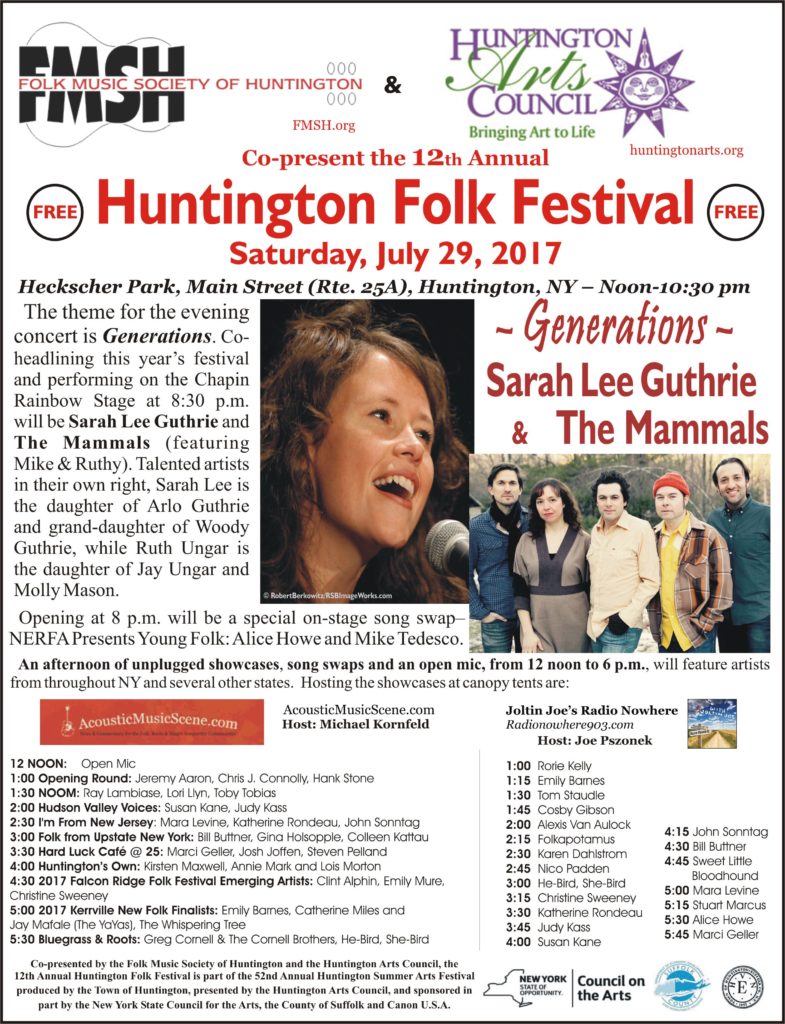 Festivalgoers are advised to bring lawn chairs and blankets and a picnic supper (or walk into Huntington Village and enjoy a meal at one of its many restaurants).
The Huntington Folk Festival highlights a folk and Americana weekend at Heckscher Park that also features concerts by Long Island-based indie folk-rock band Miles to Dayton (Friday July 28) and The Sweet Remains, a nationally touring act with harmonies reminiscent of CSN, The Eagles and Simon & Garfunkel (Sunday, July 30). The Huntington Summer Arts Festival is produced by the Town of Huntington, presented by the Huntington Arts Council, and sponsored in part by the New York State Council for the Arts, the County of Suffolk and Canon U.S.A.