The Heather Pierson Acoustic Trio had both the most-played album (Singin') and song ("Dark as a Dungeon") on folk radio during July 2017. So say charts compiled by Richard Gillmann from radio playlists submitted to FOLKDJ-L, an electronic discussion group for DJs and others interested in all folk-based music on the radio.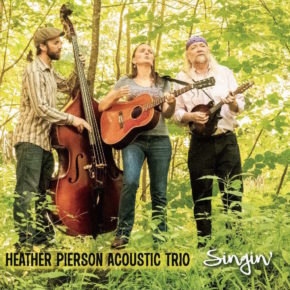 Released June 30, Singin' features 10 originals and two classic covers performed by Pierson, a New Hampshire-based singer-songwriter and pianist who also plays acoustic guitar and tenor banjo, and bandmates Davy Sturtevant (cornet, dobro, fiddle, mandolin and harmony vocals) and Shawn Nadeau (upright bass and harmony vocals). Singin' is the debut full-length CD by a trio whose 2015 debut EP, Still She Will Fly, drew critical acclaim and whose title track was the #2 song on the Folk DJ chart that year. Pierson previously released eight solo recordings. The Heather Pierson Acoustic Trio also had a coveted juried tricentric showcase at last year's Northeast Regional folk Alliance (NERFA) Conference.
The July 2017 FOLKDJ-L charts are based on 14.623 airplays from 135 different DJs. Label and release date appear in brackets below, while the number of reported spins is shown in parentheses. The top albums and songs charts are posted on AcousticMusicScene.com, with permission.
Top Albums of July 2017
1: Singin', Heather Pierson Acoustic Trio [Vessel, 6/17] (84)
2: Poets, Philosophers, Workers And Wanderers, Joe Jencks [Turtle
Bear, 5/17] (65)
3: Play One More: The Songs Of Ian And Sylvia, Tom Russell [True
North, 5/17] (60)
4: When The Bloom Falls From The Rose, Sarah Jane Scouten [Light
Organ, 6/17] (59)
5: Say Yes, Laura Zucker [laurazucker.bandcamp.com, new] (55)
6: So Many Stars, Friction Farm [frictionfarm.com, 7/17] (53)
7: Revolution Now, Emma's Revolution [Moving Forward, 5/17] (47)
7: Savage On The Downhill, Amber Cross [ambercrossmusic.com, new] (47)
9: The Nashville Sound, Jason Isbell And The 400 Unit
[Southeastern, 6/17] (39)
10: Resistance, Beth DeSombre [bethdesombre.com, 5/17] (38)
11: A Black And Tan Ball, Ben Hunter And Joe Seamons With Phil
Wiggins [Tantamount, new] (33)
11: Shame, Rachel Baiman [Free Dirt, 6/17] (33)
11: This Old Town, Andy And Judy [andyjudysing.com, new] (33)
14: O'Connor Band Live!, O'Connor Band [Omac, 6/17] (32)
15: Homeless In America: Blues And Protest Songs In An Era Of
Trump, Ron Israel [ronisraelmusic.com, 6/17] (31)
15: The Richmond Sessions, The Sherman Holmes Project [M.C., new] (31)
17: Against All Tides, Harpeth Rising [harpethrising.com, 5/17] (30)
17: A Stranger In This Time, Tim Grimm And The Family Band [Vault, 3/17] (30)
19: Freedom Highway, Rhiannon Giddens [Nonesuch, 2/17] (29)
19: God Bless The Grass, The Malvinas [Soona, 4/17] (29)
21: Ghost On The Car Radio, Slaid Cleaves [Candy House Media, 7/17] (28)
22: Alastair Moock, Alastair Moock [moock.com, 6/17] (27)
23: The Fairest Flower Of Womankind, Lindsay Straw
[lindsaystraw.bandcamp.com, 4/17] (26)
23: Smoke Behind The Clouds, The Bucking Mules [Free Dirt, 4/17] (26)
25: Crossover, Dan Whitener [Rench, 5/17] (25)
25: Further Down The Line, Scott Cook [scottcook.net, 3/17] (25)
25: Land Of Doubt, Sam Baker [sambakermusic.com, 6/17] (25)
25: Threads, Tom Chapin [Sundance, 3/17] (25)
25: Turn Your Face To The Sun, I Draw Slow [Compass, 4/17] (25)
30: A Calm Sun, Lesley Kernochan [Maple Syrup, 12/16] (24)
30: God's Problem Child, Willie Nelson [Legacy, 4/17] (24)
30: Horizon Lines, Matthew Byrne [Self, new] (24)
30: Manic Revelations, Pokey LaFarge [Rounder, 5/17] (24)
30: This Much Is True, Byrd And Street [byrdandstreet.com, 2/17] (24)
30: Where The River Meets The Road, Tim O'Brien [Howdy Skies, 3/17] (24)
36: It's Personal, Bev Grant [Self, 5/17] (23)
36: Kids In The Street, Justin Townes Earle [New West, 5/17] (23)
38: Lines Of Longitude, Chris And Meredith Thompson [Alkali, 5/17] (22)
39: Black Irish, Shannon McNally [Compass, 6/17] (21)
39: Flying Machine, Sylvia Bullett [Self, 4/17] (21)
39: So You Wannabe An Outlaw, Steve Earle And The Dukes [Warner, 6/17] (21)
39: TajMo, Taj Mahal And Keb' Mo' [Concord, 5/17] (21)
39: This Highway, Zephaniah Ohora [zephaniahohora.com, 6/17] (21)
44: Eyes Brand New, Zoe And Cloyd [zoeandcloyd.com, 4/17] (20)
44: Lucky Stars, Loretta Hagen [Bearfort, 6/17] (20)
44: Old Salt Union, Old Salt Union [Compass, new] (20)
44: Wild As We Came Here, The Steel Wheels [Big Ring, 3/17] (20)
48: Balance, Shawn Taylor (Featuring The Wandering Roots) [Self, 5/17] (18)
48: If It's Alright With You: The Songs Of Gene MacLellan,
Catherine MacLellan [True North, 6/17] (18)
48: Live At Hillbilly Haiku, Jefferson Ross [Deep Fried, new] (18)
48: London Southern, Jim Lauderdale [Sky Crunch, 2/17] (18)
48: Together Again For The First Time, Gordon Bok And Bob Zentz
[Timberhead, new] (18)
48: Trolling For Dreams, John McCutcheon [Appalsongs, 1/17] (18)
54: Almost Anyone, Montgomery Delaney [montgomerydelaney.com, 4/17] (17)
54: Songs I Left Behind, Rebb Firman [Lemon Cove, 4/17] (17)
54: The Trailer Sessions, Hardened And Tempered [Fly Pants , 5/17] (17)
54: You Don't Own Me Anymore, The Secret Sisters [New West, 6/17] (17)
58: Different Hymnals, Joel Mabus [Fossil, new] (16)
58: In The Ground, The Gibson Brothers [Rounder, 2/17] (16)
58: On That Other Green Shore, John Reischman And The Jaybirds
[Corvus, new] (16)
58: Small Brown Birds, Zoe Mulford [Azalea City, 1/17] (16)
58: Tennessee Moon, Ray Cardwell [Pinecastle, 1/17] (16)
63: Adios, Glen Campbell [Bloodshot, 6/17] (15)
63: Amanda Anne Platt And The Honeycutters, Amanda Anne Platt And
The Honeycutters [Organic, 6/17] (15)
63: From Where I Started, Sera Cahoone [Lady Muleskinner, 3/17] (15)
63: Party Of One, George Thorogood [Rounder, new] (15)
63: Sam Gleaves And Tyler Hughes, Sam Gleaves And Tyler Hughes
[Community, 6/17] (15)
63: The Shed Sessions, Steven Blane [Self, 5/17] (15)
63: Treasure Of The Broken Land: The Songs Of Mark Heard, Various
Artists [Storm Weathered, 6/17] (15)
63: Undercurrent, Sarah Jarosz [Sugar Hill, 6/16] (15)
TOP SONGS OF JULY 2017
1. "Dark As A Dungeon" (20)
by Heather Pierson Acoustic Trio
from Singin'
2. "Let Me Sing You A Song" (16)
by Joe Jencks
from Poets, Philosophers, Workers And Wanderers
2. "Singin" (16)
by Heather Pierson Acoustic Trio
from Singin'
4. "This Land Is Your Land" (13)
by Woody Guthrie
from This Land Is Your Land: The Asch Recordings, Vol. 1
also Folkways – The Original Vision
5. "Sing People Sing" (12)
by Emma's Revolution
from Revolution Now
6. "Every Song I Sing" (11)
by Sarah Jane Scouten
from When The Bloom Falls From The Rose
7. "If Your Well Has Run Dry" (10)
by Laura Zucker
from Say Yes
7. "Way To Hope" (10)
by Beth DeSombre
from Resistance
9. "Bowling Green Massacre" (9)
by Beth DeSombre
from Resistance
9. "Never Tire Of The Road" (9)
by Rachel Baiman
from Shame
9. "Play One More" (9)
by Tom Russell
from Play One More: The Songs Of Ian And Sylvia
9. "Po Howard" (9)
by Ben Hunter And Joe Seamons With Phil Wiggins
from A Black And Tan Ball
9. "So You Wannabe An Outlaw" (9)
by Steve Earle And The Dukes
from So You Wannabe An Outlaw
14. "America" (8)
by Simon And Garfunkel
from Bookends
14. "Fox" (8)
by Laura Zucker
from Say Yes
14. "I'll Call You When I Get There" (8)
by Andy And Judy
from This Old Town
14. "Last Of My Kind" (8)
by Jason Isbell And The 400 Unit
from The Nashville Sound
14. "Little Lies" (8)
by I'm With Her
from Little Lies
14. "Must Be A Reason" (8)
by Pokey LaFarge
from Manic Revelations
14. "Off They Go" (8)
by Alastair Moock
from Alastair Moock
14. "Orange Barrel Blues" (8)
by Dan Whitener
from Crossover
14. "Pack Of Lies" (8)
by Amber Cross
from Savage On The Downhill
14. "Price Of War" (8)
by Friction Farm
from So Many Stars
14. "Savage On The Downhill" (8)
by Amber Cross
from Savage On The Downhill
14. "Say Yes" (8)
by Laura Zucker
from Say Yes
14. "Sometimes I Can't Believe My Luck" (8)
by Heather Pierson Acoustic Trio
from Singin'
14. "Still Not Dead" (8)
by Willie Nelson
from God's Problem Child
14. "Wheelbarrow Johnny" (8)
by Joe Jencks
from Poets, Philosophers, Workers And Wanderers
14. "When I Go" (8)
by Chris And Meredith Thompson
from Lines Of Longitude
14. "When The Wolves No Longer Sing" (8)
by Tom Russell
from Play One More: The Songs Of Ian And Sylvia
14. "Where The Ghost River Flows" (8)
by Sarah Jane Scouten
from When The Bloom Falls From The Rose
14. "Whole Life Of You" (8)
by Heather Kenney
from Waltz (EP)