Thousands of music lovers are expected to converge on Old Pool Farm in Upper Salford Township, near bucolic Schwenksville, Pennsylvania, Aug. 17-20, for the annual Philadelphia Folk Festival. Now in its 56th year, the event, produced and presented by the Philadelphia Folksong Society, a nonprofit arts organization, is the longest continuously running outdoor music festival of its kind in North America.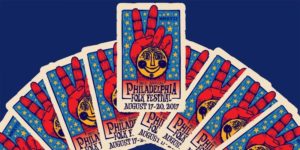 More than 100 artists and acts are slated to perform during the festival. These include David Amram, Eric Andersen, Baile An Salsa, Sam Baker, Larry Campbell & Teresa Williams, Laura Cortese & The Dance Cards, Cry Cry Cry (featuring Lucy Kaplansky, Richard Shindell and Dar Williams), Skip Denenberg, Brian Dunne, Samantha Fish, John Flynn, Bella Hardy, Sierra Hull, The Infamous Stringdusters, David Jacobs-Strain & Bob Beach, The Kennedys, Laura Love Duo, Heather Maloney, John McCutcheon, Tift Merritt, Molsky's Mountain Drifters, Graham Nash, Old Crow Medicine Show, Corin Raymond, RUNA, Son of Town Hall, Spirit Wing, Spuyten Duyvil, Taj Mo: The Taj Mahal & Keb' Mo' Band, Ken Tizzard, Susan Werner, and Toronto-based duo The Young Novelists.
Among the notable up-and-coming local touring artists who will showcase their talents during the festival are Ben Arnold and the 48 Hour Orchestra, Michael Braunfeld, The End of America, Ladybird, Man About A Horse, Mist Covered Mountains, Andrea Nardello, No Good Sister, and Katherine Rondeau & The Show.
As the names above suggest, the Philadelphia Folk Festival features an eclectic mix of traditional and contemporary music that stretches the boundaries of folk, helping to broaden its appeal and reach a new generation of listeners. Both notable national and international touring artists and emerging ones are on the bill.
In partnership with the Northeast Regional Folk Alliance (NERFA), a regional affiliate of Folk Alliance International, the festival will also showcase the talents of three up-and-coming young artists — Jeremy Aaron, Quentin Callewaert and Sara Chodak — during a NERFA Presents Young Folk song swap on Saturday morning. (Aaron also plays fiddle with the Hudson Valley, New York-based Americana-roots band, Spuyten Duyvil, during the festival.)
In addition to musical performances and workshops on eight stages – including contradancing with Groovemama, a Martin Guitar Jam and an old time & bluegrass jam — there will be an array of children's activities in the shady Dulcimer Grove – including craft-making and performances by The Give & Take Jugglers and such children- and family-oriented artists as the husband-and-wife duo Two of a Kind. As in years past, many artisans will display and sell their creations in an open-air juried crafts area.
There's also a festival within the festival for those who opt to camp onsite and enjoy some late-night musical revelry. The 40-acre campground – chock-a-block with tents — is home to a unique late-night scene, with singing by campfires and jamming into the early morning hours. David Dye, host of the syndicated World Café radio program, will host a special Thursday night concert on the Camp Stage –featuring Kentucky-based singer-songwriter Joan Shelley, Brooklyn, NY's The National Reserve, and Toronto rock duo Whitehorse — exclusively for all-festival camping ticket holders.
Both day and full-festival passes are available, with ticket prices starting at $65 for a single-day. Children under 12 will be admitted free with an adult, while discounted tickets are available for youth, ages 12-17.
For more information about the Philadelphia Folk Festival and to order tickets, visit
www.pfs.org//Philadelphia-folk-festival/. A festival app also has been developed for use on smartphones before and during the festival.
Editor's Note: As president of the Northeast Regional Folk Alliance (NERFA) board of directors, I have the honor and pleasure of hosting the "NERFA Presents Young Folk" showcase on Saturday morning, Aug. 19, at 11 a.m. Cheryl Prashker, my predecessor at NERFA and percussionist with the Celtic roots group Runa, will join me.