Livingston Taylor headlines CT Folk's 12th annual Connecticut Folk Festival and Green Expo. The free, daylong event is set for Saturday, Sept. 9, in New Haven's Edgerton Park.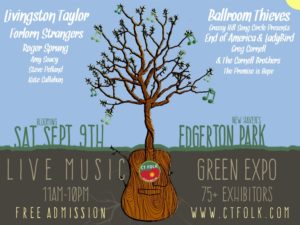 The festival, which runs from 11 a.m. to 10 p.m., kicks off with a short set by Connecticut State Troubadour Kate Callahan, followed by performances by the five top finalists in the 2017 Grassy Hill CT Folk Songwriting Competition: Randy Emmons, Open Book, David Sasso, Carol Van Alstine, and Maggie Wing. One of them will be selected to perform on the main stage later in the day and also is guaranteed a performance slot in next year's festival, as well as a $150 cash prize. Amy Soucy, an upstate New York-based singer-songwriter who won the competition last year, will also perform a set during the afternoon.
Other artists slated to perform on the Main Stage include Boston-based trio The Ballroom Thieves, Nashville-based Americana-folk string quintet Forlorn Strangers, up-and-coming Philadelphia area-based trios The End of America and Ladybird, "The Godfather of Newgrass Banjo" Roger Sprung, New York-based acoustic roots band Greg Cornell & The Cornell Brothers, New England-based singer-songwriter duo The Promise Is Hope, and Massachusetts-bred and Asheville, NC-based singer-songwriter Steven Pelland.
Closing out and headlining the festival will be Livingston Taylor, a singer-songwriter who is, perhaps, best known for his hits "I Will Be In Love with You," "First Time Love," and "I'll Come Running;" his rendition of the classic "Over The Rainbow," as well as for being the brother of James Taylor – who also has recorded several of his songs. In recognition of his contributions to the music industry over the past 50 years and his encouragement of aspiring artists as a professor at Berklee College of Music, where he's taught a popular stage performance course since 1989, Boston's mayor and Massachusetts' governor declared this past Jan. 18 as Livingston Taylor Day in Boston. A documentary about him, entitled Life Is Good, is slated for release this fall.
Throughout the day, CT Folk's 12th annual Green Expo will feature a wide array of exhibitors, informational talks and demonstrations, workshops, and activities to promote sustainable lifestyles. There also will be plenty of activities for children in the Green Kids Village. A Green Kids Acoustic Corner will feature performances by Dan Carlucci, Benny Mikula (The Lone Gnome), Liz McNicholl, and Thabisa. A native of South Africa, New Haven-based musician Thabisa also performs at the New Alliance Performance Tent – along with Michael Mills and Val Ramos & Tere Luna.
Edgerton Park is located at Whitney Avenue and Cliff Street, near the Hamden Town line. The park entrance is at 75 Cliff St., and parking should be available along streets surrounding the park. Attendees are advised to bring lawn chairs or blankets and plan to picnic. A wide variety of food and beverages will be available for purchase on site, and/or you can bring your own. No outside alcohol or large coolers allowed. Although festival admission is free, there is a suggested donation of $5 to help continue CT Folk's efforts.
CT Folk is a nonprofit organization dedicated to traditional and contemporary roots music, introducing listeners to emerging singer-songwriters, and to caring for the earth. Besides presenting the festival, CT Folk also hosts a Folk Fridays concert series that runs from October through May and promotes folk music throughout Connecticut. For more information, visit www.ctfolk.com.
Editor's Note: It is my honor and pleasure to help judge this year's Grassy Hill CT Folk Songwriter Competition finals that extend from 11:40 a.m. -12:40 p.m. on the Main Stage.