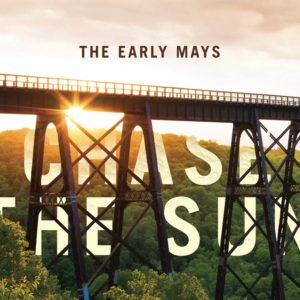 The Early Mays had the most-played album (Chase The Sun) and were the most-played artists on folk radio during August 2017, while Susan Cattaneo ("Work Hard, Love Harder"), Dave Rawlings ("Midnight Train") and The Jerry Douglas Band ("Hey Joe") had the top songs. So say charts compiled by Richard Gillmann from radio playlists submitted to FOLKDJ-L, an electronic discussion group for DJs and others interested in all folk-based music on the radio.
The Early Mays is a neo-traditional trio of women (Emily Pinkerton, Ellen Gozion and Rachel Eddy) who are known for their vocal harmonies, Appalachian-inspired songs with deep country sensibilities, and a sweet old-time sound. The trio was recently selected for a coveted juried Formal Showcase during this November's annual Northeast Regional Folk Alliance (NERFA) Conference.
The August 2017 FOLKDJ-L charts are based on 12,964 airplays from 128 different DJs. The top albums and songs charts are posted on AcousticMusicScene.com with permission. Labels and dates of release appear in brackets below, while the number of reported spins is shown in parentheses.
Top Albums of August 2017
1: Chase The Sun, The Early Mays [Bird On The Wing, 8/17] (93)
2: Poor David's Almanack, Dave Rawlings [Acony, 8/17] (78)
3: What If, The Jerry Douglas Band [Rounder, 8/17] (73)
4: On That Other Green Shore, John Reischman And The Jaybirds
[Corvus, 6/17] (72)
5: The Hammer And The Heart, Susan Cattaneo [Jersey Girl, 6/17] (71)
6: Singin', Heather Pierson Acoustic Trio [Vessel, 6/17] (52)
7: Fragments, Chris Ronald [Borealis, 5/17] (51)
8: Poets, Philosophers, Workers And Wanderers, Joe Jencks [Turtle
Bear, 5/17] (48)
9: Old Salt Union, Old Salt Union [Compass, 7/17] (42)
10: Horizon Lines, Matthew Byrne [matthewbyrne.net, 8/17] (41)
11: Party Of One, George Thorogood [Rounder, 8/17] (38)
12: A Black And Tan Ball, Ben Hunter, Phil Wiggins, Joe Seamons
[Tantamount, new] (37)
13: The Femme Fatale Of Maine, The Jeremiahs [thejeremiahs.ie, 7/17] (34)
13: Savage On The Downhill, Amber Cross [ambercrossmusic.com, 7/17] (34)
15: Bone On Bone, Bruce Cockburn [True North, new] (33)
16: Adios, Glen Campbell [Bloodshot, 6/17] (31)
16: Dale Ann Bradley, Dale Ann Bradley [Pinecastle, 8/17] (31)
16: Ghost On The Car Radio, Slaid Cleaves [Candy House Media, 7/17] (31)
16: The Richmond Sessions, The Sherman Holmes Project [M.C., 7/17] (31)
20: All I Ever See In You Is Me, Jillette Johnson [Rounder, new] (27)
20: Forest Fire, Shawna Caspi [shawnacaspi.com, new] (27)
20: So Many Stars, Friction Farm [frictionfarm.com, 7/17] (27)
20: Wildflower Blues, Jolie Holland And Samantha Parton
[Cinquefoil, new] (27)
24: When The Bloom Falls From The Rose, Sarah Jane Scouten [Light
Organ, 6/17] (25)
25: Freedom Highway, Rhiannon Giddens [Nonesuch, 2/17] (24)
25: Tales From The Self-Help Section, Flagship Romance [Gatorbone, 8/17] (24)
27: The Conversation, Pete's Posse [Epact, new] (23)
27: Play One More: The Songs Of Ian And Sylvia, Tom Russell [True
North, 5/17] (23)
27: Shame, Rachel Baiman [Free Dirt, 6/17] (23)
30: The Workingman's Blues, Kat Goldman [Self, new] (22)
30: Down Hearted Blues, Eilen Jewell [Signature, new] (22)
30: Ruckus, Beyond The Pale [Borealis, 6/17] (22)
30: The Story We Tell, Joe Mullins And The Radio Ramblers [Rebel, 8/17] (22)
34: Alastair Moock, Alastair Moock [moock.com, 6/17] (21)
34: Folk Hotel, Tom Russell [Frontera, new] (21)
34: Life Is Fine, Paul Kelly [Cooking Vinyl, new] (21)
34: Lukas Nelson And Promise Of The Real, Lukas Nelson And Promise
Of The Real [Fantasy, 2010] (21)
38: O'Connor Band Live!, O'Connor Band [Omac, 6/17] (20)
38: Revolution Now, Emma's Revolution [Moving Forward, 5/17] (20)
38: TajMo, Taj Mahal And Keb' Mo' [Concord, 5/17] (20)
41: Applewood Road, Applewood Road [Gearbox, 2/16] (19)
41: Before Breakfast, The Grascals [Mountain Home, new] (19)
43: Against All Tides, Harpeth Rising [harpethrising.com, 5/17] (18)
43: Lay It On Down, Kenny Wayne Shepherd Band [Concord, new] (18)
43: Little Blue Car, Marilyn Duncan [Soona, new] (18)
46: London Southern, Jim Lauderdale [Sky Crunch, 2/17] (17)
46: Say Yes, Laura Zucker [laurazucker.bandcamp.com, 6/17] (17)
46: Together Again For The First Time, Gordon Bok And Bob Zentz
[Timberhead, 6/17] (17)
46: Twisted Pine, Twisted Pine [Signature, 7/17] (17)
46: Where The River Meets The Road, Tim O'Brien [Howdy Skies, 3/17] (17)
51: Folk Songs, Kronos Quartet And Friends [Nonesuch, 6/17] (16)
51: King Of Killing Time, The Sweetback Sisters [Signature, new] (16)
51: Small Town Life, Summer Brooke And The Mountain Faith Band
[Mountain Fever, new] (16)
51: Southern Blood, Gregg Allman [Rounder, new] (16)
51: Turn Your Face To The Sun, I Draw Slow [Compass, 4/17] (16)
56: Almost Anyone, Montgomery Delaney [montgomerydelaney.com, 4/17] (15)
56: Just Like Medicine, A. J. Croce [Compass, new] (15)
56: Ragged Dreams, EmiSunshine [Little Blackbird, new] (15)
59: God Bless The Grass, The Malvinas [Soona, 4/17] (14)
59: Halloween, Ruston Kelly [Razor And Tie, 4/17] (14)
59: Lines Of Longitude, Chris And Meredith Thompson [Alkali, 5/17] (14)
59: The Nashville Sound, Jason Isbell And The 400 Unit
[Southeastern, 6/17] (14)
59: The Queen Of Hearts, Offa Rex [Nonesuch, new] (14)
64: Different Hymnals, Joel Mabus [Fossil, 8/17] (13)
64: Dog, Charlie Parr [Red House, new] (13)
64: God's Problem Child, Willie Nelson [Legacy, 4/17] (13)
64: Lucky Stars, Loretta Hagen [Bearfort, 6/17] (13)
64: Reaction Time, Jason Wilber [Wilbertone, new] (13)
69: Binary, Ani Difranco [Righteous Babe, 6/17] (12)
69: Black Irish, Shannon McNally [Compass, 6/17] (12)
69: Homeless In America: Blues And Protest Songs In An Era Of
Trump, Ron Israel [ronisraelmusic.com, 6/17] (12)
69: A Hundred Years From Today, Steve Howell And Jason Weinheimer
[Out Of The Past, new] (12)
69: I've Never Met A Stranger, Bumper Jacksons [Self, 5/17] (12)
69: Life Is A Story, Doyle Lawson And Quicksilver [Mountain Home, new] (12)
69: Rise, Molly Tuttle [Self, 6/17] (12)
69: Smoke Behind The Clouds, The Bucking Mules [Free Dirt, 4/17] (12)
69: So You Wannabe An Outlaw, Steve Earle And The Dukes [Warner, 6/17] (12)
69: You Don't Own Me Anymore, The Secret Sisters [New West, 6/17] (12)
Top Songs of August 2017
1. "Work Hard Love Harder" (23)
by Susan Cattaneo
from The Hammer And The Heart
2. "Midnight Train" (22)
by Dave Rawlings
from Poor David's Almanac
3. "Hey Joe" (21)
by The Jerry Douglas Band
from What If
4. "Cumberland Gap" (17)
by Dave Rawlings
from Poor David's Almanac
5. "Everything Goes Green" (14)
by Chris Ronald
from Fragments
5. "Say-O" (14)
by The Early Mays
from Chase The Sun
7. "Oh Babe, It Ain't No Lie" (13)
by The Early Mays
from Chase The Sun
8. "Long Years Ago" (12)
by Matthew Byrne
from Horizon Lines
8. "Never Enough" (12)
by Shawna Caspi
from Forest Fire
8. "Wellesley Station" (12)
by John Reischman And The Jaybirds
from On That Other Green Shore
11. "40 Years In The Wilderness" (11)
by Bruce Cockburn
from Bone On Bone
11. "Chase The Sun" (11)
by The Early Mays
from Chase The Sun
11. "Just Outside Of Austin" (11)
by Lukas Nelson And Promise Of The Real
from Lukas Nelson And Promise Of The Real
11. "Little Pink" (11)
by The Early Mays
from Chase The Sun
11. "You Can Call Me Al" (11)
by Old Salt Union
from Old Salt Union
16. "2 Of Us" (10)
by John Reischman And The Jaybirds
from On That Other Green Shore
16. "Come On Over My House" (10)
by Dave Rawlings
from Poor David's Almanac
16. "Don't You Hear The Lambs A-Crying" (10)
by John Reischman And The Jaybirds
from On That Other Green Shore
16. "Go Ahead And Leave" (10)
by The Jerry Douglas Band
from What If
16. "Let Me Sing You A Song" (10)
by Joe Jencks
from Poets, Philosophers, Workers And Wanderers
16. "Where I Stand" (10)
by Old Salt Union
from Old Salt Union
22. "Born With The Blues" (9)
by George Thorogood
from Party Of One
22. "Dark As A Dungeon" (9)
by Heather Pierson Acoustic Trio
from Singin'
22. "Hot Country 84. 5" (9)
by The Jerry Douglas Band
from What If
22. "I Am A Girl Of Constant Sorrow" (9)
by The Early Mays
from Chase The Sun
22. "Little Lies" (9)
by I'm With Her
from Little Lies