APAP has officially changed its name while retaining its familiar acronym. The Washington, DC-based nonprofit organization — which had been known as the Association of Performing Arts Presenters since 1988 and is best known to AcousticMusicScene.com readers and others for its annual conference in New York City each January — is now the Association of Performing Arts Professionals.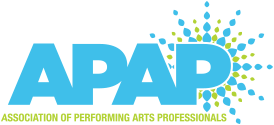 The national service, advocacy and membership organization remains dedicated to developing and supporting a robust performing arts presenting field and the professionals who work within it, but now plans to include more arts professionals in its membership.
This marks the third name change in the 60-plus year history of the organization that was launched in 1957 as the Association of College and University and Community Arts Managers and became the Association of College, University and Community Arts Administrators in 1973.
"Our name has changed once again to reflect not only growth, but also the range of experience and expression in our field," says Mario Garcia Durham, APAP's president and CEO. "The new name more perfectly describes the full range of distinctive roles professionals play, from the creation to the presentation and dissemination of the performing arts." He noted that in addition to the updated name, APAP has introduced a pilot initiative called Artist Access — a one-year introductory membership program that enables qualified individual professional artists who have never been an organizational member of APAP, and who have never attended its annual conference as a full registrant, to become a member and attend its annual members conference at reduced rates. More information may be found at artistaccess.apap365.org.
Several thousand people are expected to converge on New York City, Jan. 12-16, 2018 for the annual conference. The theme for 2018 is transACT and focuses on the transformative power of the arts. The global performing arts marketplace and conference will feature more than 1000 showcases (including a few-dozen featuring folk and roots music artists), nearly 400 exhibitors, networking opportunities galore, daily plenary sessions and keynote speakers, and a wide array of professional development workshops and forums
"As artists and arts makers, we must embrace our role to engage in the constant and dynamic societal transformation that we are a part of by acknowledging it, reflecting it, discussing it, and leading it," says Durham.
More information and registration forms for the 2018 APAP/NYC Conference may be found at https://www.apapnyc.org.