Cassie and Maggie and Stephen Fearing top the list of nominees for the 2017 Canadian Folk Music Awards with four nods each. The Nova Scotia sister duo and the Canadian folk-rock singer-songwriter are among the 75 artists and groups from nine provinces and one territory vying for awards in 19 categories to be presented at Ottawa's Bronson Centre on Nov. 18-19.
Called "Exciting and innovative" (
Trad. Connect
), Cassie and Maggie MacDonald perform a mix of traditional and original Celtic roots music and have been enchanting audiences far and wide with their lively instrumental arrangements, sibling vocal harmonies in both English and Gaelic, infectious energy, driving rhythms and lilting melodies., as well as their percussive stepdancing style. "They offer the perfect sibling blend," writes Chicago's
Irish American News
. "There is so much that goes on in each of their tunes and great live performances; it is easy to miss their beautifully offered harmonies. Perfection."
Named as Live Ireland Radio's New Group and Female Vocalists of the Year, as well as Galaxie Radio Rising Stars, and Emerging Artists of the Year by Irish American News, Cassie and Maggie are nominated for the following Canadian Folk Music Awards: Traditional Album of the Year (The Willow Collection), Traditional Singer of the Year – Maggie MacDonald, Vocal Group of the Year, and Ensemble of the Year.
Stephen Fearing – nominated for Contemporary Singer of the Year, Solo Artist of the Year, English Songwriter(s) of the Year, and Producer(s) of the Year for Every Soul's a Sailor– is a JUNO Award-winning artist – both on his own in 2007 for Roots and Traditional Album of the Year (Yellowjacket) and with the trio Blackie and the Rodeo Kings that he launched in 1996 with Colin Linden and Tom Wilson. He also won a CFMA for Songwriter of the Year in 2006 for Yellowjacket.
Hailed as "a king amongst minstrels" (Halifax Chronicle Herald) and "a master of the finely-tuned phrase and the perfectly-pitched line" (Maverick Magazine), Fearing is regarded as one of Canada's finest living songwriters. He also teaches songwriting workshops and has produced recordings for Suzie Vinnick and other artists. Born in British Columbia and raised in Dublin, Ireland, Fearing has moved around over the years and currently resides in Nova Scotia.
Artists receiving nominations in three categories include St. John's Amelia Curran, Toronto's Oh Susanna and Ottawa's Twin Flames.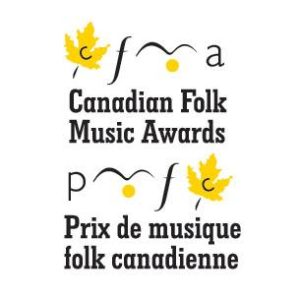 The Canadian Folk Music Awards were established in 2005 to bring greater exposure to the breadth and depth of Canadian folk music, celebrating and promoting it in all its forms. Outstanding achievements will be recognized in 19 categories, Nov. 18-19, along with an Unsung Hero award recipient to be named in October.
"For the first time ever, the weekend's focus events will take shape as two evenings which are open-to-the-public," according to Canadian folk Music Awards organizers. "Combining the most loved events of the Canadian Folk Music Awards' first twelve years – the vibrant energy of the live music showcases and the awards gala – [The events] will capture the true heart of the folk community." Tickets and wristbands may be purchased online at folkawards.ca/tickets/.
A complete list of 2017 Canadian Folk Music Awards nominees follows. More information may be found online at www.folkawards.ca.
Young Performer of the Year:
▪ Moscow Apartment for Demo
▪ Quin Etheridge-Pedden for Embark
▪ Keltie Monaghan for Someone Tell Her
▪ The Wolfe for The Wolfe
▪ John Muirhead for Yesterday's Smile
New/Emerging Artist of the Year:
▪ Hidden Roots Collective for Come Up, Honey
▪ Silent Winters for Fireworks & a Small Brigade
▪ Ken Yates for Huntsville
▪ Braden Gates for Much Rather Be Sleeping
▪ The Bombadils for New Shoes
The Oliver Schroer Pushing The Boundaries Award celebrating innovation in creating new folk sounds:
▪ Shreem for Celtic Remixing
▪ Danny Michel for Khlebnikov
▪ Mélisande [électrotrad] for Les millésimes
▪ Turkwaz for Nazar
▪ Tanya Tagaq for Retribution
English Songwriter(s) of the Year:
▪ Oh Susanna for A Girl In Teen City
▪ Stephen Fearing for Every Soul's a Sailor
▪ Scott Cook for Further Down The Line
▪ Ken Yates for Huntsville
▪ Amelia Curran for Watershed
French Songwriter(s) of the Year:
▪ Patrice Michaud for Almanach
▪ Luc De Larochellière for Autre monde
▪ Vivianne Roy, Katrine Noël, Julie Aubé of Les Hay Babies for La 4ième dimension (version longue)
▪ Philippe B for La grande nuit vidéo
▪ Catherine Durand for La pluie entre nous
Aboriginal Songwriter(s) of the Year:
▪ Lisa Muswagon for Buffalo and Rabbits
▪ Julian Taylor, Kinnie Starr, John Parente, Bill Bell of Julian Taylor Band for Desert Star
▪ Twin Flames for Signal Fire
▪ Cindy Paul for The Flight
▪ Desiree Dorion for Tough Street
World Group of the Year:
▪ MAZ for ID
▪ Turkwaz for Nazar
▪ Beyond The Pale for Ruckus
▪ Twin Flames for Signal Fire
▪ Kobo Town for Where the Galleon Sank
World Solo Artist of the Year:
▪ Louis Simão for A Luz (The Light)
▪ Farnaz Ohadi & The Mashregh Ensemble for Bird Dance
▪ Kelly Bado for Entre deux
▪ Briga for Femme
▪ Maneli Jamal for The Mardom Movement
Traditional Album of the Year:
▪ Folklife by Jayme Stone
▪ La grosse maison rouge by André Brunet
▪ Rove by Còig
▪ The Original Jenny Whiteley by Jenny Whiteley
▪ The Willow Collection by Cassie and Maggie
Traditional Singer of the Year:
▪ Dave Penny for All Turned Around
▪ Hannah Shira Naiman for Know The Mountain
▪ Mélisande Gélinas-Fauteux of Mélisande [électrotrad] for Les millésimes
▪ Maggie MacDonald of Cassie and Maggie for The Willow Collection
▪ Sarah Jane Scouten for When the Bloom Falls From the Rose
Contemporary Album of the Year:
▪ Bird's Nest by The Fretless
▪ Hide Nor Hair by Abigail Lapell
▪ I Go Where You Go by Tomato Tomato
▪ Much Rather Be Sleeping by Braden Gates
▪ Twin Solitude by Leif Vollebekk
Contemporary Singer of the Year:
▪ Oh Susanna for A Girl In Teen City
▪ Stephen Fearing for Every Soul's A Sailor
▪ Abigail Lapell for Hide Nor Hair
▪ Lisa LeBlanc for Why You Wanna Leave, Runaway Queen?
▪ Coco Love Alcorn for Wonderland
Instrumental Group of the Year:
▪ Natalie MacMaster & Donnell Leahy for A Celtic Family Christmas
▪ The Fretless for Bird's Nest
▪ Scott Macmillan & Colin Grant for Good2go
▪ Beyond The Pale for Ruckus
▪ MacIsaac and MacKenzie for The Bay Street Sessions
Instrumental Solo Artist of the Year:
▪ Don Ross for A Million Brazilian Civilians
▪ Roberto López for Criollo Electric
▪ Glenn Chatten for Dragonfly
▪ André Brunet for La grosse maison rouge
▪ Maneli Jamal for The Mardom Movement
Vocal Group of the Year:
▪ The Big East for Hungry Ghosts
▪ The Bombadils for New Shoes
▪ Twin Flames for Signal Fire
▪ Coco Méliès for The Riddles
▪ Cassie and Maggie for The Willow Collection
Ensemble of the Year:
▪ Mama's Broke for Count the Wicked
▪ Silent Winters for Fireworks & a Small Brigade
▪ 100 mile house for Hiraeth
▪ The Jerry Cans for Inuusiq
▪ Cassie and Maggie for The Willow Collection
Solo Artist of the Year:
▪ Stephen Fearing for Every Soul's A Sailor
▪ Zachary Lucky for Everywhere A Man Can Be
▪ BEYRIES for Landing
▪ Leeroy Stagger for Love Versus
▪ Amelia Curran for Watershed
Children's Album of the Year:
▪ Chirp Chirp Happy by Jessie Farrell
▪ Hear The Music by Fred Penner
▪ Home Is Family by Ginalina
▪ Pants on Backwards by Stella Swanson and the Rosie Joyfuls
▪ Zing-E-Zing! by Madame Diva et Micah le jeune voyageur
Producer(s) of the Year:
▪ Jim Bryson for Oh Susanna's A Girl In Teen City
▪ Stephen Fearing and David Travers-Smith for Stephen Fearing's Every Soul's A Sailor
▪ Danny Michel and Rob Carli for Danny Michel's Khlebnikov
▪ Joel Plaskett for Bill & Joel Plaskett's Solidarity
▪ Amelia Curran and Chris Stringer for Amelia Curran's Watershed