Steve Martin and the Steep Canyon Rangers had the most-played album (The Long Awaited Album), while fellow Rounder artist Chris Hillman's "Wildflowers" was the most-played song on folk radio during October 2017. So say charts compiled by Richard Gillmann from radio playlists submitted to FOLKDJ-L, an electronic discussion group for DJs and others interested in all folk-based music on the radio.
Featuring songs penned by Martin, The Long Awaited Album is the second album that the 72-year old, comedian, actor, clawhammer-style banjoist, and multiple Grammy Award-winner has recorded with the Grammy-winning North Carolina-based bluegrass group. Their first album together, Rare Bird Alert, was recorded in 2010. Steve Martin and the Steep Canyon Rangers earned the bluegrass music industry's top honor in 2011 when they were named Entertainer of the Year during the 22nd Annual International Bluegrass Music Awards.
"Wildflowers" is one of a dozen tracks on Bidin' My Time, the first studio album in more than a decade by country-rock pioneer Hillman – a founding member of the Byrds, Flying Burrito Brothers, Manasas, and the Desert Rose Band. It was produced by the late Tom Petty, who also is featured on the album, along with former members of the Byrds and Desert Rose Band.
The October 2017 FOLKDJ-L charts are based on 13, 841 airplays from 136 different DJs. Label and release date appear in brackets below, while the number of reported spins is shown in parentheses. The top albums and songs charts are posted on AcousticMusicScene.com, with permission.
Top Albums of October 2017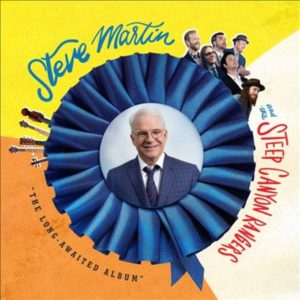 1: The Long-Awaited Album, Steve Martin And The Steep Canyon Rangers [Rounder, 9/17] (103)
2: Bidin' My Time, Chris Hillman [Rounder, 9/17] (87)
3: Echo In The Valley, Bela Fleck And Abigail Washburn [Rounder, new] (74)
4: Turmoil And Tinfoil, Billy Strings [Apostol, 9/17] (73)
5: Fifteen, The Wailin' Jennys [Red House, 10/17] (69)
5: Letters Never Read, Dori Freeman [Free Dirt, 10/17] (69)
7: Edge Of America, Crowes Pasture [crowespastureduo.com, 9/17] (56)
8: Small Believer, Anna Tivel [Fluff And Gravy, 9/17] (52)
9: Folksinger, Vol. 2, Willie Watson [Acony, 9/17] (49)
10: Happy Little Trees, KC Groves [thebluegrassgirl.com, 9/17] (45)
11: A Hand Full Of Songs, Jim Page [jimpage.net, 10/17] (44)
11: Lead Belly, Baby!, Dan Zanes And Friends [Smithsonian/Folkways, 9/17] (44)
13: Spaghettification, Christine Lavin [christinelavin.com, 8/17] (42)
14: Short Stories, Beppe Gambetta [Borealis, new] (36)
15: The Laughing Apple, Yusuf (Cat Stevens) [Decca, 9/17] (35)
15: Peaceful Easy Feeling, Jack Tempchin [Blue Elan, 8/17] (35)
15: Solid Ground: The Songs Of Fred Alley, Katie Dahl, Eric Lewis And Rich Higdon [Leaky Boat, 8/17] (35)
18: Any Port In A Storm, Mark Stepakoff [markstepakoff.com, new] (34)
18: Grace, Lizz Wright [Concord, 9/17] (34)
18: Night Tree, Night Tree [nighttreemusic.com, 9/17] (34)
18: The Oxygen Girl, Jeni Hankins [Jewel Ridge, 6/17] (34)
22: Headwaters, Misner And Smith [misnerandsmith.com, 10/17] (33)
22: The Quiet Places, Terry Kitchen [Urban Campfire, new] (33)
22: Same As I Ever Have Been, Matt Patershuk [Black Hen, new] (33)
22: Undone, Sean McConnell [Rounder, 9/17] (33)
22: Worth, Emily Mure [emilymure.com, 9/17] (33)
27: Poor David's Almanack, Dave Rawlings [Acony, 8/17] (32)
28: Eric Gerber Three, Eric Gerber [Scruffy Dog, new] (30)
28: One Go Around, Jeffrey Martin [Fluff And Gravy, new] (30)
30: On That Other Green Shore, John Reischman And The Jaybirds [Corvus, 6/17] (29)
30: The Wild, Kris Delmhorst [Blue Blade, 9/17] (29)
32: California Calling, Laura Cortese And The Dance Cards [Compass, 10/17] (28)
33: Jump In, The Railsplitters [Self, new] (27)
34: Rise, Molly Tuttle [Self, 6/17] (26)
35: At The End Of The Day, Bett Padgett [Self, new] (25)
35: Some Distant Shore, Bill Booth [Wheeling, 3/17] (25)
35: Southern Blood, Gregg Allman [Rounder, 9/17] (25)
38: On To Something Fine, Leah Kaufman [Boojum, 8/17] (23)
39: Folk Hotel, Tom Russell [Frontera, 9/17] (22)
39: Mother Lion, May Erlewine [Earthwork, new] (22)
41: Down Hearted Blues, Eilen Jewell [Signature, 9/17] (21)
41: Freedom Highway, Rhiannon Giddens [Nonesuch, 2/17] (21)
43: Middle Of Nowhere, Folkapotamus [Phatcat, 9/17] (20)
43: Bone On Bone, Bruce Cockburn [True North, 9/17] (20)
43: Crazy If You Let It, Thomm Jutz [Mountain Fever, new] (20)
43: Painting Tomorrow's Skies Blue, Hank Stone Band [Self, new] (20)
43: Songs From The Dog House, Dennis Dougherty [Thinking Dog, new] (20)
48: Chase The Sun, The Early Mays [Bird On The Wing, 8/17] (19)
48: Wake Up Call, Michael Veitch [Burt Street, new] (19)
48: What If, The Jerry Douglas Band [Rounder, 8/17] (19)
51: The Femme Fatale Of Maine, The Jeremiahs [thejeremiahs.ie, 7/17] (18)
51: Forest Fire, Shawna Caspi [shawnacaspi.com, 9/17] (18)
51: Horizon Lines, Matthew Byrne [matthewbyrne.net, 8/17] (18)
51: The Nashville Sound, Jason Isbell And The 400 Unit [Southeastern, 6/17] (18)
51: Play Guitar In 7 Days, Jim Lloyd [Self, 9/17] (18)
51: Run Away, Rebekah Long [LUK, 9/17] (18)
51: Waitin' For The Sun, Rusty Young [Blue Elan, 9/17] (18)
58: All American Made, Margo Price [Third Man, new] (17)
58: An American Troubadour: The Songs Of Steve Forbert, Various Artists [Blue Rose, 10/17] (17)
58: Come Back Coming On, Young And Rusty [Motherlotus, 8/17] (17)
58: Wildflower Blues, Jolie Holland And Samantha Parton [Cinquefoil, 9/17] (17)
62: Three Black Crows, Hope Dunbar [Self, new] (16)
62: An American In Havana, Susan Werner [Self, 9/17] (16)
62: The Conversation, Pete's Posse [Epact, 8/17] (16)
62: For You To See The Stars, Radney Foster [Devil's River, 9/17] (16)
66: Alastair Moock, Alastair Moock [moock.com, 6/17] (15)
66: Ghost On The Car Radio, Slaid Cleaves [Candy House Media, 7/17] (15)
66: Midnight And Dawn, Deer Creek Boys [Mountain Fever, new] (15)
66: Not My Monkey, Fiddle Whamdiddle [Self, 7/17] (15)
66: Portraits In Fiddles, Mike Barnett [Compass, new] (15)
66: Time Captain, Ragged Union [Self, new] (15)
Top Songs of October 2017
1. "Wildflowers" (29)
by Chris Hillman
from Bidin My Time
2. "Wildflowers" (25)
by The Wailin' Jennys
from Fifteen
3. "Edge Of America" (17)
by Crowes Pasture
from Edge Of America
4. "Caroline" (15)
by Steve Martin And The Steep Canyon Rangers
from The Long-Awaited Album
4. "Santa Fe" (15)
by Steve Martin And The Steep Canyon Rangers
from The Long-Awaited Album
6. "Bells Of Rhymney" (14)
by Chris Hillman
from Bidin My Time
6. "Peaceful Easy Feeling" (14)
by Jack Tempchin
from Peaceful Easy Feeling
8. "Don't Let It Bring You Down" (13)
by Bela Fleck And Abigail Washburn
from Echo In The Valley
8. "Enjoy It While It Lasts" (13)
by Terry Kitchen
from The Quiet Places
10. "Nothing Rhymes With Orange" (12)
by Jim Page
from A Hand Full Of Songs
10. "Pledging Allegiance" (12)
by Michael Veitch
from Wake Up Call
12. "America" (11)
by Misner And Smith
from Headwaters
12. "By My Silence" (11)
by Mara Levine with Gathering Time
from Facets Of Folk (preview)
12. "Catch The Wind" (11)
by Crowes Pasture
from Edge Of America
12. "Gypsy" (11)
by Matt Patershuk
from Same As I Ever Have Been
12. "If I Could Make You My Own" (11)
by Dori Freeman
from Letters Never Read
12. "Midnight Train" (11)
by Dave Rawlings
from Poor David's Almanack
12. "My Home's Across The Blue Ridge Mountains" (11)
by Bela Fleck And Abigail Washburn
from Echo In The Valley
12. "Poor Man" (11)
by Jeffrey Martin
from One Go Around
12. "Promontory Point" (11)
by Steve Martin And The Steep Canyon Rangers
from The Long-Awaited Album
12. "Take Me To Harlan" (11)
by Bela Fleck And Abigail Washburn
from Echo In The Valley
22. "Road To Nowheresville" (10)
by Folkapotamus
from Middle Of Nowhere
22. "Cat Stevens" (10)
by Yusuf
from Mary And The Little Lamb
22. "Alleyway" (10)
by Anna Tivel
from Small Believer
22. "Loves Me Like A Rock" (10)
by The Wailin' Jennys
from Fifteen
22. "On The Line" (10)
by Billy Strings
from Turmoil And Tinfoil
22. "Rock Island Line" (10)
by Dan Zanes And Friends
from Leadbelly Baby!
22. "Salty Sheep" (10)
by Billy Strings
from Turmoil And Tinfoil