Category winners have been named in the 34th annual Mid-Atlantic Song Contest, presented by the Songwriters' Association of Washington (SAW), while overall grand, second and third prize winners will be announced during an awards gala on Jan. 21, 2018 at Jammin' Java in Vienna, Virginia.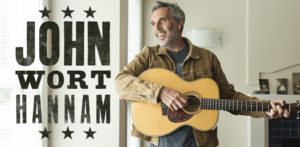 Alberta, Canada-based singer-songwriter John Wort Hannam was the top winner (Gold) in the Folk-Acoustic category for his song "Ain't Enough," while Herndon, Virginia's Crys Matthews took second place (Silver) for "We Must Be Free," an adaptation of Roberta Slavit's "Freedom is a Constant Struggle," which appears on Matthews' EP of social justice songs entitled Battle Hymn for an Army of Lovers.
Wort Hannam's "Ain't Enough" also captured honorable mention in the contest's Adult Contemporary category. The acclaimed Canadian folk and roots artist also has been a winner in the prestigious Kerrville New Folk Competition (2007), received a 2010 Canadian Folk Music Award for Contemporary Album of the Year, and is a three-time grand prize-winner in the Calgary Folk Festival Songwriting Competition.
Here's a link to view a video of John Wort Hannam performing "Ain't Enough":
https://www.youtube.com/watch?v=LMiLtLTn9tI
Matthews, the grand prize-winner in the 2017 NewSong Music Performance and Songwriting Competition, also was recognized for several other songs in the contest. The title track of her EP was named a finalist in the contest's open category, while she also received honorable mention in the Adult Contemporary, Country/Bluegrass, Folk-Acoustic and Folk-Rock/Americana/Roots Rock categories for "Shatterproof," "Fall All The Way," "By My Side," and "The Imagineers," respectively. The latter is the title track of her recently-released full-length album and also was the winning song in the People's Music Network's Social Justice Songs Showcase during the 2017 Northeast Regional Folk Alliance (NERFA) Conference in Stamford, CT.
Here's a link to a lyric video for "We Must Be Free":
https://www.youtube.com/watch?v=Js_hRr-XBTQ
A list of winners, finalists and those receiving honorable mention for songs entered in the Mid-Atlantic Song Contest's folk/acoustic category follows:
Gold: John Wort Hannam ("Ain't Enough")
Silver: Crys Matthews, Roberta Slavit ("We Must Be Free")
Finalists: David A. Alberding ("Dominion"), Gwen Levey ("Final Vow"), and Heather Aubrey Lloyd ("Only Baby Now")
Honorable Mention: Lauren Spring and Scott Feldman ("Anywhere Will Do"), Crys Matthews ("By My Side"), Jim Green, Jerry Getz and Tim Crouch ("Call Anita"), Mike P. Ryan ("Darkness Falls"), Ben Eppard ("Georgia"), Tony Denikos ("Joseph Thacker's Blues"), Susan Rowe ("Lessons in Love"), Lisa Bastoni ("Rabbit Hole"), and Heather Kenney ("Whole Life of You").
And here are the winners, finalists and honorable mention recipients in the folk rock/Americana/ roots rock category:
Gold: Michael Dasher, Chip Johnson and Ryan Minton ("Pick Me Up")
Silver: Kay Miracle ("Eight Ball")
Finalists: Frank Hogans ("Long Hard Road to You"), James Greene ("Rock A Bye Sin"), and Abe Loomis ("Walking Down the Street in America")
Honorable Mention: Graham McCune Stoll ("Canyonlands" and "Free and Homeward"), Laura Baron ("Catch You"), Matt Wolpe ("Come Back"), Mike P. Ryan ("Darkness Falls"), Seth Kibel ("Diversity"), Christopher Sia ("Falling is Good"), Travis Puntarelli ("Hail the Coming Day"), and Crys Matthews ("The Imagineers")
Winners also were named in ten other categories. Of particular note to readers of AcousticMusicScene.com, David and Jenny Heitler-Klevans and Kuf Krotz captured the Gold in the Children's category for ""We're All In This Together," while Allison Tartalia and Laurene Spring took Silver for "Better Together." Gold and Silver Awards in the Country/Bluegrass category went to Ted Swormstedt and Frank Hogans for "Blood" and "Nowhere To Go Except Gone," respectively. Mari Black, a versatile violinist and champion fiddler, was awarded the Gold in the Instrumental category for "The Lost Bells," while Jerry Stepansky received Silver for "Apart."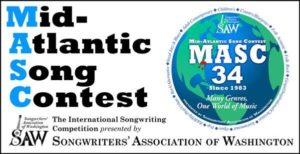 The grand prize and second place overall winners will receive cash prizes, along with free registration for the 2018 NERFA and Southeast Regional Folk Alliance (SERFA) conferences. The top two winners in each category will be invited to perform during the awards night gala and, along with the contest's overall winners, will be included in a winners' compilation CD. A list of winners, finalists and honorable mention recipients in all categories may be found online at www.saw.org, along with information about the gala for which tickets are available.
Established in 1979, the Songwriters' Association of Washington (SAW) is a nonprofit organization that seeks to further excellence in songwriting through hosting educational programs and providing networking and performance opportunities for its members. SAW hosts open mics and showcases, workshops on the art and business of songwriting, and monthly Songwriter Exchange peer critique sessions. It also publishes a monthly e-newsletter.
Editor's Note: I am president of the board of directors of NERFA, a sponsor of the Mid-Atlantic Song Contest. I was not involved in the judging of entries.