February 28 is the deadline for receipt of applications from artists seeking official showcase opportunities during the 2018 Southeast Regional Folk Alliance (SERFA) Conference, slated for Wednesday-Sunday, May 16-20, at the Montreat Conference Center in Montreat, North Carolina, just off the Blue Ridge Parkway, near Black Mountain and Asheville. An extended weekend of contemporary and traditional folk music, networking and educational sessions, the conference attracted some 300 people last spring.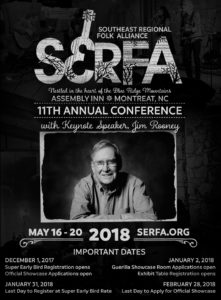 The official showcases take place Thursday-Saturday evenings from 7-10 p.m., with each artist/act performing a 15-minute set. In addition, the conference will feature a keynote address by Jim Rooney, late-night guerilla showcases from 10:40 p.m. to 2 a.m., daytime informational seminars and workshops, a Wisdom of the Elders session, one-on-one mentoring, The SERFA Awards, exhibit space, and plenty of opportunities to learn, share and network. Conference attendees also can enjoy strolling around the beautiful grounds and hiking along the trails at Montreat.
There is a $35 showcase application fee, and all applicants will be notified of the selections by March 15. Specific information on applying for official showcases may be found at www.serfa.org.
Early-bird registration for the conference, priced at $100 for FAI members and $125 for non-members (not including lodging and meals) extends through Jan. 31; there are deeper discounts for presenters and folk DJs. A rate equivalent to the early-bird discount will be available to official showcase applicants after March 15 so those applying for showcases by the Feb. 28 deadline should not yet register for the conference.
SERFA is a regional affiliate of Folk Alliance International (www.folk.org), a Kansas City, MO-based nonprofit organization that seeks to nurture, engage and empower the international folk music community – traditional and contemporary, amateur and professional – through education, advocacy and performance. SERFA serves the southeastern U.S. plus the Caribbean.
Here's a link to a short video that provides an introduction to SERFA and its annual conference:
https://www.youtube.com/watch?v=COOjr5I0TkM
Editor's Note: An elected board member of Folk Alliance International and president of the Northeast Regional Folk Alliance board of directors, I have been an active participant at SERFA conferences since 2011 – hosting guerilla showcases, mentoring and serving as a panelist.