Entries are now being sought in both the Chris Austin Songwriting Contest and the 2018 Al Johnson Performing Songwriter Contest that are held, respectively, in conjunction with MerleFest, April 26-29, on the campus of Wilkes Community College in Wilkesboro, North Carolina and the annual Wildflower! Arts and Music Festival, May 18-20, in Richardson, Texas, just a few minutes north of Dallas.
Feb. 1 Deadline Nears for Chris Austin Songwriting Contest

Now in its 26th year, the Chris Austin Songwriting Contest affords aspiring writers an opportunity to have their original songs heard and judged by a panel of music industry professionals, under the direction of volunteer contest chairperson, Grammy Award-winning singer-songwriter Jim Lauderdale. The first place winners will receive $600 and a performance slot on the Cabin Stage on Friday and Saturday at MerleFest 2018. Founded 30 years ago in memory of the late Eddy Merle Watson, son of American music legend Doc Watson, MerleFest is considered one of America's premier music festivals
Rodney Crowell, Andrew Marlin (of Mandolin Orange), and previous winner Johnny Williams (of Jeanette Williams Band) will judge the on-site final round of this year's contest on April 27.
The contest entry deadline is February 1. Submissions, including a $30 fee per entry, may be made using the online entry form or by mailing entries to MerleFest/CASC, PO Box 120, Wilkesboro, NC 28697. All lyrics must be written in English and no instrumentals will be accepted. For more information about the contest rules and how to enter, visit: http://merlefest.org/chris-austin-songwriting-contest/enter-the-contest/.
The Chris Austin Songwriting Contest was established to honor the memory of Chris Austin, a songwriter and former sideman for Ricky Skaggs. Austin's life was tragically cut short when a private plane carrying him and six other members of Reba McEntire's band, as well as her tour manager, crashed in California in 1991. In the contest that is open to those whose primary source of income is not derived from songwriting or publishing, songs are judged based on originality, lyrics, melody and overall commercial potential. Previous winners of the contest include Gillian Welch, Tift Merritt, Michael Reno Harrell, Adrienne Young, Martha Scanlan, David Via, Eliot Bronson and Johnny Williams. Net proceeds from the contest help support the Wilkes Community College Chris Austin Memorial Scholarship that has provided financial support to 86 students since its inception.
2018 Al Johnson Performing Songwriter Contest Opens
Singer-songwriters who perform in the acoustic, Americana, bluegrass, blues, Celtic, country, folk or pop genres are invited to submit recorded songs (two per $20 entry, three-entry limit) in mp3 format via email. The application deadline is March 1 or the last of 300 submissions – whichever comes first.
A panel of judges will choose ten finalists to perform two songs on the Singer-Songwriter Stage during the 26th annual event that is billed as North Texas' largest music festival. The ten finalists will compete for cash prizes and be judged based on both their songwriting craft and the presentation of their songs. Four of them will each receive $500. All performing finalists will receive festival passes for themselves and a guest, lodging, green room access for food and beverages, and the opportunity to perform solo sets on the festival's Courtyard Stage. The four winners will also be featured in a 75-minute spotlight round on Sunday afternoon.
Last year's winners were Mike Laureanno (Rhode Island), Tom Meny (Texas) and Emily Scott Robinson (Texas), while Healther Mae (Washington, DC) was the Michael Terry People's Choice Winner. The contest is named after the late Alton (Al) Walter Johnson, who managed the festival's singer-songwriter stage for years.
For complete contest rules and more information, visit www.wildflowerfestival.com/songwriter-contest-workshop/.
Entries Continue to Be Accepted for the 2018 Kerrville New Folk Competition
As previously posted on AcousticMusicScene.com, Entries are also now being accepted for the 2018 Grassy Hill Kerrville New Folk Competition for Emerging Songwriters, to be held on Saturday and Sunday, May 26 and 27, 2018, during the first weekend of the 47th Annual Kerrville Folk Festival in the Texas Hill Country. The first 800 entries received by February 28 will be judged, and 32 finalists will be named in April.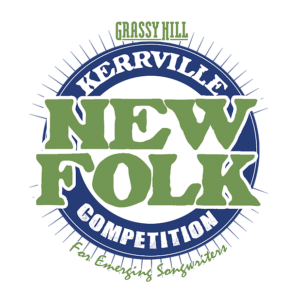 Six songwriters will be named as 2018 New Folk Award Winners after performing, along with the 26 other finalists, at the Threadgill Theater on the Quiet Valley Ranch Campgrounds. A Kerrville New Folk Winners concert is slated for Sunday, June 3.
Songwriters may send two original songs (written after Jan. 1, 2016) on a home-burned CD to the Kerrville Folk Festival office, email them in .mp3 format along with a completed entry form, or submit them online via Sonicbids. The entry fee is $25. Official guidelines, along with entry information and forms, are posted at www.kerrville-music.com/new-folk.
Established in 1972 at the urging of Peter Yarrow, the Kerrville New Folk Concerts have become a highlight of the annual festival that is geared towards singer-songwriters of various musical styles.