Folk and Roots Music Artists Showcase Their Talents During APAP Conference in NYC
by
Michael Kornfeld
on
Jan 19, 2018
•
3:38 pm
No Comments
Nearly 3,500 arts professionals from throughout the U.S. and nearly 30 other countries converged on New York City, Jan. 12-16, 2018 for the annual conference of the Association of Performing Arts Professionals (APAP). As in years past, dozens of performers from the folk, roots and singer-songwriter communities in the U.S., Canada, and several other countries were featured among the more than 1,000 showcases during the global multidisciplinary performing arts marketplace and conference. A number of booking agencies whose rosters include such artists were among the more than 350 exhibitors in the large EXPO Hall. The conference also featured networking opportunities galore, daily plenary sessions and keynote speakers, an awards ceremony, a town hall on the artist as activist, and a wide array of professional development workshops and forums.
The theme for 2018 was trans.ACT and focused on the transformative power of the arts. The conference's plenary sessions explored the role and responsibility of the performing arts in our world today and the impact of trans-disciplinary thinking and partnerships that are breaking new ground in both the arts and the world beyond.
Showcases of Note Took Place at the Host Hotel and at Venues Around New York City
Showcases took place both at the New York Hilton Midtown, the conference hotel, and at venues throughout Manhattan. A few also were set in other New York City boroughs and beyond.
January 12:
A number of folk and roots music showcases took place during the conference's opening night. A Global Routes Showcase at the New York Hilton (curated and co-hosted by artists Clay Ross and Jayme Stone) featured Gullah music of the Carolina Coast performed by Charleston, SC-based Ranky Tanky, the joyous Brazilian bluegrass sounds of Matuto (fronted by Clay Ross), the energetic Northeastern Brazilian party music of Rob Curto's Forro For All, Jayme Stone's Folklife (pictured), bluegrass-inspired Estonian four-piece string band Curly Strings, Nordic roots band SVER, virtuosic ten-time IBMA Fiddle Player of the Year Michael Cleveland and his band Flamekeeper, and The Nordic Fiddle Bloc. After catching all but the last couple of acts, I headed to Don't Tell Mama in the theater district for another wonderful roots music variety show curated by Ken Waldman, Alaska's fiddling poet (although he no longer lives there), who also performed. This year's lineup for " From Manhattan to Moose Pass" featured Kristin Andreassen (Uncle Earl, Footworks), The Early Mays (a folk trio with harmonium, whose latest release formerly topped the Folk DJ charts), American roots and blues songsters Ben Hunter & Joe Seamons, Celtic-inspired and fiddle-based indie folksters Laura Cortese & the Dance Cards, Nate the Great with Brian Vollmer (juggling and music), Ryan Drickey, and NYC-based singer songwriter Lily Henley. [The same lineup of artists also showcased their talents the previous night at Brooklyn's Jalopy Theater.] While I was enjoying the music at Don't Tell Mama [the showcases hosted by Waldman are always a highlight for me], across town at the City Winery, booking agency Concerted Efforts hosted an Americana Showcase featuring Birds of Chicago, Dom Flemons (a founding member of Carolina Chocolate Drops), Dori Freeman, and Phoebe Hunt & The Gatherers.
January 13:
My Saturday afternoon was filled with Celtic showcases at the hotel. Among the featured artists were the stellar Irish acoustic ensemble Lunasa, ebullient jig-rockers The Prodigals and their alter egos Acoustic Micks (both fronted by Gregory Grene), Philadelphia-based Celtic roots band RUNA, young Irish trad trio Socks in the Frying Pan (from County Clare), and, very notably, the Seamus Egan Project [A multimedia concert by Egan's seminal band Solas was a highlight of a previous APAP Conference]. Tartan Terrors tore it up the following day with their blend of Scottish music and dance during a rousing showcase in another hotel conference room. Also showcasing, although I missed them, were NYC-based All-Ireland button accordionist John Redmond, Bronx, NY-based singer-songwriter Mary Courtney, and young Celtic-inspired folk-rock band The Narrowbacks.
During the evening, I enjoyed extended sets of music by Jim Messina (of Loggins & Messina, Poco and Buffalo Springfield fame) and Grammy Award-winning southwest Louisiana-based Cajun band Beausoleil avec Michel Doucet at Iridium, a Manhattan nightclub that primarily features jazz artists. Back at the hotel late that night, I also enjoyed a short showcase by the vocal group Estonian Voices.
January 14:
Isle of Klezbos, an all-female Klezmer sextet now celebrating its 20th anniversary, shared a bill and some members with the octet Metropolitan Klezmer as they entertained and enlightened a large crowd with vintage instrumentals and songs from Yiddish cinema during Sunday brunch at City Winery. That evening, I headed to New York's Lower East Side and shuttled between various folk and Americana showcases at Rockwood Music Hall's three stages. Skyline Presents "Club 47 @ APAP" – An Evening of Contemporary Americana featured living legend Tom Rush and singer-songwriters Caitlin Canty, Ben Caplan, Seth Glier, England's Jake Morley, and Matt Nakoa, as well as Canadian bluegrass band Slocan Ramblers. A showcase co-hosted by Quicksilver Productions and Lost Buffalo Artists featured Anna & Elizabeth, Ben Hunter & Joe Seamons, Kristin Andreassen with The Bright Siders, and Kaia Kater.
January 15:
To cap off the conference, I enjoyed an evening of folk, roots, world, and Americana music showcases co-presented by Val Denn Agency and Mavens Music at The Sheen Center's Loreto Theater in Noho. Featured acts included Kaia Kater, Corin Raymond, Jonathan Byrd & The Pickup Cowboy, Ramy Essam, Sam Baker, The Last Revel, Ben Hunter and Joe Seamons, and Session Americana.
Other folk and roots artists who showcased their talents during the APAP Conference included The Abrams Brothers, vocals and harp duo Addi & Jacq, multi-instrumentalists Andes Manta, contemporary folk trio A Band Called Honalee, Russian folk ensemble Barnya, young Irish tenor Emmet Cahill (who is also a member of Celtic Thunder), Colombian-Panamanian roots duo Calle Sur, The Everly Set (Sean Altman and Jack Skuller), guitarist Vicki Genfan, seven-sibling act The Hunts, Georgian polyphonic choir Iberi, Quebec's Melisande [Electrotrad], Guy Mendilow Ensemble, Mojo & the Bayou Gypsies, accordionist and composer-singer Sam Reider, eclectic roots ensemble Upstate Rubdown, Ottawa Valley fiddler April Verch and her band, and Yemen Blues. Randy Noojin presented 15-minute excerpts from Hard Travelin' with Woody, his one-man multimedia show featuring the music and artwork of Woody Guthrie, as well as Seeger — A multimedia solo show featuring the music of Pete Seeger. Sage Artists shared excerpts of Call Mr. Robeson: A Life, With Songs." Cast members from Lonesome Traveler: The Concert also performed short musical excerpts from the show, along with narration that helps tell the story of American folk and folk-rock music from Woody Guthrie to Bob Dylan and beyond. Artists in various other musical genres also showcased their talents, while comedy, dance and theatrical showcases also were part of the mx.
Artists who Hosted Showcases Offer Their Reflections
Jayme Stone notes that he started curating a showcase at last year's APAP Conference "to create a space for independent roots/world music artists to have their music heard by performing arts center directors and festival programmers. My goal was to make the cost slightly more affordable for artists and to create an opportunity for underrepresented artists to have a seat at the table. Most of the artists at our showcase do not have agents, which is rare at this conference."
"Attending the conference has proven to have a profound impact on my touring career," says Clay Ross, who fronts both Matuto and Ranky Tanky and produced the Global Routes Music Showcase with Stone. Noting that he's been attending APAP conferences for the past seven years, Ross told AcousticMusicScene.com: "It's given me the opportunity to connect with presenters, agents, managers, and other industry professionals around the world." Those connections have helped prompt bookings for his bands at a number of prestigious Americana, roots and jazz venues and festivals.
"As an artist, I think it's really important to understand the various perspectives, challenges and concerns associated with all sides of the business," Ross continued. "By hanging around at conferences like APAP and forging relationships across the field, you start to see more clearly how your talents and interests might best align with potential partners. You start to understand that you don't need to be everything to everyone, but can instead find your own comfortable niche. "
Ken Waldman
, who has been attending, exhibiting and mentoring at APAP conferences since 2007, began hosting a Friday night roots music variety show nine years ago. Noting that many of the attending presenters wear numerous hats, he said: "They might program various spaces – including some that are quite large. So part of what I do with my showcase evenings is to provide presenters with something useful. If it was just me showcasing, I'd be hard-pressed to get an audience. But since I invite seven additional acts that I personally like, I can offer eight distinct showcases (including what I do). Presenters have come to trust that I'll not only offer them a variety of exceptional artists to sample, but they can sit in one spot with professional sound and lights. We even buy them drinks. Presenters understand that they're not only experiencing each of the acts discreetly, but they're experiencing an evening that I personally am putting together. A big theater (with a big budget) may want me to bring three or four acts and make an evening of it. That can only happen for me if the presenter has experienced one of my showcase evenings at APAP."
Waldman continues, "Going to APAP, we're more apt to find jobs that pay $2,500, $5,000 and up." While acknowledging that nothing is guaranteed, he believes that "by offering this particular roots music showcase evening, I'm nudging the odds in my favor. It's an investment I've been happy to make."
"Because I attend so many [conferences], I don't feel stressed thinking it's now or never. I see people I've met in prior years [and those] I've never met before. If some jobs come my way, great — but it doesn't have to be the result of a particular conference or showcase. It's invariably the result of attending as many of these conferences as I can." He maintains that presenters who attend APAP conferences tend to have more experience in the field, access to bigger budgets, and are just so inundated with pitches from artists and their agents that they are virtually impossible to reach by email or phone. "But at a conference there's the chance to actually meet someone which means if I do have reason to send an email or make a phone call, there's a much greater chance of having the email returned or the call taken."
WAVELENGTHS World Music Pre-Conference Features An Inspirational Keynote
Among several arts-related forums that preceded the conference was a two-day WAVELENGTHS World Music Pre-Conference featuring a keynote, panel discussions, workshops, and an artist pitch session co-produced by music PR firm Rock Paper Scissors in cooperation with GlobalFEST.
Keynoting WAVELENGTHS was Emel Mathlouthi, a Tunisian singer-songwriter whose songs played a major role in Arab Spring and led to her being called "the voice of the Tunisian revolution." She offered heartfelt comments and inspiring thoughts as she spoke of the role of the artist in turbulent times and the importance of empathy.
Here's a link to a video of Emel performing her song " Kelmti Horra "("My Word is Free") during the 2015 Nobel Peace Prize Concert:
https://www.youtube.com/watch?v=wJ79iEfus8E
"For me, art has always been very powerful in connecting us…[and] in opening doors, [and in transcending] barriers and limits," she said. "We're all coming from the same place, and we all have a heart … Art is an international language. I really wanted to convey that," she continued, noting her collaborations with musicians from other parts of the world. Until recently, Emel, who cites Joan Baez among her influences, has primarily written and sung music in Arabic, and some of her songs contain messages that transcend politics.
While expressing pride in her heritage and what she is conveying through her songs, Emel acknowledged the challenges that she and others have faced who are not American or European. "It felt as if we were in a different universe, a different dimension," she said. "It's very frustrating and very confining. It's a barrier that shouldn't be there. We can offer so much more than just exoticism."
She advocates for the elimination of ethnic and political silos that have been used to pigeonhole and minimize artists' cross-cultural appeal and expressing her personal desire to appeal to people based on her humanity, rather than feel like just an ethnic or political artist. "We're reaching times where all the concepts have to change and allow all the artists who are coming from the world music sphere to be able to explore themselves and go beyond any preconceived notions," she declared. While acknowledging that she has a conscience and a point of view, and expressing pride in the social impact that her music has had in helping to energize the movement for change in the Arab world, she concluded: "At the end of the day, I'm an artist, a musician, a singer."
—————————————————————————–
About the Association of Performing Arts Professionals (APAP)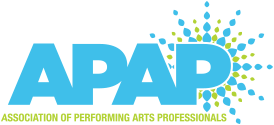 A Washington, DC-based nonprofit –- previously known as the Association of Performing Arts Presenters until changing its name last year — APAP is a national service, advocacy and membership organization dedicated to developing and supporting a robust performing arts presenting field and the professionals who work within it.
"As artists and arts makers, we must embrace our role to engage in the constant and dynamic societal transformation that we are a part of by acknowledging it, reflecting it, discussing it, and leading it," says Mario Garcia Durham, APAP's president and CEO. "Our strength as an industry lies in our ability to create, produce, present, share and stimulate audiences everywhere with works that both embrace and acknowledge our differences and increase our understanding of one another."
The next APAP Conference in New York is set for January 4-8, 2019. More information on the organization may be found on its website: www.apap365.org.
Tags:
" Woody Guthrie
,
A Band Called Honoree
,
Acoustic Micks
,
Addi & Jacq
,
Americana music
,
Andes Manta
,
Anna & Elizabeth
,
APAP
,
April Verch
,
Arab Spring
,
Arts Presenters
,
Association of Performing Arts Professionals
,
Barnya
,
Beausoleil
,
Ben Caplan
,
Ben Hunter & Joe Seamons
,
Birds of Chicago
,
Brian Vollmer
,
Caitlin Candy
,
Calle Sur
,
Celtic music
,
Celtic Thunder
,
City Winery
,
Clay Ross
,
Club 47
,
Concerted Efforts
,
Corin Raymond
,
Curly Strings
,
Dom Flemons
,
Don't Tell Mama
,
Dori Freeman
,
Emil Mathlouthi
,
Emmet Cahill
,
GlobalFEST
,
Gregory Grene
,
Guy Mendilow
,
Ibero The Hunts
,
Iridium
,
Isle of Klezbos
,
Jack Skuller
,
Jalopy Theater
,
Jayme Stone
,
Jayme Stone's Folklife
,
Jim Messina
,
John Redmond
,
Jonathan Byrd
,
Ken Waldman
,
Kia Kater
,
klezmer music
,
Kristin Andreassen
,
Laura Cortese & the Dance Cards
,
Lily Henley
,
Lost Buffalo Artists
,
Mario Garcia Durham
,
Mary Courtney
,
Matt Nakoa
,
Matuto
,
Mavens Music
,
Melisande
,
Metropolitan Klezmer
,
Michael Cleveland
,
Michel Doucet
,
Mojo & the Bayou Gypsies
,
music conferences
,
Nate the Great
,
performing arts conferences
,
Pete Seeger
,
Phoebe Hunt & The Gatherers
,
Quicksilver Productions
,
Ramy Essam
,
Randy Noojin
,
Ranky Tanky
,
Rob Curto
,
Rock Paper Scissors
,
Rockwood Music Hall
,
roots music
,
RUNA
,
Ryan Drickey
,
Sam Baker
,
Sam Reider
,
Seamus Egan
,
Sean Altman
,
Session Americana
,
Seth Glier
,
singer-songwriters
,
Skyline
,
Sloan Ramblers
,
Socks in the Frying Pan
,
Solas
,
SVER
,
Tartan Terrors
,
The Early Mays
,
The Everly Set
,
The Last Revel
,
The Narrowbacks
,
The Nordic Fiddle Bloc
,
The Prodigals
,
The Sheen Center
,
Tom Rush
,
Tunisian revolution
,
Upstate Rubdown
,
Val Denn
,
Vicki Genfan
,
WAVELENGTHS
,
Yemen Blues