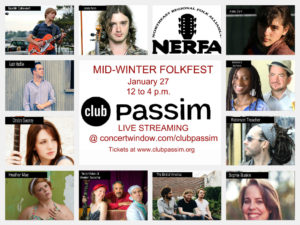 Northeast Regional Folk Alliance (NERFA) is pleased to partner with Club Passim in Cambridge, Massachusetts to present a Mid-Winter FolkFest on Saturday, Jan. 27, from 12-4 p.m. The afternoon of music emanating from the legendary Harvard Square listening room and featuring 11 artists/acts in a combination of song swaps and short showcases will be livestreamed via Concert Window. To view, logon to www.concertwindow.com/clubpassim on the day of the show. For those in the Greater Boston-Cambridge area, tickets are also available to enjoy the festival in-person @ clubpassim.org.
Featured artists — each of whom had a juried official showcase at either the 2017 or 2016 NERFA Conferences in Stamford, CT or was part of NERFA Presents Young Folk showcases at summer festivals — include Jeremy Aaron, Banjo Nickaru and Western Scooches, Bethlehem and Sad Patrick, Sophie Buskin, Quentin Callewaert, Alyssa Dann, The End of America, Heather Mae, Austin MacRae, Christine Sweeney, and Robinson Treacher.
Here's the afternoon schedule for the Mid-Winter FolkFest:
12:00: In the Round: Austin MacRae, Christine Sweeney, Bethlehem and Sad Patrick
1:00: Young Folk: Jeremy Aaron, Quentin Callewaert, Alyssa Dann
2:00: The End of America
2:30: Banjo Nickaru and Western Scooches
3:00: In the Round: Heather Mae, Sophie Buskin, Robinson Treacher
NERFA (NERFA.org) is a regional affiliate of Folk Alliance International, a Kansas City, MO-based nonprofit organization that seeks to nurture, engage and empower the international folk music community – traditional and contemporary, amateur and professional – through education, advocacy and performance. (More than 700 performing artists, presenters, promoters, agents, managers, folk DJs, and others actively engaged in contemporary and traditional folk music attended its 23rd annual conference in Stamford, CT last November). NERFA is governed by a volunteer board of directors that has been engaged in ongoing efforts to make it more of a year-round organization in order to best meet the needs and serve the interests of FAI members from the northern Virginia suburbs of Washington, DC to the provinces of eastern Canada. The Mid-Winter FolkFest is an example of this. So, too, are the NERFA Presents Young Folk showcases that have taken place over the past two summers in partnership with a few music festivals in the U.S. and Canada, thanks to the generous sponsorship of Grassy Hill Entertainment, as well as the NERFA Showcases co-presented with several venues and presenting organizations in the region.
Although it didn't adopt its current name until incorporating as a nonprofit in 1994,
Club Passim
has its roots in what was then Club 47, a folk club that opened its doors at another Cambridge location in 1958 before moving to its current location on Palmer Street five years later and changing its name to Passim in 1969. Passim has been a cornerstone of the arts community of New England for more than half a century. Located in the heart of Harvard Square, Club Passim is one of the few "listening rooms" in the greater Boston-Cambridge area. It's a place where audiences and artists can interact with one another in an intimate setting. More than 400 shows are presented each year, featuring artists from a broad range of musical genres. A musical Mecca for the folk and singer-songwriter scene since its early days, Passim retains a folk aesthetic. Among the many folk luminaries who have graced its stage are Joan Baez, Shawn Colvin, Bob Dylan, Joni Mitchell, Tom Rush, and Suzanne Vega.
Editor's Note: I am president of the NERFA board of directors. My thanks to Kathy Sands-Boehmer, our vice president, for all the time and effort she has devoted to organizing this special event. Thanks also to our partners at Club Passim: Matt Smith, Courtney Rodland and Abby Altman.