The Farm Hands were the top winners in the 44th Annual Bluegrass Music Awards presented by The Society for the Preservation of Bluegrass Music of America (SPBGMA) at the Sheraton Music City Hotel in Nashville, Tennessee on Sunday, February 4, 2018. Winners in 19 categories were honored during an awards show that capped the nonprofit organization's 35th national convention.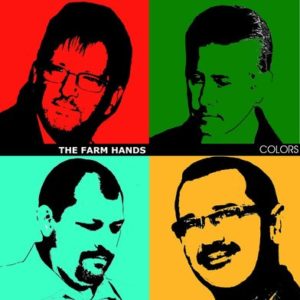 A multi-award-winning Nashville-based quartet, The Farm Hands received four awards. Its fourth Pinecastle Records release, Colors, took home Album of the Year honors. Two of its previous recordings, Dig in the Dirt and In A Country Town, had been named Album of the Year in 2017 and 2014, respectively. "Rural Route," one of the tracks on Colors, was named Song of the Year — an award the band also received last year for "Dig in the Dirt." The Farm Hands also were named Bluegrass Band of the Year (Overall), while Tim Graves, the quartet's Grammy Award-winning resophonic guitarist and a member of SPBGMA's Hall of Greats, was named Dobro Player of the Year for the tenth consecutive year and the 13th time overall. Succeeding The Farm Hands as Bluegrass Entertainers of the Year were Doyle Lawson & Quicksilver – who also were named Bluegrass Vocal Group of the Year.
Rhonda Vincent regained the title of Female Vocalist of the Year after Charli Robertson of Flatt Lonesome ended her winning streak last year. A member of SPBGMA's Hall of Greats since 2014, Vincent has won Entertainer of the Year honors multiple times. Rhonda Vincent & The Rage band members Hunter Berry and Josh Williams continued their winning streaks as Fiddle and Guitar Performer of the Year, respectively. Russell Moore was named Male Vocalist of the Year. Songwriter of the Year honors went to Donna Ulisse; the award had been bestowed on Daryl Mosely (The Farm Hands' bass player) for the previous two years.
A complete list of the SPBGMA's 2018 Bluegrass Music Awards winners follows:
Bluegrass Promoter of the Year: DA Callaway
Bluegrass Radio Station of the Year: Sirius XM 062 – Bluegrass Junction
Bluegrass DJ of the Year: Kyle Cantrell (Sirius XM 062)
Songwriter of the Year: Donna Ulisse
Album of the Year: Colors by The Farm Hands on Pinecastle Records
Bass Fiddle Performer of the Year: Mickey Harris
Dobro Performer of the Year: Tim Graves
Guitar Performer of the Year: Josh Williams
Mandolin Performer of the Year: Alan Bibey
Banjo Performer of the Year: Kristin Scott Benson
Fiddle Performer of the Year: Hunter Berry
Female Vocalist of the Year: Rhonda Vincent
Male Vocalist of the Year: Russell Moore
Bluegrass Gospel Group of the Year: Joe Mullins & The Radio Ramblers
Bluegrass Vocal Group of the Year: Doyle Lawson & Quicksilver
Bluegrass Instrumental Group of the Year: Michael Cleveland & Flamekeeper
Bluegrass Band of the Year (Overall): The Farm Hands
Bluegrass Entertainer(s) of the Year: Doyle Lawson & Quicksilver
Bluegrass Song of the Year: "Rural Route," The Farm Hands on Pinecastle Records