May 20 is the application submission deadline for the annual Falcon Ridge/Grassy Hill Emerging Artist Showcase. From among all entries received, 24 artists/acts will be selected for two-song/10-minute spots on the main stage on Friday, August 5, during the 28th annual Falcon Ridge Folk Festival. [To continue reading this article, which includes a preview of the festival, click on the headline.]
Several thousand people are expected to converge on New York City, Jan. 15-19, for the annual conference of the Association of Performing Arts Presenters (APAP). Now in its 59th year, the global performing arts marketplace and conference will feature more than 1000 artist showcases, a large EXPO Hall featuring nearly 400 exhibitors, networking opportunities galore, daily plenary sessions and keynote speakers, and a wide array of professional development workshops and forums. Plenaries and select sessions will live stream free for industry professionals, artists and the public. [To continue reading this article -- including a listing of folk and roots artists who will be showcasing their talents -- click on the headline.]
Some 150 acts, from solo artists to full bands, will be selected to showcase at various venues over two nights during the ninth annual Singer Songwriter Cape May music business conference set for Friday-Saturday, March 18-19, 2016 in the historic Victorian-lined New Jersey seaside resort community. All artists who submit showcase applications by the Jan. 15 deadline will receive free registration for the conference whether or not they are slotted. [To continue reading this article on AcousticMusicScene.com, click on the headline.]
Ten artists/groups have been named as finalists in the 2015 NewSong Contest and will perform live during a music showcase and competition finals set for 7:30 p.m. on Thursday, Jan. 7, 2016 at Lincoln Center's David Rubenstein Atrium (61 W. 62nd St., New York, NY). Admission is free, although seating is limited. [To continue reading this article, click on the headline.]
Some 800 performing artists, presenters, promoters, agents and managers, folk DJs and others actively engaged in contemporary and traditional folk music will converge on the Hudson Valley Resort in Kerhonkson, New York, Nov. 12-15, 2015, for the 21st Annual Northeast Regional Folk Alliance (NERFA) Conference. AcousticMusicScene.com will again have a major presence as it hosts afternoon and late-night song swaps, in addition to its popular Midnight Hoot at the close of the conference's first day. To continue reading this conference preview, click on the headline.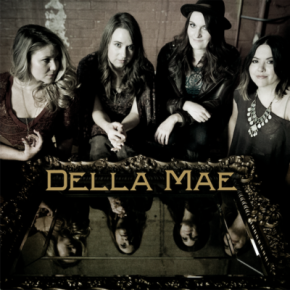 Acclaimed singer-songwriter John Gorka and rootsy female Americana group Della Mae headline CT Folk's 10th annual Connecticut Folk Festival and Green Expo, a free, daylong event, on Saturday, Sept. 12, in New Haven's Edgerton Park. [To continue reading this article, click on the headline.]
Hundreds of folk, roots and bluegrass music fans from throughout the New York metropolitan area are expected to converge on Germonds Park in West Nyack, NY on Sunday afternoon, Aug. 23, for the sixth annual, picnic, concert and jam hosted by the Borderline Folk Music Club of Rockland County and co-sponsored by AcousticMusicScene.com, The Folk Music Society of New York (aka Pinewoods Folk Music Club), Folk Music Society of Huntington, Tribes Hill and the Town of Clarkstown. [To continue reading about this free event that will feature a musical tribute to Tom Paxton, click on the headline.]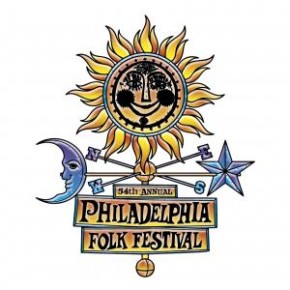 Arlo Guthrie celebrates the 50th anniversary of the event that inspired the seminal song "Alice's Restaurant Massacree," while influential folksinger-songwriter Tom Paxton, who plans to retire from the road later this year after more than a half-century as a performing and recording artist, are among the dozens of artists and acts slated to perform during the 2015 Philadelphia Folk Festival. Scheduled for August 13 -16 at the Old Pool Farm in Upper Salford Township, near bucolic Schwenksville, Pennsylvania, the festival is produced and presented by the Philadelphia Folksong Society. Now in its 54th year, it is the longest continuously running musical festival of its kind in North America. To continue reading this article, click on the headline.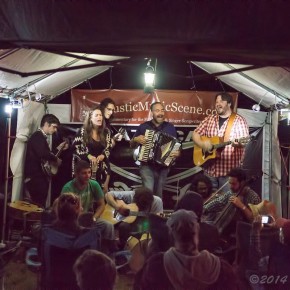 AcousticMusicScene.com will host a series of late-night song swaps during the Falcon Ridge Folk Festival, July 30-August 2, in partnership with Pirate Camp, which was informally launched by Stuart Kabak and the late Jack Hardy more than a decade ago to provide a warm and welcoming haven for sharing music, food and camaraderie. [To continue reading this preview of the Falcon Ridge Folk Festival and see the complete schedule for the AcousticMusicScene.com tent @ Pirate Camp, click on the headline.]
Twenty-four artists/duos or groups have been selected to perform in the Emerging Artists Showcase during the Falcon Ridge Folk Festival on Friday afternoon, July 31, from noon to 4:30 p.m. To continue reading this article and see the list of Emerging Artists Showcase performers, click on the headline.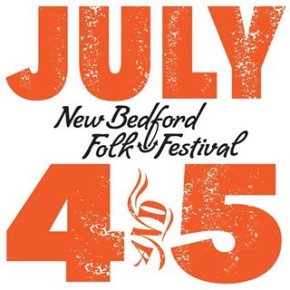 Two music festivals of note take place in Massachusetts in July: The New Bedford Folk Festival (July 4-5) along the cobblestoned streets of the old whaling port city, and the Green River Festival (July 10-12) featuring music, hot air balloons and more at the community college campus in Greenfield. To continue reading this article, click on the headline.