Twenty-four artists/bands have been selected from among hundreds of applicants to perform in the Emerging Artists Showcase during the Falcon Ridge Folk Festival on Friday afternoon, July 27, 2012, from noon to 4:30 p.m.
Appearing in this year's Showcase are (listed alphabetically by first name or name of group, not in order of appearance):
Brad Cole (Chicago, IL)
Burning Bridget Cleary (Philadelphia ,PA)
Cary Cooper (Dallas, TX)
Chris Kokesh (Portland, OR)
Dan Charness (New York, NY)
Gathering Time (Long Island, NY)
Heather Maloney Band (Northampton, MA)
Honor Finnegan (New York, NY)
Jarrod Dickenson (Brooklyn, NY
Jim Hayes (Ringwood, NJ)
Jon Brooks (King City, Ont, Canada)
Julie Christensen (Ojai, CA)
Kate Klim (Nashville, TN)
Kevin Neidig (Etters, PA)
Miles to Dayton (Long Island ,NY)
Poor Old Shine (Storrs, CT)
Rebecca Pronsky (Brooklyn, NY)
Ryan Tennis (Philadelphia, PA)
Sarah Blacker (Cambridge, MA)
Sorcha (Portland, ME)
Steve Chizmadia (Peekskill, NY)
Sweet Talk Radio (Los Angeles, CA)
The Marrieds (London, Ont, Canada)
The YaYas (Mohegan Lake, NY)
The Falcon Ridge/Grassy Hill Emerging Artists Showcase is not a contest, and artists won't be judged per se, although the audience is surveyed as to which showcase artists they'd like to see return the following year to participate in a Most Wanted Song Swap.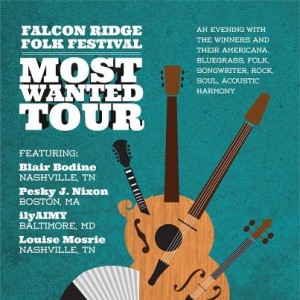 This year's Most Wanted Song Swap will feature Nashville, TN-based singer-songwriter Blair Bodine, Baltimore, MD area-based band ilyAIMY, Nashville-based singer-songwriter Louise Mosrie, and Boston area-based band Pesky J. Nixon, who also host the popular Lounge Stage on the festival campgrounds on Thursday night, July 26, before the official start of the festival. These artists also are currently playing a number of Northeast gigs as part of a FRFF Most Wanted Tour. Upcoming performances include the Urban H20 series at the Beczak Environmental Education Center in Yonkers, NY on Saturday night, July 21, and headlining the seventh annual Huntington Folk Festival at Heckscher Park in Huntington, Long Island, NY on Sunday evening, July 22. Co-presented by the Folk Music Society of Huntington and the Huntington Arts Council, that free, day-long festival, also features unplugged showcases and song swaps during the afternoon. Hosted by AcousticMusicScene.com and Acoustic Live! in New York City and Beyond, the afternoon festivities will feature more than three-dozen performers — including several of this year's FRFF Emerging Showcase Artists. Both Acoustic Live! and AcousticMusicScene.com also will have a presence at Falcon Ridge.
Among the Northeast's most popular music festivals, the Falcon Ridge Folk Festival, now in its 24th year, takes place July 27-29 at Dodds Farm on Route 7D in Hillsdale, New York, located in the foothills of the Berkshires near the tri-state corner of New York, Connecticut and Massachusetts. The festival features dozens of artists performing on several stages, a dance tent, children's music and activities, and a wide array of crafts, food and other vendors. Among the artists performing this year will be Aztec Two-Step, Brother Sun, Eddie From Ohio, John Flynn, Girlyman, Tracy Grammer, The Grand Slambovians, Eilen Jewell, Holly Near, Nerissa and Katryna Nields, Rod MacDonald, Todd Sheaffer (of Railroad Earth), and Spuyten Duyvil, among others.
Those camping at Falcon Ridge and staying up through the early morning hours can enjoy an array of informal jams, mini-showcases and after-hours song circles that help foster a sense of "folk" community and a different kind of festival experience.
More information on the Falcon Ridge Folk Festival can be found at www.falconridgefolk.com and will be posted on AcousticMusicScene.com next month.