AcousticMusicScene.com will host a series of late-night song swaps and mini-showcases during the Falcon Ridge Folk Festival, July 26-29, in partnership with Pirate Camp, which was informally launched by Stuart Kabak and the late Jack Hardy a decade ago to provide a warm and welcoming haven for sharing music, food and camaraderie.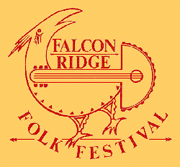 Now in its 24th year, Falcon Ridge takes place at Dodds Farm on Route 7D in Hillsdale, New York, located in the foothills of the Berkshires, near the tri-state corner of New York, Connecticut and Massachusetts. Although it is among the Northeast's most popular music festivals, Falcon Ridge faces competition this year from the already sold-out Newport Folk Festival, which is usually held on a different weekend.
Falcon Ridge features dozens of artists performing on several stages, a dance tent, children's music and activities, and a wide array of crafts, food and other vendors. Among the artists performing this year will be Aztec Two-Step, Brother Sun, Eddie From Ohio, John Flynn, Girlyman, Tracy Grammer, The Grand Slambovians, Eilen Jewell, Holly Near, Nerissa and Katryna Nields, Rod MacDonald, Todd Sheaffer (of Railroad Earth), and Spuyten Duyvil. There also will be a special musical tribute to the late Dave Carter on the 10th anniversary of his passing.
As previously reported, 24 artists/bands have been selected from among hundreds of applicants to perform in the Falcon Ridge/Grassy Hill Emerging Artists Showcase on Friday afternoon, July 27, from noon- to 4:30 p.m. Listed in order of appearance, they are: Miles to Dayton (Long Island ,NY), Honor Finnegan (New York, NY), Heather Maloney Band (Northampton, MA), Jarrod Dickenson (Brooklyn, NY), Kate Klim (Nashville, TN), Steve Chizmadia (Peekskill, NY), Cary Cooper (Dallas, TX), Kevin Neidig (Etters, PA), Sorcha (Portland, ME), Ryan Tennis (Philadelphia, PA), Julie Christensen (Ojai, CA), The Marrieds (London, Ont, Canada), The YaYas (Mohegan Lake, NY), Rebecca Pronsky (Brooklyn, NY), Dan Charness (New York, NY), Burning Bridget Cleary (Philadelphia ,PA), Chris Kokesh (Portland, OR), Jim Hayes (Ringwood, NJ), Sarah Blacker (Cambridge, MA), Poor Old Shine (Storrs, CT), Brad Cole (Chicago, IL), Sweet Talk Radio (Los Angeles, CA), Jon Brooks (King City, Ont, Canada) and Gathering Time (Long Island, NY).
The Falcon Ridge/Grassy Hill Emerging Artists Showcase is not a contest, and artists won't be judged per se, although the audience is surveyed as to which showcase artists they'd like to see return the following year to participate in a Most Wanted Song Swap.
This year's Most Wanted Song Swap will feature Nashville, TN-based singer-songwriter Blair Bodine, Baltimore, MD area-based band ilyAIMY, Nashville-based singer-songwriter Louise Mosrie, and Boston area-based band Pesky J. Nixon, who also host the popular Lounge Stage on the festival campgrounds on Thursday night, July 26, before the official start of the festival.
Late-Night Music is a Festival Highlight
One of the true highlights of the Falcon Ridge Folk Festival– for those who opt to camp on-site and stay up through the early morning hours — are the impromptu jams, after-hours song circles and mini-showcases that help foster a sense of "folk" community and a different kind of festival experience.
AcousticMusicScene.com is pleased to partner with Pirate Camp in hosting late-night song swaps and mini-showcases. Pirate Camp was originally started by Hardy and Kabak, both longtime Falcon Ridge attendees, who flew the Jolly Roger so that friends could more easily find their camp site. "It turned out that we had more friends than we could have ever imagined," says Kabak. "Jack was the consummate host and chef extraordinaire but he knew little about camping gear or how to make a campsite comfortable and functional," he continues, noting that that's where he came in. Over the years, the two friends assembled their own camp kitchen , covered lounge, fireplace, mowed lawn, and even a heated camp shower. Jeff cooked up pasta dinners on Friday evening and some venison concoction the next night, while Stuart Stuart assumed the role of breakfast chef serving up mushroom spinach omelets and real blueberry pancakes with genuine maple syrup. Throughout the day, people would stop by and share a tune or just schmooze. After the festival's main stage shut down for the night, a song circle would open up at Pirate Camp and run through the wee hours of the morning.
More than two years after Jack Hardy's passing, Pirate Camp retains much of its initial spirit The new partnership with AcousticMusicScene.com adds a new element, designed in part to help keep Pirate Camp alive and vibrant. Prearranged, invitational song swaps and mini-showcases each night will precede the open song circles to which folks are invited to bring their instruments, voices and ears. These will take place under a big white tarp adorned with flags and banners and located in the lower left/northeast section of the 10-acre field (lower meadow).
AcousticMusicScene.com – Pirate Camp Late-Night Song Swap Schedule
Thursday Night
11:15 p.m. Emerging Talents
Jon Brooks
Cary Cooper
Glen & Stu from Gathering Time
Chris Kokesh
Heather Maloney Band
12:15 a.m. Open Song Circle
Friday Overnight
12:15 a.m.
The Boxcar Lilies
Annie & Rod Capps
12:45 a.m. Long Island Sounds
Marci Geller
Miles to Dayton
1:15 a.m.
Pesky J. Nixon
1:30 a.m.
Burning Bridget Cleary
1:45 a.m. Open Song Circle
Saturday Overnight
Midnight New York Artists of Note
Monty Delaney
Stuart Kabak
Scott Wolfson & Other Heroes
The YaYas
12:45 a.m. Aztec Two-Step
1:00 a.m. Maine Stage
Connor Garvey
Putnam Smith
Sorcha
1:30 a.m. Joni Mitchell's Blue: a 40th Anniversary Celebration
Featuring Meg Braun, Honor Finnegan, Catherine Miles, Karyn Oliver and Carolann Solebello
2:00 a.m. Open Song Circle