Canada plays host to the 25th International Folk Alliance Conference, Feb. 20-24, 2013. More than 1,750 performing artists, presenters, agents and managers, independent label and recording industry representatives, folk DJs, music journalists, folklorists, educators and others engaged in the music industry are expected to converge on Toronto's Delta Chelsea Hotel. In the offing are five days featuring panel discussions and workshops on a wide range of topics, film screenings, regional and peer group meetings, instrument clinics and popular singer-songwriter critique sessions. Four jam-packed nights of artist performances will include 200 juried music showcases and hundreds of private in-room showcases that extend late into the evening (or early morning hours, depending on your vantage point).
Indeed, some folks are already at the hotel this weekend enjoying the Winterfolk XI Blues & Roots Festival, a largely free all-indoors musical event featuring more than 100 artists on four stages. The festival began Feb. 14 and runs through Feb. 17. More information on it appears online at www.winterfolk.com.
Documentary film screenings, a children's music showcase; block-booking sessions; nightly open mics; and a folk DJ reception, as well as a large exhibit hall and plenty of opportunities for networking and jamming also are in store for attendees. During a special Friday daytime session called "Speed Dating for Folkies," registrants will have an opportunity to speak briefly with each of up to ten professionals from various sectors of the music industry. AcousticMusicScene.com's Michael Kornfeld will provide media relations and PR pointers and counsel as part of this session.
Following a first-timers orientation, workshops, clinics and film screenings on Wednesday afternoon, the conference kicks-off with an opening reception and the presentation of the annual Folk Alliance Elaine Weissman Lifetime Achievement Awards & Honors. This year's recipients are The Weavers (Living), Mike Seeger (Legacy), and the Augusta Heritage Center (Biz/Academic). According to Louis Meyers, executive director of Folk Alliance International, these recipients "show the true depth and history of our community."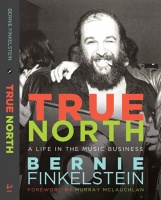 Hundreds of performing artists will showcase their talents in feature and private showcases after the awards presentation, while hundreds of juried Performance Alley and private showcases are slated over the successive nights. Bernie Finkelstein, founder of Canada's True North Records, longtime manager of Bruce Cockburn, and a living icon in the Canadian music industry, will be the conference's keynote speaker on Friday morning. Finkelstein, a Torontonian whose memoir True North (A Life in the Music Business) was named as one of the Top 100 Books of the year by Amazon.ca in December 2012, will be interviewed by CBC Radio personality Tom Power.
With support from Borealis Records, True North Records, CIMA, Grassy Hill Entertainment, Winterfolk, Toronto Blues Society and others, Folk Alliance International will present a Wednesday Night Canadian Spectacular from 7:30-11 p.m. This series of special feature shows on nine stages featuring 60 artists and a Louisiana-style dance party also will be open to the public with a suggested donation.
Late-night private showcases, open only to conference registrants, also begin on Wednesday, as do a series of public shows featuring official showcasing artists at Toronto's venerable folk club, Hugh's Room. Artists slated to perform in these ticketed shows that are being held as fundraisers for the organization and as a way to expose the music to the local community, will include Pear, Del Barber and Hot Club of Cowtown on Wednesday; Brooke Palsson, Old Man Luedecke and The Stray Birds on Thursday; Jimmy LaFave, Sam Baker, Matt the Electrician and Ellis Paul in-the-round plus Red Molly and Elephant Revival on Friday; and Joe Pug, Milk Carton Kids and Rose Cousins on Saturday. Tickets may be purchased in advance by calling (416) 531-6604 or emailing info@hughsroom.com and also will be available at the door for a higher fee. Many conference attendees also are expected to visit Hugh's Room on Feb. 24, for leading Canadian blues and roots artist Ken Whiteley's Sunday Gospel Show and an evening closing party.
Prior to this year's event in Toronto, Folk Alliance International's last five conferences took place in Memphis, Tennessee. Following this one, the conference will move to Kansas City, Missouri for the next five years. A special preview of the 2014 conference and plans for a new music camp in Kansas City also is on tap in Toronto.

Folk Alliance International (www.folkalliance.org) aims to foster and promote multicultural, traditional and contemporary folk music, while strengthening and advancing organizational and individual initiatives in folk music, dance and related performing arts through education, networking, advocacy, and professional and field development.
Editor's Note: Besides providing media relations counsel and other PR pointers during the conference's "Speed Dating for Folkies" session, I will be co-hosting late-night showcases along with several of my board colleagues from the Northeast Regional Folk Alliance (NERFA).